5 Reasons to Transit the Panama Canal
Head south this season and see
a unique destination in a number of ways
By Jennifer Davoren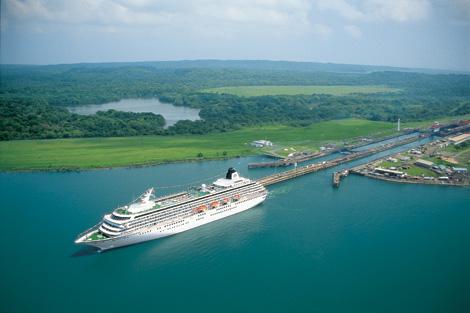 Crystal Cruises
S
ailing from the east to the west coast of the Americas was once a harrowing, two-month journey through wind-battered, rock-strewn seas. Thanks to the magic of modern cruising, as well as the engineering marvel known as the Panama Canal, the journey now takes between eight and 24 hours.
But the ease of passage is just one motivation for cruising the canal, a scenic vacation destination as well as an economic lifeline. Here, we offer five additional reasons to explore the region on your next getaway.
For more information on cruising the famed waterway, as well as competitive rates on cabins, visit Vacations To Go's
Panama Canal website
or call (800) 338-4962.
History.
This shortcut was imagined as early as the 16th century, when Spanish conquistadors were forced to sail around South America -- or worse, haul their ships and heavy cargo over dry land -- to survey both coasts of the New World. The French, however, were the first to attempt construction and started their dig in 1881. Despite some major headway, including the man-made valley known as the Culebra Cut, mosquito-borne illness and treacherous mudslides forced workers to abandon the site.
At the urging of President Theodore Roosevelt, who believed that a canal would provide serious strategic leverage, U.S. engineers took over the Panama project in 1904. The new work crew made big technological and medical advances. In addition to heavy excavation work, the Americans improved the sanitation of nearby towns and greatly reduced the risk of yellow fever, malaria and other deadly diseases.
The Panama Canal was completed in 1914, at a total cost of $387 million and 25,000 lives. It's a travel route as well as a tribute -- the watery embodiment of man's triumph over adversity.
Ingenuity.
The 50-mile-long canal hustles
ships
from their ocean entrance to Gatun Lake, a man-made, hilltop expanse more than 85 feet above sea level, and back down again. A series of watertight locks creates an artificial tide that raises and lowers each vessel as it passes over the Continental Divide. Each lock takes about 10 minutes to fill or empty; in all, about 52 million gallons of water must flow through this intricate chamber system to pass a ship between the Atlantic and the Pacific.
Engineering innovations continue around the canal, which will celebrate its 2014 centennial with the completion of a $5.25 billion expansion. A third lane of traffic and other amenities will accommodate "post-Panamax" vessels -- the cruising industry's megaships and commercial cargo carriers that exceed the original canal's 1,000-foot-long, 110-foot-wide limitations. Officials estimate that shipping traffic will double after the renovation, giving both Panama and Latin America a much-needed economic boost.
Scenery.
The canal offers some stunning natural sights in addition to its mechanical wonders. The 163-square-mile Gatun Lake, for instance, was carved by man, but the tangled, untouched jungle along the waterfront offers a variety of tropical flora and fauna. And former mountains, turned islands after Gatun's creation, are eye-catching havens for Panama's wildlife. The Barro Colorado Nature Monument offers more than 120 species, nearly half of which are bats. The most popular canal-cruising itineraries coincide with Panama's dry season, from December to April, so visitors can enjoy the landscape and its inhabitants without too many rainy interruptions.
This type of vacation falls into two categories that also will affect your daily views.
Full transits
, or complete sailings of the canal, pass through all three sets of locks on their way between oceans and hit enticing ports of call on both coasts.
Partial transits
, which usually depart from Fort Lauderdale, FL, make a U-turn on Gatun Lake and return to the northern side of the passage to visit the Caribbean.
Comfort.
A cruise ship offers a relaxing, front-row seat to this awe-inspiring waterway. Visitors can marvel at the ebb and flow of the canal from the privacy of their cabin -- a window will do, but a personal balcony is best -- or gather on a public deck to "ooh" and "aah" along with the crowd. Some ships even employ onboard experts to answer questions about history, engineering and other aspects of the journey.
More than a dozen companies offer vacations here, so guests can choose from a variety of ships and cruising styles. The 1,918-passenger
Zuiderdam
from
Holland America Line
boasts a spa, casino and culinary arts center with classes between port calls and canal sights; prices for a
10-night partial transit
between January and March start at $999 per person for an inside cabin.
Windstar
, known for its fleet of small, stylish motor-sail yachts, will host
seven-night canal itineraries
through March; prices start at $2,239 per person. The itinerary's unique island hideaways and lectures by a visiting naturalist will appeal to outdoor buffs.
Other popular lines in this region include
Princess Cruises
and
Celebrity Cruises
.
Crystal Cruises
,
Regent Seven Seas Cruises
,
Seabourn Cruise Line
and
Silversea Cruises
are on hand with high-end luxury options.
Shoreside diversions.
Ports of call will vary by cruise line and itinerary length -- the most popular trips range from 10 to 14 nights, though you can spend a month or more at sea on some of the more intensive tours.
Colon, Panama
, is a common stop, since it's home to the second-biggest duty-free zone in the world, where native crafts are sold alongside steeply discounted brand-name goods. The
San Blas Islands
, another Panamanian destination on the north side of the canal, are known for heritage interactions with the indigenous Kuna Indians. And
Panama City
lures visitors with its mix of cosmopolitan and colonial sites, as well as easy access to the surrounding 55,000-acre rain forest.
Panama Canal cruises can help you explore elsewhere in Latin America, from
Costa Rica's unspoiled shores
to
Colombia's coffee country
. Partial transits often incorporate Caribbean lures, like pristine island beaches and snorkeling. And full transits call to those looking for a panoramic view -- you might skim the Pacific coast of Mexico, for instance, or spend a few pre- or post-cruise days partying in Miami or strolling through San Diego. The canal might have been built for a singular purpose, but cruise vacations offer countless ways to try it out.
The information in this story was accurate at the time it was published in September/October 2011. Please visit
Vacations To Go
or call (800) 338-4962 for current rates and details.
Send This Article to a Friend
Bookmark this Content
Digg it!
Reddit
Furl
del.icio.us
Spurl
Yahoo!