30 Things We Love About Cruising Now
Peruse our picks for top food and drink,
spa perks, opulent lodging and more
By Jennifer Davoren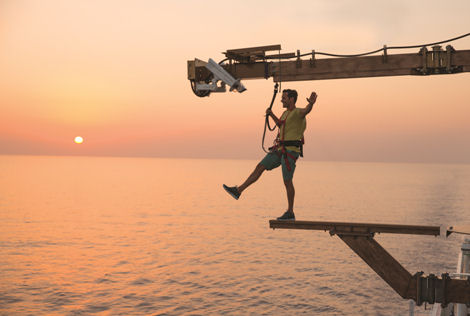 Amanda Marsalis/Norwegian Cruise Line
4 New Ships for Spring 2016
*
Viking Sea
(930 passengers, debuts April 3).
Viking Ocean Cruises
' second ship will offer a mix of Baltic and Mediterranean itineraries. Look for uncommon ports of call like
Pula, Croatia
, an archaeological treasure with ruins built by the Roman Empire.
*
Koningsdam
(2,650 passengers, debuts April 8). Sumptuous dining will be a main attraction aboard this
Holland America Line
addition, with a French seafood brasserie and the Culinary Arts Center -- both a classroom and an evening eatery -- among gourmet perks.
*
Ovation of the Seas
(4,905 passengers, debuts April 17).
Royal Caribbean International
continues its Quantum class with this third megaliner, where shipboard entertainments range from bumper cars and roller-skating to surf and sky-diving simulators.
*
Carnival Vista
(3,936 passengers, debuts May 1). A something-for-everyone ship from
Carnival Cruise Line
, it's topped by the first-at-sea SkyRide -- a bicycle-gondola combo that pedals above the sports deck -- while a Cuban-style nightspot and kids-free deck call to grown-ups.
3 Must-Do's for Every Cruise
*
Introduce yourself
. Stretch those new sea legs with a walk around your host ship. Find the gym, casino and specialty restaurants shortly after boarding, and look into guided tours like Carnival's "Behind the Fun" to meet your captain or head chef.
*
Mark your calendar
. Pack a highlighter to better investigate the daily bulletin. It's delivered to your cabin each evening to help you plan your next day of activities, both on and off the ship.
*
Split up
. Vacations aren't always about family togetherness. Let the kids try dance, disc jockey and science classes and battle it out at the arcade. Mom and dad, meanwhile, can escape for a cocktail or a dip in an adults-only swimming pool, like the ones found in
Princess Cruises
' Sanctuary retreats.
4 Memorable Dining Experiences
*
Connect to the elements
. Ice or fire, water or sun, terra firma versus fantasy -- these are your menu choices at the 62-seat Wonderland, a
Royal Caribbean
dining concept found on Quantum-class ships. This postmodern playhouse gives foodies an elemental theme for their meal. The "Earth"-bound find Cuban pork and slow-roasted chicken, while the "Dream" spread proffers dessert: cake, baked Alaska and a "Boston cream pie maze." Inspired by your ocean surroundings? Pick the "Sea" motif and dig into "liquid lobster" topped with caviar.
*
Light up the night
. The
Regal Princess
and
Royal Princess
have added an innovative twist to private dining. Once the small group of diners is seated at Chef's Table Lumiere, part of the larger Allegro Dining Room, a lighting feature creates a golden-white privacy "curtain" to shield you from outside distractions as you savor specialized entrees.
*
Perfect pairings
. La Reserve by Wine Spectator, with menus informed by the renowned collector's reference, matches dishes with their ideal vintages on
Oceania Cruises
'
Marina
and
Riviera
. Sample butter-poached blue lobster with a side of "clean, crisp and flinty" chardonnay or marry the sweetness in your berry-topped ice cream with the candied chill of a Canadian ice wine.
*
Dinner and a hand-drawn show
. Animator's Palate, now available on all four
Disney Cruise Line
ships, dishes up Pan-Asian cuisine surrounded by some lively decor: Watch the restaurant's interior go from black and white to color over the course of your meal. The
Disney Fantasy
and
Disney Magic
add Animation Magic, with guests inking their own characters to see them dance across the restaurant's movie screens.
3 Things We Never Expected to See on a Cruise Ship
*
A pirate's punishment
. Or, as
Norwegian Cruise Line
has reimagined it, a pulse-racing test of your balance. The Plank juts 8 feet over the side of the
Norwegian Breakaway
and
Norwegian Getaway
-- strap into a safety harness and go for a breezy walk some 17 decks above the waves.
*
Infinity pools
. The 930-guest
Viking Star
-- inaugural vessel of Viking Ocean Cruises, the seafaring offshoot of inland expert Viking River Cruises -- debuted in April with a glass-walled wonder hanging at its aft. Similar features are planned for sister ships
Viking Sea
(due in 2016) and
Viking Sky
(2017).
*
A submarine
.
Crystal Cruises
' 62-passenger yacht, the
Crystal Esprit
, arrives in December with a two-person bubble craft for underwater exploration.
4 Seaworthy Spa Treatments
*
Traditional Thai massage
. Plenty of wellness centers tout their Eastern roots, but the facilities aboard the twin ships of
SeaDream Yacht Club
are the only ones at sea certified by the Thai Spa Association. Retreat to a private, open-air space on the decks of the
SeaDream I
or
SeaDream II
for a 75-minute massage with warmed herbal compresses.
*
Circulation boosts
. The
Viking Star
comes equipped with a snow grotto inspired by its parent company's Nordic roots. It's said that the gentle flutter and swirl of flakes in this chilled room encourages healthy blood flow.
*
Surfer's Scrub
. The
Disney Dream
emerges from dry dock in October with several new perks for kids, including a salon for princess and pirate makeovers. The teen-friendly Chill Spa will return with treatments like this 25-minute exfoliation that refreshes skin with lime, lemon and ginger.
*
Tea and thalassotherapy
.
Costa Cruises
' guests can unwind during a calming ceremony in the onboard teahouse, part of treatments at the Samsara Spa. A soak in the salty thalassotherapy pool further relaxes and rejuvenates as water jets attack tense muscles.
3 New Showstoppers at Sea
*"Magic to Do."
A partnership with Stephen Schwartz, the composer behind Broadway classics from "Godspell" to "Wicked," will create four musicals for
Princess
' shipboard stages. The first, "Magic to Do," also will rely on the expertise of Jim Steinmeyer -- frequent collaborator of Las Vegas headliners like David Copperfield and Siegfried and Roy -- to combine tricks and tunes for its October premiere aboard the
Crown Princess
.
*"Tangled: The Musical."
Three new songs join hits from the movie soundtrack in Disney's latest seagoing spectacle, which welcomes Rapunzel and friends to the
Disney Magic
this November. State-of-the-art puppetry from Tony Award-winner Michael Curry will re-create tricky characters like Maximus the horse.
*
Cruising's first Imax theater
. The
Carnival Vista
will debut in May with three movie screens: a poolside projection area for "dive-in" entertainment, the 3-D Thrill Theater and the industry's inaugural Imax experience, a 180-seat venue for current and classic films as well as Imax documentaries.
4 Over-the-Top Ship Suites
*
The Royal Loft Suite
. Two decks high and measuring between 1,524 and 1,640 square feet, these lodgings aboard the Oasis- and Quantum-class ships of
Royal Caribbean
are all about open, airy luxury, even without the added benefit of their private balconies. Browse the in-suite library or tickle the ivories of your own baby grand piano. Indoor and outdoor dining areas and a wet bar make it an ideal spot for entertaining.
*
The Reflection Suite
. A shower with a view?
Celebrity Cruises
brings the outside into your morning routine with these upscale accommodations on the
Celebrity Reflection
, ensuring guests won't miss out on passing scenery -- not even for the time it takes to floss. Expansive windows front the sink and bathtub and wrap a rainfall shower for prime views of approaching destinations, while a reflective coating on the glass protects privacy.
*
The Three-Bedroom Garden Villa
. Available on select
Norwegian
vessels, these colossal abodes can encompass up to 5,750 square feet. Accompanying amenities include a private garden terrace with hot tub, 24-hour butler service and VIP treatment when leaving the ship for shore excursions.
*
The Regent Suite
.
Regent Seven Seas Cruises
tops off 3,875 square feet of indulgence with the heated tile loungers of an in-room spa retreat. Mimicking "a magnificent Park Avenue apartment" on the 14th deck of the
Regent Seven Seas Explorer
, due in July 2016, it also treats occupants
to unobstructed, 270-degree views over the bow.
5 Ways to Toast Your Trip
*
Try a traditional English cider
. Sip a fruity, refreshing alternative to the lagers and stouts on tap at the Golden Lion, a pub hosted by all three ships of
Cunard Line
.
*
Sample an at-sea-only brand of suds
. ThirstyFrog Red was brewed especially for Carnival. Order it on the
Carnival Breeze
, where the RedFrog Pub pairs it with Caribbean fare: coconut shrimp, Jamaican jerk sandwiches and more.
*
Shake (or stir) things up
. A martini bar aboard the Solstice-class liners of
Celebrity
keeps cocktails cold with its ice-topped bar.
*
Jump-start a healthy getaway
.
MSC Cruises
offers smoothies and a host of "wellness cocktails" through its shipboard spas.
*
Hoist your glass to the view
. Pick your poison at the Crow's Nest Lounge -- available on select
Holland America
vessels, including the
Eurodam
and
Nieuw Amsterdam
-- and settle in front of panoramic windows pointing toward the horizon.
The information in this story was accurate at the time it was published in September/October 2015. Please visit
Vacations To Go
or call (800) 338-4962 for current rates and details.
Send This Article to a Friend
Bookmark this Content
Digg it!
Reddit
Furl
del.icio.us
Spurl
Yahoo!