12 Tempting Reasons to Take a River Cruise
German Christmas markets, Washington cascades
and Botswana wildlife are among the lures
By Kathryn E. Worrall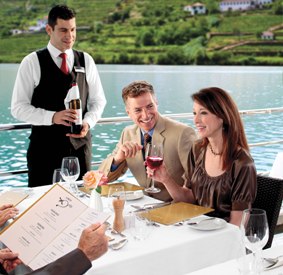 AmaWaterways
T
he many perks of
river cruising
range from expert destination guides, uncommon ports of call and tailor-made shore excursions to fine dining and intimate ships supplied with luxurious extras. But don't let the little touches -- a bracing cup of mulled wine on a cold night, the refreshing spray of a waterfall on a warm day, a Technicolor spread of tulips in bloom -- get lost on your list of reasons to embrace this style of vacation.
Below, we present a dozen destinations, and a dozen reasons to explore the world by riverboat. Whether you're in the mood for wildlife watches or culinary wonders, spa escapes or holiday fun, we're got a cruise for you.
Contact a travel specialist at
Vacations To Go
for more information and potential discounts on upcoming departures.
The shaded paths and thatched-roof cottages of the
Black Forest
inspired quite a few fairy tales collected by the Brothers Grimm, making this German gem the spiritual home of Hansel and Gretel, Little Red Riding Hood and more. Though visitors won't find houses made of sweets, they can treat themselves to dessert: a slice of decadent cake that shares a name with these very woods.
Make your own Black Forest gateau on "
Jewels of the Rhine
" an eight-day
Rhine River
cruise with
Emerald Waterways
, and layer chocolate, cherries and cream with the help of a local family. Other stops in the forest include the open-air Vogtsbauernhof Museum, preserving regional culture as far back as the 16th century with its reconstructed interpretive village, and a peek at Germany's largest waterfall. Eleven departures are available between April and September 2016.
From $2,645
Check loved ones off your shopping list while taking part in a beloved winter tradition on the
Danube River
. Follow the aromas of freshly baked gingerbread and mulled wine to Nuremberg, Germany, where one of the country's oldest
Christmas markets
has reveled in the magic of the season since the 16th century. Stalls overflow with toys and decorations for sale, but this spot is especially known for its prune men -- whimsical characters made of dried plums and walnuts and often sporting traditional German garb -- and angels fashioned from gold foil.
"
Christmas on the Danube
" nine days with
Collette
, makes time for markets in Nuremberg, Vienna and the German cities of Passau, Regensburg and Rothenburg. Three departures are available this November and December, while five holiday sailings are available for 2016.
From $1,799
Work off the calories gained while sampling
French wines and cheeses
with
Uniworld Boutique River Cruise Collection
on the eight-day "
Bordeaux, Vineyards & Chateaux
." With the assistance of the line's Go Active program and its complimentary loaner bicycles, passengers can pedal alongside the
Garonne River and other Bordeaux region waterways
, capping rides through cities and vineyards with well-earned tastings of local delicacies.
This cruise, with departures running through mid-November and resuming in March 2016, also offers Uniworld's Gentle Walking program for those in the mood for a more leisurely pace.
From $2,999
Toast Portugal's vineyards
aboard "
Enticing Douro
" an eight-day wine cruise. Stops along the
Douro River
include behind-the-scenes peeks at production and tastings of the country's specialties, including port and vinho verde.
Samples and lectures also are savored aboard your host ship, the 106-passenger
AmaVida
.
AmaWaterway
guests make a daytrip into Salamanca, Spain, that includes lunch, a flamenco show and a UNESCO World Heritage Site. This itinerary is available April 19, Aug. 9 and Nov. 15, 2016.
From $3,099
More than 7 million bulbs bloom each spring at Keukenhof, a flowering theme park just outside of Amsterdam, making it a popular attraction on
"tulip time" cruises in the Netherlands
. Though its gardens are open only from March to May, some 800 varieties of
Holland's favorite fluted blossom
thrive over 79 acres ideal for walking tours. For an extra fee, visitors can survey rainbow-striped fields from the air aboard a 12-passenger plane.
The eight-day "
Holland & Belgium in Spring
" (also offered in the reverse direction as "
Belgium & Holland in Spring
") from
Tauck
makes time for Keukenhof, the famous Kinderdijk windmills in the Netherlands, medieval sites in the Dutch city of Maastricht and a chocolate factory in Belgium's capital city, Brussels, with several departures in April 2016.
From $2,890
On Day 2 of "
Paris to Normandy's Landing Beaches
" an eight-day
Seine River
cruise with
Avalon Waterways
, passengers must make a difficult choice between two grand home visits in
France
. One explores Claude Monet's estate at Giverny, where ponds filled with water lilies inspired some of the impressionist's most beloved works. The second heads for Bizy Castle, whose expansive grounds and stables earned it the nickname "Normandy's Versailles."
Regardless of their choice, all passengers will be treated to a pastry-making demonstration upon their return to their Avalon Waterways ship. This year's departures run through October, but cruises resume next March.
From $2,449
Ring in 2016 aboard a
Mississippi River
classic. As the sun sets on Dec. 31,
American Queen Steamboat Co
. will offer a
New Year's Eve gala
with confetti and Champagne aboard its flagship, the
American Queen
. Meanwhile, passengers of
American Cruise Lines
enjoy a[ fireworks show] from its newest paddle wheeler, the
American Eagle
. Both cruises depart New Orleans on Dec. 27 bound for Civil War monuments, antebellum mansions and Louisiana's capital, Baton Rouge, on eight-day vacations.
From $2,699 for American Queen Steamboat Co. and $4,400 for American Cruise Lines
Follow Lewis and Clark's path
down the
Columbia and Snake Rivers
to eastern Washington's Palouse Falls, a cascade native legend attributes to the claws of a giant beaver. Though modern research credits its formation to glacial flooding in the last ice age, this attraction remains entrancing and magical.
Swim in the pools below the flow or hike to the top of the falls for panoramic photos on
Lindblad Expeditions
' "
Columbia & Snake Rivers Journey: Harvests, History & Landscapes
" a seven-day cruise that explores this area. The trip between Portland, OR, and Clarkston, WA, also makes time for local farm and winery visits and a jet-boat adventure into Hells Canyon. This is a seasonal vacation, available in September and October as well as
fall 2016.
From $4,590
Dramatic limestone cliffs and a monument to modern engineering mark
China's Three Gorges
region as a popular destination for
Yangtze River
cruises. "
Imperial Jewels of China
" a 13-day tour with
Viking River Cruises
, includes six days of Yangtze sailing -- and one-third of that time is dedicated to this 150-mile stretch of canyons and sites both ancient and state-of-the-art.
Keep an eye out for the hanging coffins of the Ba people, placed in their daring positions more than 2,000 years ago, and travel through the five-stage locking system of the Three Gorges Dam, the massive hydroelectric project providing power throughout the country. On-land elements of this vacation include tours of Beijing, Shanghai and Xian, the final resting place of a Qin Dynasty emperor and his terra-cotta army. Though 2015 departures have sold out, the 2016 installment launches in late February.
From $5,749
Join tour operator
G Adventures
on an
Amazon River
expedition and you'll ply
South American waters
with the help of several vessels. Your host for the nine-day "
Amazon Riverboat Adventure Aboard the Amatista
" is an airy,
30-guest craft
complete with onboard naturalists and a spacious observation deck for daily sightseeing. Meanwhile, two smaller skiffs are ready to deploy to better explore remote waterways and stops like Peru's Pacaya Samiria National Reserve, home to the giant river otter and other endangered species.
For a more rugged day on the water, a guided excursion explores mangroves in a traditional dugout canoe. Keep an eye out for the Amazon's scarlet macaws, caimans, spider monkeys and pink river dolphins on sailings through November 2016.
From $2,449
Cruise the border of
Chobe National Park
for a different perspective on the region as baboon troops, giraffe herds and more gather along the
Chobe River
. Located in northern Botswana, the park is known for having perhaps the highest concentration of elephants in the world -- an estimated 70,000 -- giving passengers the chance to see family groups interact. By night, hippos emerge from the waterway to graze along its banks.
Live like royalty aboard the
Zambezi Queen
, a 28-passenger vessel with panoramic windows and spacious verandas for wildlife spotting; it will spend three nights on the Chobe River during the 13-day escorted tour, "
Southern Africa Safari by River & Rail
." There is a departure this December, while 2016 trips with
Abercrombie & Kent
kick off next March and stretch through October.
From $11,995
The 12-suite
Mekong Princess
will make its debut on the
Mekong River
in
Southeast Asia
this September with an indulgent 1-to-1 ratio of river cruise guests and staff. Described by
Haimark Line
as a "spa concept vessel," its additional perks include a complimentary one-hour spa treatment in the Princess Spa and daily yoga, tai chi and meditation classes led by staff members.
While every cabin is spacious, two 496-square-foot Angkor Suites feature roomy balconies as well as rain showers and marble bathtubs for luxurious soaks. Sample this ship on the eight-day "Vietnam, Cambodia & the Treasures of the Mekong River," which also explores traditional temples and local cuisine. Sailings on the Princess run from now through April 2016 and start again in August.
From $3,499
The information in this story was accurate at the time it was published in September/October 2015. Please visit
Vacations To Go
or call (800) 338-4962 for current rates and details.
Send This Article to a Friend
Bookmark this Content
Digg it!
Reddit
Furl
del.icio.us
Spurl
Yahoo!