10 Ways to Chill Out
Beat the heat during the last days of summer
By Kimberly Garza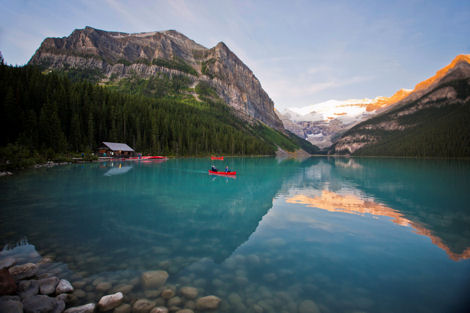 Paul Zizka/Banff Lake Louise Tourism
S
ure, 'tis the season for barbecues and swimming pools, but summertime also brings climbing temperatures -- and the air conditioning can only go so far. Where do you turn when you're breaking a sweat? Keep your shirt on, and check out 10 escapes guaranteed to cool you off, from snorkeling in frigid Alaskan waters to sipping cocktails in a cruise ship bar made entirely of ice.
Snorkel Alaskan waters.
Cruisers have long enjoyed
sailing Alaska's stunning coasts
, but adventurous souls can head beneath the surface for unique views. At southeast Alaska's Mountain Point, snorkelers of all experience levels can swim through water that reaches temperatures of about 65 degrees in summer (warmer waters are due to the Japanese Kuroshio current, long sunny days and the lack of glaciers in the area). Shimmy into a quarter-inch-thick wetsuit with hood, boots and gloves as you explore the underwater world, including shallow tide pools and rock walls. Guides lead one-hour tours where travelers handle brilliantly colored starfish, spiny urchins and sea cucumbers. And when it's time to ascend, toasty dressing rooms and a hot drink welcome you back.
Holland America Line
and
Princess Cruises
offer this excursion during port calls in Ketchikan.
Raise a glass in a frozen bar.
When it comes to keeping temps down at sea,
Norwegian Cruise Line
has raised the (ice) bar with its frozen hangout on the
Norwegian Breakaway
. Within this lounge on Deck 8, the temperature never rises above 17 degrees Fahrenheit, and the bar, chairs, tables and glasses all are carved entirely from ice. Admire frozen sculptures of the Brooklyn Bridge, Statue of Liberty and Chrysler Building; they're homages to the Breakaway's home port, New York City, as are drink selections like Broadway Dreams (vodka and ice wine) and Yellow Cab (vodka, peach schnapps and orange juice). Just 25 or so guests are allowed at a time, outfitted with hooded coats and gloves. The 4,000-passenger Breakaway, which launched in May, visits destinations in
Bermuda and the Bahamas
.
Traverse the Columbia Icefield.
Cool off in the wilds of
Alberta
on the 11-day version of "
Western Canada & Rocky Mountaineer
," a tour from Cosmos. Guests enjoy highlights of the Canadian Rockies like icy Lake Louise, whose waters are constantly chilly due to surrounding mountains and glaciers. Then hop aboard an all-terrain Ice Explorer and clamber over 1,200-foot-thick ice in the Columbia Icefield, the largest frozen expanse in the region. Spend a few days traversing Banff and Jasper national parks before boarding the Rocky Mountaineer train to cultural and foodie hub Vancouver in neighboring British Columbia. Departures run through September, with per-person prices from $2,481.
Ice skate on a cruise ship.
Try a figure eight on the first ice skating rinks at sea, found on
Royal Caribbean
's Oasis-class, Freedom-class and Voyager-class vessels and free of charge for all passengers. Figure and hockey-style skates are available in adult sizes, while kids get in on the action with sizes 2 to 7. Skates are complimentary, but don't forget to put on long pants and socks. Not up for a spin on the ice? Head to the rinks for scheduled shows, complete with lifts and jumps performed by pros.
Relax in a cold spa room.
Soak. Steam. Chill? Aboard the
Celebrity Reflection
, you can linger in a cold room among the expansive AquaSpa facilities. The space is kept at a brisk 52 degrees Fahrenheit -- with cooled seats, walls and floor -- and is meant to tighten pores after a spell in the sauna or a spa treatment. AquaSpa visitors can use the cold room as part of the spa's Persian Garden experience. Luxurious features also include a DIY scrub and salt bar, several aromatic shower options and a hammam, where you recline upon heated stone slabs to loosen muscles.
Sip a cold beer in Colorado.
An icy drink and lively tunes make even long summer days fly by; head to
Keystone, CO
, for a celebration that combines both. During Aug. 3-4, the Bluegrass and Beer Festival draws visitors and locals in search of a good time. Sample more than 30 specialty suds from the area's many microbreweries. The weekend event salutes Appalachian food and tunes, and live bands perform bluegrass music on three stages. Price stays at hotels like the
Keystone Lodge and Spa
, where rooms face vistas of Keystone Mountain and the Snake River.
View ancient history in Chicago.
Sometimes a hot day just calls for an air-conditioned museum. Make for The Field Museum in
Chicago
and get some culture with your cold air, thanks to a special exhibit, "Scenes From the Stone Age: The Cave Paintings of Lascaux." Through Sept. 8, visitors can view exact replicas of the famous paintings and engravings of animals, available for the first time in North America. Since their discovery in 1940, the cave paintings from southern France -- estimated at about 20,000 years old -- have intrigued scientists and history geeks around the world, although the caves themselves are closed to preserve the artwork's fragile existence. Let flickering light set the mood as you wander past the depictions, some never before seen by the public, and learn more about the complex meanings of the images and ways of life of Stone Age families.
Take a swim in Mexico.
No summer is complete without a day by the pool, and
Hard Rock Hotel Cancun
in Mexico has the perfect splash for everyone. Kids can hit up the children's pool, boasting plenty of slides and climbing equipment. Meanwhile, adults in search of relaxation (and libation) flock to the hotel's infinity pool, featuring swim-up bars so you can sip without leaving the water. A beach lined with inviting lounge chairs is just steps away. Finally, each room at Hard Rock Hotel Cancun includes a double Jacuzzi for private soaks.
Meet penguins in New York City.
A trip to Antarctica is as easy as taking a stroll in the park -- at least, it is when you're headed for the Polar Circle habitat at the Central Park Zoo in
New York
. Open year-round, the habitat delights guests with twice-daily feedings of gentoo, chinstrap and king penguins, plus scheduled playtime for resident polar bears Gus and Ida. Don't miss the recently renovated "Polar Seabirds" exhibit, where you can view graphics and videos teaching all about Antarctic penguins.
Scream for ice cream.
Summer in Texas usually means humidity on top of sky-high temps. Beat the heat with an all-day celebration of America's favorite frozen treat in quirky
Austin
. On Aug. 17, head for scenic Lady Bird Lake, near downtown, for the annual Austin Ice Cream Festival. Ten dollars will get you ice cream (no charge for kids age 8 and younger), plus lively entertainment, battles for the best homemade ice cream and best Popsicle stick sculpture and, of course, an ice cream eating contest.
The information in this story was accurate at the time it was published in July/August 2013. Please visit
Vacations To Go
or call (800) 338-4962 for current rates and details.
Send This Article to a Friend
Bookmark this Content
Digg it!
Reddit
Furl
del.icio.us
Spurl
Yahoo!