10 Uncommon Ports of the Med
Discover the culture, cuisine and storied pasts
of these unique destinations
By Alexis Hilts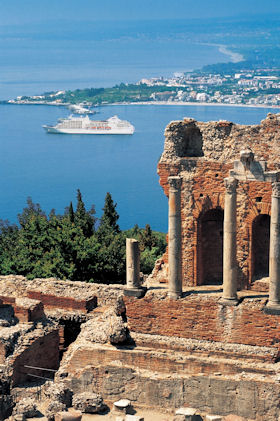 Regent Seven Seas Cruises
L
egends of gods and tales of heroes have sprung from the lands surrounding the
Mediterranean Sea
. The region is the birthplace of figures who shaped the history of civilization, and it has been a well of inspiration for artists of every medium. Three continents -- Europe, Asia and Africa -- are connected by these azure waters, and their shores are lined with a diverse collection of fascinating destinations. A cruise vacation is the best way to experience this mosaic of cultures.
Ships traversing the Mediterranean typically head to cosmopolitan cities like
Rome
,
Barcelona
,
Monte Carlo
,
Istanbul
and
Athens
-- all exciting, unforgettable stops. So unforgettable, in fact, that it's easy to overlook some of the Med's lesser known -- but just as remarkable -- harbor retreats. For travelers who yearn to uncover treasures off the beaten path, we offer 10 intriguing Mediterranean locales.
For great deals on cruises that visit these ports, call
Vacations To Go
, (800) 338-4962. The company specializes in deeply discounted cruises, with rates slashed by 50 percent or more. To help you narrow your search, we've listed below a few of the cruise lines that call at these locales, focusing mainly on itineraries of seven nights where possible.
Debate surrounds
Korcula
's claim that it is Marco Polo's birthplace, but visitors to this town on the forested shores of a Croatian island (also called Korcula) might just get the urge to explore for themselves. It's one of the best preserved medieval sites in the region.
A leisurely stroll through the Old Town leads sightseers past the Gothic-Renaissance Cathedral Sveti Marko, a masterpiece of stone masonry. Opposite the cathedral is the Museum of Korcula, where collections relating to the city's history are on display. The House of Marco Polo is another suggested stop, where you may solve the mystery of the adventurer's hometown.
Tours of coastal vineyards appeal to wine enthusiasts; both reds and whites are local specialties, as is the olive oil. Hidden beaches and coves make enchanting spots for snorkeling and diving.
You'll find Korcula on
seven-night itineraries
sailed by the small ships of
SeaDream Yacht Club
, the
Yachts of Seabourn
and
Windstar Cruises
.
The site of one of the Seven Wonders of the Ancient World -- the tomb of King Mausolus of Caria, from which the word "mausoleum" is derived --
Bodrum
on the southern Aegean coast is an artsy harbor town set against the backdrop of a 5,000-year-old history. Colorful bougainvillea and charming whitewashed houses, two glimmering bays and the great stone facade of the Castle of St. Peter dominate the Turkish peninsula.
Lounge on the terrace of an outdoor cafe, taking in the impressive yachts, wooden sailboats and pristine beach views, or browse the beautifully crafted goods found here, like leather sandals, copper items, kilim rugs and silver and gold jewelry.
Once known as Halicarnassus, one of the first Greek colonies, Bodrum has plenty of history to keep travelers busy. A visit to the Bodrum Museum of Underwater Archaeology is a perfect place to begin. Housed in a medieval castle atop a rocky hillside that juts into the sea, the museum displays ancient artifacts, including the remains of the tomb of a possible Carian princess.
The masted sailing ships of
Windstar
and
Star Clippers
frequently include Bodrum on
weeklong cruises
of the Eastern Mediterranean.
Nestled beneath a stunning Venetian fortress and characterized by narrow streets and large neoclassical houses,
Nauplion
is one of the prettiest jewels among Greece's crown of picturesque cities and towns. This quaint Peloponnesian village was established in prehistoric times, participated in the Argonautic Expedition and the Trojan War and was the first capital of modern Greece. Three fortresses exist here because of its strategic location; the largest is the 18th-century Palamidi, which boasts panoramic views.
Various cafes and upscale boutiques invite passers-by to linger. For a souvenir with a touch of good fortune, head to the Komboloi Museum and pick up a lucky charm or amulet (St. Christopher is said to protect the traveler).
Nauplion, also spelled Nafplion or Nafplio, is also the gateway to Mycenae, once a powerful city-state ruled by Agamemnon. The Tomb of Agamemnon, or Treasury of Atreus, may be reason enough for some to make the trip here: The impressive stone structure is largely intact, which is noteworthy considering that it was built in the Bronze Age.
Norwegian Cruise Line
and
Seabourn
are among companies that feature Nauplion on
weeklong itineraries
.
Afloat in the far right corner of the Mediterranean, the island nation of Cyprus is distinguished by its proximity to Europe, Asia and Africa. On its southern edge sits the resort town of
Limassol
, or Lemesos, covering roughly nine miles of sunshine-soaked coastline dotted with eucalyptus, pine groves and vineyards. Passengers will find broad shopping avenues and medieval pedestrian lanes to stroll here. For an authentic meal, stop at a taverna for meze -- small portions of tasty bites like loukanika, a Cypriot sausage seasoned with coriander seeds, and grilled haloumi, a semisoft cheese made of goat or sheep's milk.
For romantics, there's the castle where, the story goes, Richard the Lionheart married Berengaria of Navarre and crowned her queen of England in 1191. This fort now contains the Medieval Museum, which boasts a collection of Byzantine and medieval relics, such as gold coins, pottery, armor and tombstones. Another place filled with objects from the past is the Archaeological Museum, with items dating to neolithic times.
Limassol is part of the line-up for many
10- and 11-day itineraries
offered by
Costa Cruises
and
MSC Cruises
.
Set on a verdant hillside with views of Mount Etna -- Europe's largest active volcano -- the cobblestoned pedestrian-only lanes of this small Sicilian town lead to inviting piazzas with sculpted fountains and relaxing cafes. For tantalizing scenery worthy of photo ops (including of the majestic volcano) make the climb to the Greek amphitheater, constructed in the Hellenistic era and later remodeled by the Romans and used for gladiator displays.
A popular day trip for movie lovers centers on scenes from "The Godfather" series that were filmed in the region surrounding
Taormina
. Cruisers interested in culinary pursuits might pick up a new dish during a lesson in Sicilian cooking, while those looking to take it easy can ride a cable car down to Mazzaro Beach for some chaise lounge sunning.
Ceramics, jewelry and local wines draw patrons into shops; an entire trip could be spent browsing and admiring the intricacies of medieval churches and cathedrals on a walk through the village.
Luxury lines
Seabourn
,
SeaDream
and
Silversea Cruises
include Taormina on their
weeklong Med sailings
, as does
Azamara Club Cruises
, a deluxe company known for its port-intensive vacations.
A mixture of African, Arabic and European influences blend in this Tunisian fishing port, where travelers can view a sampling of architectural styles and peruse markets brimming with colorful handicrafts.
About eight miles from Tunis,
La Goulette
is just south of the archaeological ruins of Carthage, once the bitter adversary of ancient Rome. Shore excursions visit the scattered remains -- including large Roman baths near the shore, temples and an amphitheater where sacrifices were held -- and also stop at the artistic haven of Sidi Bou Said, a pretty village of whitewashed cottages with bright blue trim. Here, vacationers can shop for silver, mosaics, ceramics, pottery and tea sets.
Also worth mentioning for foodies: Some of Tunisia's best seafood restaurants are said to be in La Goulette. You'll find the ships of
MSC Cruises
and
Holland America Line
stopping here on
seven-day routes
.
Ajaccio
, the capital of Corsica and its largest city, celebrates its status as Napoleon's birthplace every chance it gets. Streets are named for him, statues bear his resemblance and his family's former home, Maison Bonaparte, is now a museum. Walking tours of the town are an ideal way to discover sites related to the conqueror.
The French island of Corsica is known as "the scented isle" because it's covered with a wild, flowered shrubbery known as maquis. Take in the unique fragrances on a leisurely drive through the forested interior or to one of the many golden beaches, or browse Ajaccio's stores for perfumed soaps and oils.
Before you reboard your ship, sample some of the local delicacies -- rich honey, Corsican cheeses, charcuterie, figs and chestnut flour beignets -- in the food shops or at the farmer's market held in Campinchi Square.
Those with little time to spare for vacation, take note: Ajaccio is featured on
three- to six-night jaunts
with
Costa Cruises
from Savona, Italy.
Royal Caribbean International
stops by the Corsican city on
five- to seven-night trips
from Malaga, Spain.
MSC Cruises
includes the port on
weeklong voyages
.
Some 3,000 years of history and layers of cultural influences make
Cartagena
, on the southeast coast of Spain, appealing to cruise passengers who arrive with a wide array of interests. In one day, it's possible to stand in an ancient Roman theater, hike to 14th-century Concepcion Castle and see one of the world's first submarines (the Peral, launched in 1888).
The city is an amalgam of past civilizations; Romans, Visigoths, Castilians and Moors have all left their impressions. The Punic Wall, which dates to 227 B.C., is what remains of a barrier once used to defend the area. On the other end of the historical spectrum, City Hall Square boasts elegant modernist architecture that's not to be missed. A wildlife reserve, sun-kissed beaches and a range of restaurants and shopping venues are additional enticements here.
Silversea
,
Star Clippers
,
Cunard Line
,
Windstar
,
Royal Caribbean
and
SeaDream
plan to swing by Cartagena on
seven-night trips
.
Villefranche-sur-Mer, France
Lapis waters and the tropical sun seduce travelers into vacation mode in
Villefranche-sur-Mer
, nestled in a wooded hillside facing the sea. Visitors can access all the splendors of the French Mediterranean from this picturesque destination:
Nice
,
Cannes
and
Monte Carlo
are easily reached by train, though some cruisers may choose to soak up the Gallic culture in Villefranche's low-key atmosphere.
By foot, tourists can get to the old fishing town's best landmarks: the 16th-century citadel and its gardens, the medieval Rue Obscure ("dark street") and the Roman-style Chapelle Saint-Pierre, decorated with frescoes by Jean Cocteau.
Those eager to experience the rest of the Cote d'Azur can take the short train ride west to the bustling Promenade des Anglais and the must-see museums of Nice, like Musee Marc Chagall and Musee Matisse. And to the east is luxurious Monaco, with its expensive yachts, glittering Grand Casino and chic atmosphere, designed to satisfy the whims of the rich and famous.
Villefranche is a favorite stop for
Royal Caribbean
ships sailing
four- to seven-night itineraries
in the Western Med. Azamara,
Celebrity Cruises
and
Princess Cruises
spend a day in the French town on
weeklong trips
.
According to mythology, Hercules was tasked with 12 seemingly impossible labors. During his 10th mission, it's said the Greek demigod created the two jutting Pillars of Hercules, one of which was the Rock of Gibraltar. Rising nearly 1,400 feet above the sea, this striking mass of limestone has come to symbolize the British territory of
Gibraltar
, located at the southern tip of the Iberian Peninsula. A unique attraction in itself, this impressive geologic formation is also the habitat of Europe's only wild monkeys, the Barbary apes.
Catch a glimpse of these mischievous primates on a visit to the Upper Rock Nature Reserve, also a place for bird-watching. Vacationers interested in sea life have a good chance of spotting dolphins and whales in the bay or strait, which measures 10 feet across at its narrowest point.
At its location where the Mediterranean Sea meets the Atlantic Ocean, Gibraltar has at times found itself in the middle of several power struggles, and military history buffs will marvel at the sights left behind. Two major points of interest are the Great Siege Tunnels, carved by the British while under assault by Spain and France from 1779 to 1783, and the Moorish Castle, built in the eighth century.
Gibraltar appears on
weeklong sailings
aboard the ships of
Royal Caribbean
,
Windstar
and
Silversea
.
The information in this story was accurate at the time it was published in May/June 2010. Please visit
Vacations To Go
or call (800) 338-4962 for current rates and details.
Send This Article to a Friend
Bookmark this Content
Digg it!
Reddit
Furl
del.icio.us
Spurl
Yahoo!