10 Heart-Pumping Shore Excursions to Keep You on the Move
Bike, surf, ride horseback or race a car
on these active offerings
By Alexis Hilts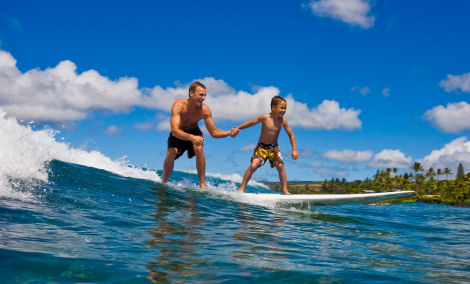 Tor Johnson/Hawaii Tourism Authority
"I
t's kind of like the hot new thing," says Brad Ball, spokesperson for
Silversea Cruises
, of heli-skiing, an activity that the luxury line's concierge desk recently arranged at the request of a passenger in Europe. "As opposed to being with the masses in a chairlift or a tram, you have your own helicopter that takes you on a private run or off the beaten track, and you ski in pristine conditions."
This exclusive shore excursion is just an example of the kind of off-ship ventures passengers have access to on cruise vacations these days. Chances are there's a cruise line that's got the perfect active in-port expedition for you. In an effort to appease all levels of movers and shakers, cruise lines continue to come up with energizing shore excursions, from snorkeling to zip lining.
Whether you're a reluctant exerciser wanting to burn a few calories on an uncommon city tour or an adrenaline junkie looking to try a new thrill, we've compiled a collection of adventures ashore that get your body moving. Our selections are ranked according to how much they get your heart pumping.
Shore excursions have limited availability, so make sure to prebook your must-dos. Some activities can have restrictions, such as weight limits or minimum age requirements. Do your research to help select experiences best suited to your level of fitness and skills. Each cruise line's list of in-port options is subject to change.
For great deals on sailings to these destinations, call the cruise specialists at (800) 338-4962 or visit
Vacations To Go
.
Truffle Hunting in Croatia
Lore insists that the truffle is an aphrodisiac, priming its tasters for passion. Whether this is true for humans or not is unclear, but the musky fungus sure drives pigs crazy. Swine traditionally were used for seeking out the underground bounty for exactly this reason, though nowadays it's more common to utilize the talents of scent-sensitive canines on the hunt. Passengers of
SeaDream Yacht Club
who travel to the Adriatic peninsula of Istria, in Croatia's northwest corner, will have a chance to meet these specially trained dogs and their owners on a countryside truffle hunt.
From the charming cobblestoned port of
Rovinj
, guests head to the village of Livade to meet truffle seekers and their companions, pups taught from a young age to sniff out black or white (the ultimate prize) fungi. You'll spend an hour and a half exploring the damp wilderness where these pungent morsels grow, then taste your truffle treasures in a sampling of local dishes.
Heart-race rating:
1 out of 5
Horseback Riding in the Bahamas
Saddle up for a tour of the private, unspoiled Bahamian island of
Half Moon Cay
, 98 percent of which is dedicated to a wild bird preserve.
Carnival Cruise Lines
passengers ride their steeds along meandering trails to the highest point -- an ideal spot for snapping photos of serene tropical surroundings.
After returning to the corral, guests re-energize with refreshments while their equine counterparts get changed into their version of a swimsuit: a special pad and rope halter. Ready to get wet, horses and riders plunge into the ocean together for a unique swim along the islet's nine miles of beach.
Heart-race rating:
2 out of 5
Cave Exploration in Jamaica
Jamaica's newest cruise port,
Falmouth
, offers easy access to a network of limestone caves beneath the forested hills of Cockpit Country. Guests of
Royal Caribbean International
begin their caving excursion with a ride to this west-central region, the island's last remaining patch of preserved wilderness and home to various native species. A hike through the woods and across the Mouth River brings travelers to a 2-mile-long complex of passageways at Rock Spring.
Expect to crouch, crawl and creep past the cave's batty inhabitants during the hourlong subterranean exploration. This excursion is suited to both beginners and advanced spelunkers.
Heart-race rating:
3 out of 5
Hiking a Volcano in Italy
Active travelers with a reverence for the past can choose to trek the crater of legendary Mount Vesuvius on Mediterranean sailings with
Princess Cruises
, during stops in
Naples
on Italy's southwest coast. Passengers take in panoramic views en route to a spot on this still-active volcano, 3,000 feet above the Bay of Naples.
After hiking for 40 minutes across the rocky remains of once-flowing lava, cruisers board a motor coach bound for the ruins of Pompeii. Once a flourishing Roman town, Pompeii was buried by a massive eruption of Mount Vesuvius in A.D. 79. Hidden beneath volcanic ash, the city was rediscovered in the 18th century. Visitors can now tour the archaeological site, including the remnants of baths, theaters, wrestling grounds and villas decorated with preserved mosaics.
Heart-race rating:
3 out of 5
Surfing in Hawaii
Shore excursions are a fun way to get to know a region's culture, and
Norwegian Cruise Line
provides an experience that introduces visitors to a Polynesian tradition: surfing. The art of skimming the sea's surface is centuries old. In 1779, Lt. James King, one of the earliest European observers of surfers, wrote: "These men may be said to be almost amphibious."
NCL vacationers hoping to hang 10 will head to Poipu Beach on the south shore of
Kauai
for some guidance from expert wave riders at Chava Greenlee's Surfing School. Instructors teach would-be swell catchers the basic form on land, such as proper paddling and pop-up techniques. Then it's time to grab a board and hit the water. Cruisers have plenty of supervision in the ocean to up their chances of catching that perfect wave.
Heart-race rating:
3 out of 5
Nordic Walking in Finland
The seaside capital of
Helsinki
is a walkable city, and
Seabourn
capitalizes on this -- with a twist. Instead of the classic pedestrian tour, passengers grab a pair of specially designed poles and discover Helsinki's sights while Nordic walking. An off-season training technique for cross-country skiers, this vigorous sport burns up to 40 percent more calories than regular walking, strengthening both lower and upper body muscles. Using poles also adds safety and stability while reducing stress on the joints.
Traversing roughly five miles of city pathways, cruisers will check out top attractions. Bustling Market Square, with its food and souvenir stalls, the domed Lutheran Cathedral in Senate Square and the curved contemporary art museum, Kiasma, are sights along the way.
Heart-race rating:
4 out of 5
Cycling in Spain
Taking a guided tour via an air-conditioned vehicle can be a relaxing way to see the sights, but navigating by bicycle gets your heart pumping and allows you to go places that a motor coach can't. Areas of art- and architecture-filled
Barcelona
are car-free zones -- only accessible on foot or by bike -- including La Rambla, the lively main strip.
Guests of
Celebrity Cruises
can pedal part of a 60-mile network of cycling lanes, through the old town and along the oceanfront, accompanied by both a guide and a mechanic to ensure a smooth ride. The route covers about seven and a half miles, with occasional breaks for sightseeing.
Heart-race rating:
4 out of 5
Rock Climbing in Alaska
Alaska's rugged scenery inspires many travelers to get moving in the outdoors.
Disney Cruise Line
has found a way to harness that energy by offering amateur climbers a chance to scale the heights of stunning White Pass during ship visits to the old gold-rush capital of
Skagway
.
Outfitted with the proper equipment, would-be mountaineers have their pick of more than a dozen ways to ascend the granite rock face, all leading to views of the Skagway River. The boldest of the bunch can add to the rush with a 70-foot rappel down the cliff. This experience is designed to accommodate both novices and experts.
Heart-race rating:
5 out of 5
Racing Cars in Estonia
Millions of fans get their juices flowing every year by watching the Daytona 500, imagining what it would be like to put the pedal to the metal. This year,
Crystal Cruises
introduced an onshore experience on select
Baltic sailings
that allows passengers to do just that at Laitse Rally Park.
Located south of
Tallinn, Estonia
, the racing complex is the biggest in the region. After a lesson in navigating the 1.5-mile track, speed demons choose their vehicle -- an automatic BMW or a manual Lada -- before competing against another driver for the fastest time.
The winners will get trophies, but all will celebrate with wine and the opportunity to meet a local champion.
Heart-race rating:
5 out of 5
Choose Your Own Adventure
Want to go home with a one-of-a-kind experience under your belt? Create your own customized excursion. Most cruise lines have added private or small-group tours to their lists of onshore offerings. Some luxury operators, like
Seabourn
,
Crystal
and
Silversea
, have raised the bar by allowing passengers to design their own adventures.
"Anything that you want to do or can conceive of doing, we'll handle it," says Brad Ball of Silversea. The Silver Shore Concierge program is specifically devised to handle guests' private arrangement requests, from preplanned endeavors to spur-of-the-moment desires. The heli-skiing trip began when one particular Silversea cruiser heard of a late snowfall in the Swiss Alps, Ball says. He visited the concierge desk on board, and the staff arranged for a private jet to fly his
family to Zermatt, Switzerland, for a day of heli-skiing -- and back in time to meet the ship before it departed the port. "That's the ultimate adventure," says Ball.
In the last five years, Crystal has added its own private excursions program, as well as a range of "extreme luxury" tours, from sailing around the
Greek islands
in a yacht to speeding the hillsides of
Monaco
in a Lamborghini. Last year, guests could come face-to-face with a notorious ocean predator during a shark cage dive off
South Africa's coast
. Crystal also has added a zero-gravity experience at Russia's cosmonaut training facility, Star City.
These days, Silversea's cruise clientele does a lot of research up front, Ball says. Guests are looking to maximize the in-port experience. "They want options. They want to pick and choose and ultimately put together the perfect package."
Heart-race rating:
It's up to you!
The information in this story was accurate at the time it was published in July/August 2011. Please visit
Vacations To Go
or call (800) 338-4962 for current rates and details.
Send This Article to a Friend
Bookmark this Content
Digg it!
Reddit
Furl
del.icio.us
Spurl
Yahoo!