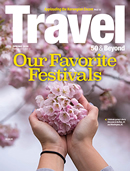 People who are 50 and older take 80% of all the vacations in this country.
Travel 50 & Beyond is the only travel magazine conceived and designed specifically for this group. Our mission is to serve a more thoughtful traveler who demands quality, value and an enriching travel experience.
Our readers are active and interested in all types of trips from soft adventure to slow meanderings along back roads. They enjoy cruises, escorted tours, and travel by train or RV. They often take longer trips and travel more frequently during the year.
Travel 50 & Beyond covers worldwide vacation opportunities as well as the humorous, poignant, romantic and adventurous aspects of travel.
Established in 1990, Travel 50 & Beyond is published four times a year.
Click here for Free Travel Info.