Volunteer Vacation in South Africa
College students teach invaluable computer skills
to residents of the Kayamandi township
By Katie Phillips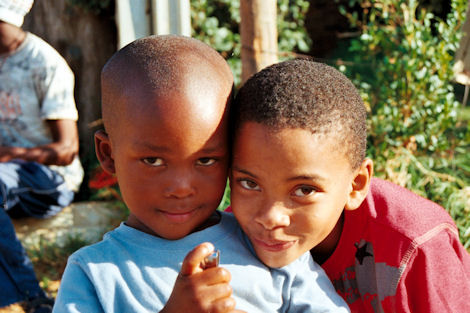 Katie Phillips
(Scroll down to see a slide show.)
I
n an age teeming with e-mails, wireless Internet and smartphones, basic computer knowledge is something that most of us take for granted. But in many communities around the globe, such skills are nonexistent, or at least very rudimentary. Five years ago, Wake Forest University began collaborating with the University of Stellenbosch in South Africa to teach these essential skills to residents of a nearby township, Kayamandi. It's one of the largest townships in South Africa, with a population of nearly 25,000.
Wake Forest has a long history of service work. The school's motto is "Pro Humanitate," meaning "for humanity." The college hosts a variety of service and learning projects all over the world, from its home in Winston-Salem, NC, to Calcutta, India.
Wake Forest's two-week service trip to Stellenbosch appealed to me because it provided an opportunity to teach something that could be life-changing. Proficiency in typing and in programs like Microsoft Office can supplement resumes and fulfill requirements for a majority of jobs. Once I understood how vital these skills were for our students at Kayamandi, computer literacy quickly became an important issue for me.
After exhausting delays in the Washington, DC, and London airports, our group of students gleefully exited the South African airbus. The Cape Town International Airport was swarming with people. One of the first things I noticed were the posters throughout the terminal advertising the 2010 World Cup, an event that will bring South Africa into the global spotlight this summer.
"The World Will Be 1 in 2010," read the posters, echoing the official South African motto above the airport's exit door: "Unity in Diversity." And diverse it is. We left the modernity of the international airport behind and drove along highways surrounded by 19th-century vineyards, olive farms and cheetah reserves. Our hostel in Stellenbosch, Banghoek Place, offered a simple, no-fuss atmosphere, with polished wood, white stucco and art from the owners. There was no air conditioning, so the large doors remained open to allow a constant breeze and natural light.
Our group was fortunate to hear a lecture by an acclaimed professor at the University of Stellenbosch, Sampie Terreblanche. He discussed the assorted settlers to the region and their influence on South Africa. He spoke of the native people and the constant fight for power during the colonial age. He gave us a picture of South Africa today and its two opposing worlds. One is comprised of racial divides and inequalities that continue to exist 15 years after the end of apartheid. The other is represented by a progressive and urban South Africa that has integrated more smoothly into the 21st century. The discussion was thought-provoking and provided a perspective that framed the rest of our journey. By hosting a computer literacy training course, we could move a disadvantaged group of people across the great divide, leveraging a basic knowledge of technology into a productive and useful means of work.
The computer training course was taught at the library in Kayamandi. Each day began at 9 a.m. and ended at 3 p.m., with a one-hour lunch break. We established the levels of computer literacy and divided the students into the appropriate groups. Wake Forest provided all service trip participants with laptop computers, so we would be able to offer sufficient hands-on time to our students.
My advanced Level Three students -- Noluthando, Ntombi and Zintle -- all demonstrated immediate knowledge of Microsoft Word basics. They had already mastered procedures such as bulleting and numbering, choosing a font, italicizing and underlining. Immediately I noticed their eagerness, and I can only compare their learning style to a sponge: Everything I said would be processed and repeated dozens of times as they committed the instructions to memory.
But there were a few things that caused struggles for my students early on. Highlighting text with a mouse seemed nearly impossible for them at first. Typing also proved to be difficult. The process by which Zintle found the correct keys can only be described as a choreographed dance of her fingers. Every time her fingers touched the keyboard, they followed the same sequence before finally selecting one to press. Noluthando made circular motions with her fingers, scanning them across every key before making a decision. Typing was going to be a challenge, for even the Level Three students.
After a hearty lunch of lasagna, salad and toast, I took my students into the library's computer lab to practice typing with a game called TypeMaster. It drills users through 12 levels and keeps track of their speed and progress. A minimum typing speed of 25 words per minute is required for any sort of job involving computer work in South Africa. On the first day, my students typed three to four words per minute. We had a long way to go.
Within a few days, the entire class showed significant progress. After an afternoon on TypeMaster, my three students reached seven to eight words per minute. A few of the participants soon were ready to learn about PowerPoint and Excel. The skill level of every single student varied, yet what tied everyone together was the desire to learn and the effort they put into doing so. Their aspiration to learn as much as they could in the short time we had was very encouraging.
One student in particular, Emmanuel, demonstrated a special interest in Photoshop. I decided to take him out of the classroom for a half-hour or so to snap some pictures of Kayamandi, so that I could teach him some techniques on the program.
Emmanuel is a very passionate student and took notes as I showed him some camera basics. He let me listen to his beloved MP3 player, which was full of South African house music. He hopes to move to Cape Town in the fall and study photography, editing and graphic design.
We had opportunities for some sightseeing during our stay in South Africa. On a weekend break, we visited two wineries. Tokara Vineyards has produced wine and olive oil for dozens of years. It's located just three miles from Stellenbosch, on the crest of Helshoogte Pass. We sampled a variety of red and white wines, including a 2006 Tokara Stellenbosch Chardonnay and Zondernaam Shiraz. One wine, depending on the taster, turned out to be hit or miss among our group: the Tokara Late Noble Harvest, a very sweet dessert wine.
Next, we visited the KWV Wine Emporium in Paarl. It was established in
1918 and is one of the largest wine sellers in South Africa. We took an extensive tour of the property, including the cellars where the wine ferments. The day ended with a quintessential South African
braai
, or barbecue, hosted by our beloved bus driver, Calvyn Haynes. His generous family, made up of approximately 15 people, provided delicious grilled chicken, a stew called
bredie
, potatoes and a favorite South African beer, Castle. The night ended with some classic American karaoke.
Later in the week we spent a day near Cape Town. We rode the gondola to the top of Table Mountain, where a thick wall of fog surrounded us. It was like a "mystical realm," as another group member commented.
After this dreamlike experience, Calvyn took us to the Cape of Good Hope and Cape Point, both on the Cape Peninsula. Much of the southern part of the peninsula is preserved as national parkland. We drove past the colorful houses of Simon's Town on our way to Two Oceans Restaurant, which is said to be the location where the currents of the Indian Ocean and Atlantic Ocean meet. Calvyn also stopped to let us take pictures of some of the wild baboons that live on the peninsula (at a moment that they apparently decided would be an ideal time to mate).
After a few good laughs and lots of photos, we continued to one of the southernmost points on the African continent. This headland has had three different names since its discovery by Portuguese explorer Bartholomew Diaz in 1488. He called it the Cape of Storms. Sir Francis Drake named it The Fairest Cape in the World. Finally, Portuguese King John II changed the name to the Cape of Good Hope, thinking that a more positive-sounding moniker would entice ship captains to sail around Africa to Asia, rather than follow traditional -- and much longer -- inland routes.
The dramatic cliffs, royal blue water and lighthouse made for an extraordinary scene. A few of us decided to hike all the way around the miniature peninsula to the end of the trail. It was well worth the effort. The cape is frozen in time, making it easy to imagine how the early explorers felt when they caught sight of it for the first time.
We also took a field trip with our 25 students to a nonprofit organization that could provide Internet access. E-mail accounts were set up for each one of them, which will facilitate communication with potential employers. We also taught them a variety of navigational skills to help them conduct online job searches. Later, my three students spent some more time on TypeMaster, now reaching 20 words per minute. They had one more day to get up to the standard level of typing speed.
Early on a Saturday morning, Calvyn picked us up in the bus and took us two hours west to Buffelsfontein Game and Nature Reserve for a much anticipated African safari. We were welcomed with hot coffee, bran muffins and a sweet-looking donkey that lingered outside the breakfast room, asking for attention. He had two thin strips of hair that intersected across his back, like a Christian cross, and for that reason he's named Jerusalem. Willie, our guide, loaded us into the open-air Jeep. It was refreshing to spend time beyond the urban center; the air was cool and the sky was clear. Immediately we saw dozens of springboks leaping across a field into the sunlight. Later we spotted buffaloes, lions, giraffes, zebras, wildebeests, duikers and bonteboks.
Back in the classroom, graduation day came around, and it was a great success. We spent the morning going over all of the important skills we had taught them, one last time. By then, most of the students' typing had surpassed 25 words per minute. At the lunch break, we asked the students to eat in another room so that we could decorate for the occasion. Balloons of all colors covered the floor, and cakes and cookies filled the table. Music played and the lights were dimmed as the procession of students entered.
Each of us called up our respective students to receive a diploma and pose for a photo. A feast of sugar-filled treats and champagne was served as we celebrated with the graduates, their families and friends. As a final touch, we provided each student with two copies of their resumes and cover letters.
It was sad to say goodbye to Ntombi, Noluthando and Zintle, but we are all certain that they and the other students now have the skills and confidence to acquire a job that will put them on the path of progress.
On one of our last afternoons in South Africa, we drove to Cape Town to the Victoria and Albert waterfront, a newly renovated area with Dutch-influenced architecture. We boarded a ferry for the half-hour cruise to Robben Island. Former South African President Nelson Mandela was imprisoned for 27 years, and he spent 18 of them at Robben Island.
It is a beautiful island and has a small community, including a church, post office and hotel, though none of them are currently in use. The view looking back to Cape Town is magnificent when the sun shines on the blue water and there isn't a cloud in the sky.
That day put all the work we did into perspective. South Africa, a country steeped in a turbulent past, has not had enough time for all its residents to progress fully into the 21st century. But every student we taught is now helping the country move one step closer to equal opportunities for all.
The Vacations To Go Grant
Vacations To Go
established the Vacations To Go Grant in 2008 as a scholarship for Wake Forest students participating in international service trips. Alan Fox, chairman and CEO of Vacations To Go, is an alumnus of the university, located in Winston-Salem, NC.
There are two portions to the grant: a need-based scholarship to help students with travel expenses and a photojournalism assignment that pays a stipend. The student awarded the photojournalism assignment for this service project, Katie Phillips, traveled to South Africa in May 2009.
The information in this story was accurate at the time it was published in January/February 2010.
Send This Article to a Friend
Bookmark this Content
Digg it!
Reddit
Furl
del.icio.us
Spurl
Yahoo!