Safari Styles
These nine diverse game-viewing adventures in Africa appeal to a variety of travel tastes
By Andy Dimond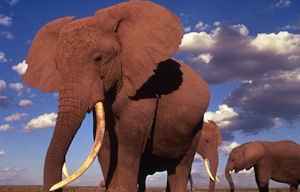 G.A.P. Adventures
(Scroll down to see a slide show.)
W
ith a rustle and a cry of birds bursting skyward, the tall grass parts. Before you stands a regal lion, licking his chops, mane fluttering in the breeze. Your hand jerks to lift your camera, but you can't bring yourself to put the viewfinder between yourself and the scene before you. Besides, could you even hold it steady?
When it comes to sheer adventure, nothing in the world compares to an African safari. While you've probably seen many of these animals in a zoo setting -- bored and fed, living like pampered hotel guests -- there's simply no comparison to observing them in their natural habitats.
On a safari, you're accompanied by experienced tour guides who lead you to prime game-viewing spots and see to your safety and comfort. Safari operators invest a great deal of effort in making sure they have the best guides available.
"Our staff have all either lived or traveled extensively in Africa. Many have been with us for 20 years or more," says Anne Bellamy, president of
African Travel
, a company that has offered safari adventures for more than 30 years. That level of expertise and savvy becomes invaluable when you're touring a place as unfamiliar as the so-called Dark Continent.
So let's shine a light: What do you need to know when selecting a safari? According to Bellamy, the first decision to make is whether to visit the eastern or southern part of Africa.
"When people think of safaris, they always think of East Africa," she says, referring to the popular game-viewing parks in
Kenya
and
Tanzania
. "It's the old, traditional safari setting everyone has in mind -- the rolling, vast savannas.
"But East Africa has its pros and cons. There's phenomenal wildlife, the preserves are well managed -- but it's all about safaris. Once you leave Nairobi, you're living and breathing the flora and fauna, whereas itineraries in the south of the continent tend to include more urban and cultural sights. One drawback when compared to Southern African countries is the (high) number of visitors, which means you could have multiple vehicles at a sighting. For some purists, that may spoil the magic, but first-time safari-goers would probably be too enthralled by the view to notice. But then when you see a place like
Botswana
that's so intimate, there is some difference."
There are many flavors of safari, from classic Kenyan expeditions with lodging in tented camps to
South African trips
with cosmopolitan flair. Below, we've profiled nine different types of safari vacations, with a sample itinerary for each. A wide range of travel styles are available, from rugged budget tours with campground accommodations to luxury excursions with perks so extravagant that your journey into the "heart of darkness" will feel more like a royal jubilee.
For more information and departure dates for the safaris listed below, as well as hundreds of others, visit the safari specialists at
Vacations To Go
or call (800) 291-3346.
G.A.P. Adventures
specializes in vacations that are off the beaten path, and travelers on its 10-day
"In Search of the Big Five"
itinerary are warned: "Packed public buses, remote and rustic accommodation and little access to Western-styled food are de rigeur." This East Africa itinerary involves "participation camping," which is a nice way of saying that you're responsible for helping set up and break down your campsites.
G.A.P. was founded in 1990 by avid traveler Bruce Poon Tip on his own credit cards, and the company remains dedicated to providing affordable trips while becoming the world's largest adventure travel provider.
The "big five" of Africa originally referred to the five animals most difficult to hunt on foot: lion, leopard, elephant, buffalo and rhinoceros. Now safari-goers aim their cameras at these creatures. Guests arrive in Nairobi, the Kenyan capital, where they spend the night before descending into the Great Rift Valley. Travelers first stop at
Lake Nakuru National Park
, known for its vast flocks of flamingos. There's a chance you'll come across warthogs and baboons, too, and the park also has large white and black rhino populations. But your first good shot at completing your big sightings comes the next day at
Masai Mara
, Kenya's most famous game park, with its more than 20 prides of lions.
Later, cross the border into Tanzania and explore Lake Victoria, the largest lake in Africa. Then take your first glimpse of the vast savannas of
Serengeti National Park
. Here is the quintessential African vista, with sprawling hordes of wildebeest and zebra and all the attendant predators, scavengers and other diverse creatures.
At the next stop you will learn about what is perhaps the strangest creature Africa has produced: man. At Olduvai Gorge, archaeologists Louis and Mary Leakey discovered the 2 million-year-old bones of what some believe were the earliest humans. The safari concludes in the lively market town of
Arusha
.
Rates:
From $1,395 per person, based on double occupancy, plus airfare.
At the other end of the spectrum is the 11-day "
Kenya Hemingway Safari
" from luxury tour operator
Abercrombie and Kent
. Guests travel in style and stay in elegant mobile tented camps, like the great gentleman game hunters of the colonial age (no guns, please; monocle and pith helmet optional). But don't let the "tented camp" label fool you; this is no minimalist affair. Amenities include baggage handling, laundry service in camps and individual flush toilets in the tents.
For this sojourn, A&K has invoked the name of Ernest Hemingway, who celebrated the raw power of Africa's nature in stories like "The Snows of Kilimanjaro" and "The Short Happy Life of Francis Macomber." Participants meet in Nairobi and transfer to a private reserve on the remote Laikipia Plateau, at the foot of Mount Kenya. You'll spend two nights in a well-appointed mobile camp that's been set up in a first-rate wildlife-viewing area, and you'll awake to a cup of hot coffee or tea delivered by your "tent butler."
Guests have a full day on the plateau in search of elephants, reticulated giraffes, Grevy's zebras, oryx and all the great cats. Later, visit Nanyuki Spinners and Weavers, a self-help project designed to train women from nearby villages in the art of creating beautiful carpets, blankets, shawls, scarves and other items.
Then, drive to the
Mount Kenya Safari Club
, founded in 1959 by film star and wildlife conservationist William Holden. You'll have a day free to enjoy the lodge's pool or golf course, or to visit the animal orphanage adjacent to the club. That night, you'll be treated to a traditional bush dinner by the Likii River.
The final days are spent at
Masai Mara
, where you may see topi (a kind of antelope) standing atop giant termite mounds, elephants grooming themselves in dust, hippos wallowing in waterholes and lions stalking prey.
Rates:
From $8,560 per person, based on double occupancy, plus airfare.
Witness the Great Migration
The
Great Migration
is one of Africa's greatest spectacles: a 1,800-mile, round-trip journey through Kenya and Tanzania, led by some 2 million wildebeest, zebras and gazelles driven by seasonal rains and drought. It all adds up to an incredible drama unfolding before your eyes.
So what's the schedule for this exodus? There's no precise timetable, says African Travel's Anne Bellamy. "You would not believe how many clients ask, 'When will the Great Migration start?' It's not like you can time it with a stopwatch. It all depends on the rains. So while there are times when it's expected, it can be off by months. Our offices in Kenya and Tanzania keep us updated on whether the herds have reached the expected landmarks. You can know a couple months in advance whether it's running early or late."
Broadly speaking, it usually begins in the southern
Serengeti
, where the calving season lasts from late January through mid-March. When the plains dry out, the animals move to the western and northern Serengeti, where June and July are the best months for seeing the migration. It's also one of the most dramatic phases, as the herds must cross treacherous rivers full of ravenous crocodiles. The ones that make it can look forward to spending time on the Masai Mara plains through October or November, when the rains again lead them back to the southern Serengeti, to breed and start the cycle anew.
Get in on the action with African Travel's 13-day safari, "
The Great Migration
." It spends time in the prized game reserves of northern Tanzania, including
Tarangire National Park
, which boasts a large elephant population;
Lake Manyara
, home to tree-climbing lions and the world's largest baboon contingent; and the Serengeti. Guests also spend two nights in a lodge at the rim of
Ngorongoro Crater
, known as Africa's "Garden of Eden." Guests descend nearly 2,000 feet into the caldera to observe herds of zebra, wildebeest, gazelle and their predators.
Rates:
From $5,895 per person, based on double occupancy, plus airfare.
While many safaris survey the riotous diversity of African wildlife, some itineraries focus on one animal: the intelligent, majestic and highly endangered mountain gorilla.
SITA Tours
offers several gorilla adventures in Rwanda and
Uganda
, including a six-day "
Uganda Gorilla Trek
" itinerary.
On this trip, you'll fly into Entebbe and, if time permits, take a boat ride to Ngamba Chimpanzee Island in Lake Victoria. The next day, drive into
Bwindi Impenetrable Forest
, a dense, old-growth forest. Half the world's population of mountain gorillas live here.
You'll hike through the thick vegetation with trackers who are experienced in locating a "family group" of gorillas. Visitors are permitted to observe these remarkable and rare creatures for an hour, though at all times you must remain at least seven meters (about 23 feet) away from the gorillas.
The next day brings a walking tour of the forest, or guests can opt for another trek back to the gorillas for an extra charge. The trip concludes with an excursion to
Lake Mburo National Park
, a small reserve where zebras, impalas and eland antelopes roam. Five lakes lure pelicans, herons, cormorants and fish eagles, making the park a great destination for bird-watching.
Rates:
From $2,860 per person, based on double occupancy, plus airfare.
Safari guests in
South Africa
often split time between the country's cosmopolitan cities and its natural sites. The 12-day "
South Africa Journey
" with
Brendan Worldwide Vacations
begins with three days in Cape Town, one of the world's most scenic harbor cities.
Guests tour the Cape Peninsula, with stops at Hout Bay, scenic Chapman's Peak Drive, the Cape Point Nature Reserve and the historic naval port of Simon's Town. You'll also visit the famous (and adorable) penguins at Boulders Beach. You're free to explore at your own pace on the third day in Cape Town, but Brendan recommends joining its optional excursion to the Winelands, with wine tastings at estates in Paarl, Stellenbosch and Franschhoek.
The next few days are spent along the Garden Route, a scenic stretch of highway between the Outeniqua and Tsitsikamma mountains and the Indian Ocean. Then it's off to Johannesburg, the largest city in South Africa, where you'll tour historic sites related to the struggle against apartheid, such as Nelson Mandela's home.
Finally, you'll arrive at
Kruger National Park
, check in at a private game lodge and depart for a Land Rover ride among the wildlife. Kruger contains more mammal species than any other game reserve in Africa, and at one point it had so many elephants that game wardens instituted a program of pachyderm birth control. For a taste of the life-and-death drama to be witnessed in this incredible place, check out the famous YouTube video "Battle at Kruger," which documents a skirmish among lions, crocodiles and Cape buffalo.
Two more game drives and a guided safari walk are in store before your homebound flight from Johannesburg.
Rates:
From $3,760 per person, based on double occupancy, plus airfare.
Thrill-seeking travelers can sign on for a safari that incorporates physical activity guaranteed to pump up even the most jaded adrenaline junkie. Whether it's white-water rafting, kayaking or even bungee-jumping, there are packages that can satisfy your craving for adventure.
The 10-day "
Zambia and Botswana: River and Horse Trails
" is an action-packed itinerary offered by Abercrombie and Kent. After flying into Lusaka, Zambia, your first day will be relatively sedate, spent on a game drive and angling for tigerfish in
Lower Zambezi National Park
. The next day, however, you'll dodge crocodiles and hippos while paddling a canoe down the Zambezi River.
Kulefu Camp serves as the backdrop for the following day as you search for game by canoe or foot, including the rapidly vanishing wild dog. Later, after settling into the Sussi and Chuma Lodge on the banks of the Zambezi, you'll have the option of surveying Victoria Falls from an ultralight aircraft or riding an elephant through the forest.
At the Okavango Delta in Botswana, you'll begin the equestrian portion of your safari. Once you've gotten to know your horse, it's time to explore Macatoo Horseback Safari Camp. Race herds of lechwe (an antelope species), learn to stalk game from their tracks and visit with elephants and hyenas at watering holes. The trip ends with a night in Johannesburg before guests board their planes home.
Rates:
From $11,690 per person, based on double occupancy, plus airfare.
Everybody knows kids are crazy about animals, so why not take them to see the coolest creatures Mother Nature has to offer? The 11-day "
Tanzania: A Grand Family Safari
" is a family-friendly version of the safari experience from Tauck Bridges, the multigenerational travel division of
Tauck World Discovery
. It lets your little ones learn about the animal kingdom in safety and comfort, entertained by carefully selected (and patient) tour guides.
This itinerary covers Tanzania's prime wildlife-viewing spots, beginning in
Arusha
, where you have the option of hiking a trail in Kilimanjaro National Park or joining a game drive in Arusha National Park among the baboons and flamingos. Next is
Tarangire
, where a day of game drives brings sightings of elephants, lions, gazelles and giraffes.
Opportunities to learn about the Maasai culture are among the highlights of this trip. Your kids can dance with members of the Maasai tribe, learn how to make beaded handicrafts and get to know their Maasai peers during a visit to a local school.
The rest of your trip will include a visit to a coffee plantation, a game drive in
Ngorongoro Crater
, a lesson in the Swahili language and a morning hot-air balloon ride over the Serengeti. The last few days are chock-full of game drives. Your kids will have everyone at school beat when the usual question comes up: "What did you do on your summer vacation?"
Rates:
From $6,690 per person, based on double occupancy, plus airfare. There is a $500 discount for children ages 11 and under.
The original safari-goers of the 1800s went to Africa with the primary purpose of shooting the animals. The same can be said of today's visitors, but they're wielding cameras instead of firearms. Snapping pictures is a chief pastime for nearly all tourists on safari, but travelers on the 11-day "
Namibia Photo Safari
" from Lindblad Expeditions are bound to come home with some impressive images. Two professional photographers accompany the group: Jack Swenson, whose work has appeared in magazines, calendars, books and advertising campaigns, and Rikki Swenson, an expert in digital camera instruction and photo imaging techniques.
The itinerary has been designed to allow guests more time on location to take pictures. You'll spend two days in most stops, including Serra Cafema on the Kunene River, an oasis surrounded by the Namib Desert. The dramatic dunescapes spotted with oryx and springbok should provide some memorable snapshots. Next stop is
Etosha National Park
, a more traditional big-game locale where you can capture elephants, lions, giraffes, zebras and the birds known as kori bustards.
White and black rhinos can be observed at Ongava Reserve, after which you'll fly low along the Skeleton Coast to Walvis Bay. Explore the bay by boat for great photo opportunities of Cape fur seals and white pelicans, and fly over the massive sand dunes of the Namib Desert.
Extra luggage allowances are made for photographic equipment on this trip, with roomy four-wheel drive vehicles to make sure your photo bags stay alongside you on your trek. Back at the lodge, you'll have time to download and view your images and receive some one-on-one mentoring from the pros.
Rates:
From $13,980 per person, based on double occupancy, plus airfare. There's only one departure for "Namibia Photo Safari" next year, on May 17.
Amid the fun and excitement of the safari experience, it's easy to forget that Africa is one of the most troubled areas on Earth, beset by poverty, conflict and disease. In recent years Western tourists have increasingly developed a sense of responsibility to the places they visit in the continent. One of the most socially conscious tour operators is G.A.P. Adventures, which offers several community service-oriented trips called "Project" tours.
"We've doubled volunteer trips every year for the last three years; there has been an absolutely huge response," says Kira Zack, marketing manager for G.A.P. "Our customers like to know they're giving back to the communities they're touring." In Africa, projects are available in
Kenya
, Mozambique and
Zambia
and enable participants to volunteer in health clinics, orphanages, schools and even on the soccer field.
For example, the 16-day "
Project Zambia and Safari
" itinerary features five days in Livingstone, where you'll have the opportunity to interact with children in local schools and sports programs and assist with building and refurbishment projects. There's sightseeing as well, including a trip to Victoria Falls. Later you'll explore the Chobe National Park elephant sanctuary, enjoy a cruise on the Zambezi River, take in the moonlike landscape of the Nata salt pans and ride dugout canoes through the Okavango Delta.
Rates:
From $1,995 per person, based on double occupancy, plus airfare.
The information in this story was accurate at the time it was published in November/December 2008. Please visit
Vacations To Go
or call (800) 291-3346 for current rates and details.
Send This Article to a Friend
Bookmark this Content
Digg it!
Reddit
Furl
del.icio.us
Spurl
Yahoo!