Guardians of the Gorillas
The Dian Fossey Gorilla Fund strives to protect
these majestic creatures in Rwanda
By Alexis Loyd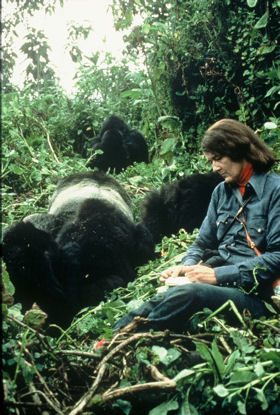 The Dian Fossey Gorilla Fund International
(Scroll down to see a slide show.)
"I discovered that these powerful but shy and gentle animals accepted and responded to my attentions when I acted like a gorilla. So I learned to scratch and groom and beat my chest. I imitated my subjects' vocalizations (hoots, grunts and belches), munched the foliage they ate, kept low to the ground and deliberate in movement -- in short, showed that my curiosity about them matched theirs toward me." -- Dian Fossey
T
here is something about the look in a mountain gorilla's eyes that is unmistakably familiar. Extensive observation has revealed that they communicate through facial expressions, sounds, postures and gestures. Other research indicates that they demonstrate a range of emotions, from grief to joy.
And like us, the world's largest primates live in families. Their groups usually are comprised of one or more adult males (called silverbacks), along with adult females, juveniles and infants. These gorillas depend on each other. Bonds are formed, and broken, within these clans, similar to human family life.
There are fewer than 800 mountain gorillas left in the world, found only in a region straddling sections of three countries: Uganda, Rwanda and the Democratic Republic of Congo. Researchers with the Dian Fossey Gorilla Fund International, working from the Karisoke Research Center in Rwanda, currently track more than 120 gorillas living in the misty jungle of East Africa's volcanic Virunga Mountains, along the Rwanda-DRC border. At altitudes that can reach higher than 14,000 feet, they work in cold and damp conditions to observe 10 gorilla groups, which range in size from the newest cluster, with only three members, to the most well-established, consisting of 45 individuals.
Monitoring the gorillas is a year-round pursuit. Currently, the Rwandan center employs 60 trackers dedicated to documenting the animals' location, movements and daily behavior.
For those who have been in close proximity to a mountain gorilla, like Clare Richardson, CEO and president of the Atlanta-headquartered Dian Fossey fund, the affinity between humans and gorillas is undeniable. "You can feel it when you're there," she says.
She describes watching a large silverback -- these males can reach up to 400 pounds -- lying on his back while the youngsters of his group climbed all over him. "It's very unusual in the animal world to see a big, dominant male interfacing like that with the infants," she says. "And that makes them so incredibly like us."
Despite this connection, the gorillas are endangered -- mostly due to human activity. Deforestation limits their living space, poachers set traps in their territory and diseases threaten their immune systems. Beyond collecting statistics and recording observations, the Fossey fund strives to guard the endangered animals from threats to their safety.
Snares set by poachers are a constant problem. "Every year we free a couple of gorillas that get caught, and every year we destroy an average of 2,000 snares in the park," says Veronica Vecellio, the gorilla program coordinator at Karisoke, who has gotten to know each of the primates that the organization tracks by its nose print, the unique pattern of wrinkles on the nose.
Anti-poaching teams patrol the Karisoke sector of Volcanoes National Park, removing traps and noting other illegal activities. Some of the elder gorillas, familiar with the havoc wreaked by these disguised traps, have been known to travel ahead and rip them apart, protecting other members of the group. "They have good memories," says Vecellio.
Despite the best efforts of conservationists, not all the gorillas manage to avoid the traps. This February, a convoy discovered the body of an adolescent in a snare. Several area gorillas live as amputees due to trap-related injuries.
These casualties stem from what the nonprofit considers the greatest threat to gorillas: human poverty. "If you're looking globally at the whole conservation issue, poverty is a huge problem in terms of all threatened ecosystems and endangered species," says Richardson.
Poachers who set snares usually are not targeting gorillas, she explains. They are attempting to catch smaller game such as antelope. "It's not commercial bush-meat trading. These are people coming in to get meat for their families."
Gorillas live in the most population-dense African countries, where access to basic necessities -- such as food, clean water and health care -- is limited. The lands surrounding the parks are being converted to farming pastures, which encroaches on gorilla habitat. Civil unrest and attempts to smuggle baby gorillas out of the country to sell to private collectors also are prime dangers for the eastern mountain gorillas, as well as for the Grauer's gorilla, a subspecies that the Fossey fund is working to protect in the Democratic Republic of Congo. These gorillas' lowland counterparts in western Africa are even hunted for food.
In recent months, the mountain gorillas have upped the frequency of their excursions out of the preserve. While they have explored beyond park boundaries in the past, often during bamboo season, Vecellio says that hungry primates have been venturing close to surrounding villages for a taste of something different: eucalyptus tree bark.
"Apparently the gorillas are enjoying it a lot," says Vecellio. However, their craving for this treat leaves them vulnerable to disease and other negative consequences of interacting with the local people and their domestic animals.
The survival of the world's gorillas and the well-being of the people who share their ecosystem are inextricably linked, according to Richardson. In order to combat interspecies conflict, the Dian Fossey Gorilla Fund aids area communities through programs that build (and rebuild) schools, provide conservation training and assist in crop-growing and livestock-raising endeavors.
The installation and repair of water tanks helps supply clean water, reducing illegal entry into protected areas for water collection. The fund also tests and provides treatment for intestinal parasites in the surrounding villages (these can be left in the soil and picked up by gorillas) and assists rural health clinics. Through improving the quality of life for the local population, the organization hopes to create partners in the push to conserve the region's land and wildlife.
The Dian Fossey Gorilla Fund also is one of the largest employers in the region and makes concerted efforts to educate and employ locals.
"One of the things that we believe in very strongly is that African nationals must be the majority part of our organization, because it is their natural heritage that we are trying to protect, with the gorillas and the rain-forest habitat they live in," says Richardson. This year the Fossey fund appointed its first African director of the Karisoke Research Center, Rwandan Felix Ndagijimana.
The fund's founder, primatologist Dian Fossey, spent 18 years living among the gorillas in northwestern Rwanda. Before she was the world's leading expert on Rwanda's mountain gorillas, Fossey was an occupational therapist in Kentucky with a love of animals and a desire to explore the globe. Upon seeing pictures of a friend's African vacation, she was determined to make the journey herself. In 1963, she combined her life savings and a bank loan to pay for her first visit to the continent.
During this trip she met renowned archaeologist Louis Leakey, who spoke to her of Jane Goodall's chimpanzee studies, and she encountered the beautiful beasts she would come to hold so close to her heart. By December 1966, Fossey had traded her life in the U.S. for an encampment in Africa. A year later she established the Karisoke center among the verdant peaks of Rwanda's Volcanoes National Park.
And 1967 was also the year she met a 5-year-old gorilla that she named for the damaged finger on his right hand: Digit. She felt drawn to the creature, and he to her. Years of dedication gained her trust among the gorillas and brought about an unconventional friendship with Digit. "Digit was a favorite among the habituated gorillas I was studying," Fossey wrote. "In fact, I was unashamed to call him 'my beloved Digit.'"
On New Year's Eve 1977, Digit and his family group unexpectedly met with poachers who were checking their antelope traps. Digit battled the six poachers and their dogs, allowing his 13 companions to escape but losing his life in the process. His head and hands were severed from his body for trophies. Out of this tragedy, Fossey's foundation was created to protect the world's mountain gorillas and continue the work of the Karisoke Research Center, which grew to a nine-cabin camp. The original site was ransacked several times during the Rwandan genocide of the 1990s, and the center's programs eventually were relocated to Musanze, formerly Ruhengeri.
Much has changed since the days when Fossey sent her typewritten reports of gorilla activity down the mountain in waterproof pouches, bound for a bus to the nearest town and then for the mail. Today, interested readers can check for updates at
www.GorillaFund.org
, which has a link to the Gorilla Blog under the News and Events tab. But the Fossey fund stays true to the goals of its founder. Though she was murdered in her cabin at Karisoke in 1985 -- she was buried next to her beloved Digit -- Dian Fossey's legacy lives on through her nonprofit.
Decades of conservation efforts by national park authorities and the Fossey fund have paid off. According to the last census, the gorilla population in the Virunga Mountains has grown from roughly 260 in Fossey's time to about 480 individuals in 2010, making this the only great ape population to have increased in recent decades. Hope for the gorillas' survival continues: In mid-March Karisoke trackers were witness to the arrival of a newborn.
While it's a rare person who, like Fossey, will abandon the life she knows and follow her heart to the wilds of Africa, there are other ways to help safeguard the continent's gorillas. Through www.GorillaFund.org, "People can become ambassadors and advocates for us and for the gorillas," says Richardson. Becoming a member, adopting a gorilla or hosting a fundraising event all are possibilities.
According to Richardson and Vecellio, tourism is vital to the survival of the species, both for its educational value and for the money it brings to their homeland. "Without tourism Rwanda would probably not have any more gorillas," says Vecellio.
Funds from the sale of gorilla-viewing permits and park entrance fees are an essential support for preservation programs.
"We would encourage people to go see the gorillas," Richardson adds. "It will change the way that they think about them forever."
Visiting the Gorillas
Vacations To Go is a corporate sponsor of the Dian Fossey Gorilla Fund International. The full-service travel agency, which is the world's largest seller of oceangoing cruises and river cruises, also offers tropical resort stays, escorted tours and safaris in eastern and southern Africa, including trips to see the endangered mountain gorillas of Rwanda and Uganda.
Expert guides lead small parties of travelers through thick forests to family groups of gorillas, where participants spend about one hour observing the creatures. Certain rules and restrictions are in place to protect the primates. Guests are asked to maintain a calm demeanor and stay a minimum of 15 feet away from the animals. Children under the age of 15 and those who have colds or other contagious illnesses cannot participate.
For more information about escorted trips to the gorilla territories of Rwanda and Uganda, call the safari experts at Vacations To Go, (800) 291-3346, or visit
www.AfricaSafari.com
.
The information in this story was accurate at the time it was published in July/August 2012.
Send This Article to a Friend
Bookmark this Content
Digg it!
Reddit
Furl
del.icio.us
Spurl
Yahoo!