Tropical Island-Hopping
October 14-November 22
By Jennifer Davoren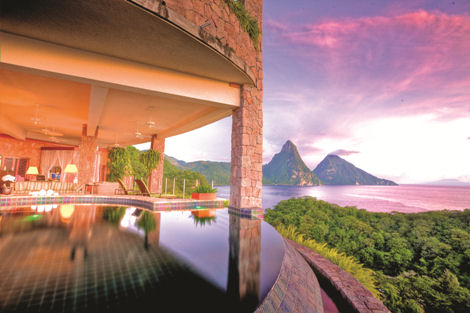 Jade Mountain
T
he next leg of our around-the-world tour takes place amid sun-kissed isles in the
Caribbean
,
Bahamas
and
Mexico
. And in keeping with the laid-back vibe of the region, we've left this segment unstructured. You're not confined to a calendar here; just pick the most appealing spots from the 10 options below, which include suggestions for accommodations. Most lodging options are
all-inclusive
, with prepaid packages that bundle your room, dining, beverages, activities and more.
Bounce between destinations to compare vibes and venues (Do you prefer the surf in the
Dominican Republic
or
Puerto Rico
?) and craft the perfect travel itinerary. When you're ready for the sun and waves, click the links below to price a stay according to arrival date.
Cozumel.
Mainland Mexico is known as a spring break escape, with the twin party towns of
Cancun
and
Playa del Carmen
calling coeds to the eastern tip of the Yucatan Peninsula. But just a few miles offshore lies
Cozumel
, an island tailor-made for nature lovers. It's the gateway to the Mesoamerican Reef, stretching some 600 miles into the Caribbean Sea, so snorkelers and scuba divers outnumber tipsy students. And, though the destination is dotted with full-service vacation resorts, more than 90 percent of its terrain remains undeveloped, keeping travelers in touch with the wildlife. Chirping tree frogs and trilling songbirds provide the isle's untamed soundtrack. The all-inclusive
Secrets Aura Cozumel
will keep you in the water, with recommendations on the region's best dive sites and swim-up suites backed up to wraparound pools. An added bonus: Secrets is reserved for adults only, cutting down on your run-ins with the college crowd.
Jamaica.
The "one love" isle is, of course, a big draw for romantics. Crystal waves lap at white sands bordering the major resorts, clustered in spots like Runaway Bay -- a name worthy of the destination, ever enticing travelers to exchange their troubles at home for a snuggled-up week on the beach. Your best bet for island amour?
Couples Resorts
, with four options stationed along the north and western coasts of
Jamaica
and more than 35 years of experience in catering to pairs. His-and-hers massage packages, wavefront dining by candlelight, even an innovative wedding and honeymoon program -- these spots are designed to woo, with specialized "romance concierges" to prove it. A $30 million renovation at
Couples Tower Isle
in
Ocho Rios
added oceanfront suites, among other amenities, but a private island just a short boat ride away also offers awe-inspiring views -- and au naturel sunbathing, if you're feeling brave.
Dominican Republic.
This half of Hispaniola
often is described as an up-and-coming destination, but its variety of established beachfront properties, from boutique inns to sprawling all-inclusives, speaks to the DR's popularity among sun-seekers. Riu Hotels and Resorts has seven coastal outposts, with five clustered on the country's eastern tip to take advantage of
Punta Cana
's sunrise views. Lodging choices include the family-friendly
Hotel Riu Palace Bavaro
, with hosted activities and a separate swimming pool catering to kids, and
Hotel Riu Palace Macao
, the complex's adults-only escape, where lounge chairs, cocktail bars and Jacuzzi suites rank among top attractions. Shared perks include a night spot, Pacha, and the Arena Gorda beachfront, where Riu's all-inclusive programming promotes snorkeling, windsurfing and kayaking, among other complimentary pursuits.
The ABCs.
Aruba
,
Bonaire
and
Curacao
dwell on the southern end of the Caribbean, with barely 20 miles of sea separating them from the Venezuelan coast. Aruba is renowned for its sun, with tourism officials proclaiming the island to be the most cloud-free spot in the entire region. Bonaire boasts top-notch diving and three colors of sand: white, black and pink. And Curacao is hailed for its namesake liqueur, a macaw-blue concoction, as well as an open and friendly nature owing to its Dutch heritage. On Bonaire,
Harbour Village Beach Club
is a diver's dream complete with its own scuba shop and marina. Instruction and equipment rentals are easy here, and an innovative program allows guests to complete nearly all the components of scuba certification online -- save the "wet work," of course -- well before their vacation begins, leaving them with more free time underwater.
Grenada.
The
Island of Spice
seems like a stretch, perched as it is on the far southeastern edge of the Caribbean, but you'll find direct flights from New York and Miami that will whisk you from city to sand in the space of an afternoon. It's a hot spot for divers, with a haunting underwater sculpture park and the remains of the Bianca C, a sunken ocean liner known as the Titanic of the Caribbean. Rum makers welcome tours and tastings, though you may prefer your cocktails served on the southern coast's sugar-white beaches. And couples will feel drawn here in 2014 with the debut of
Sandals LaSource Grenada
, the all-inclusive powerhouse's first property on the island. After a $100 million renovation of the existing waterfront complex, LaSource will offer more than 200 rooms, including suites with butler service and infinity-edge balcony "skypools" overlooking the sea.
St. Lucia.
As is the case for its Caribbean neighbors,
St. Lucia
's major draw is the scenery -- but this isle's view is more dramatic than most. The Pitons, twin peaks jutting some 2,000 feet above the resort town of
Soufriere
, stand sentinel over placid bays dotted with snorkelers. Many of St. Lucia's lodgings actually are built along hillsides to take advantage of Pitons panoramas and soothing trade winds, including
Anse Chastanet
and
Jade Mountain
, signature properties of architect Nick Troubetzkoy. These stunners connect to the great outdoors with an innovative open-air concept, removing the fourth wall from guest rooms and common areas to create hotels almost entirely composed of oversize balconies. Anse Chastanet is the top choice for visiting mountain bikers, with 12 miles of private trails winding through St. Lucia's tangled jungles. Jade Mountain is suited for loungers, offering private plunge pools and a full-service spa.
Antigua.
Hidden among the Leeward Islands on the northeast side of the Caribbean,
this destination
once was known for its military might. Antigua's strategically secluded harbor was ideal for Adm. Horatio Nelson and his 18th-century British naval base. Today, the isle's boating scene is strictly recreational -- yacht shows and regattas crowd the event calendar, and spring's Antigua Sailing Week is as much about the sport as it is the islandwide parties that mark each win. For those without pleasure cruisers,
Grand Pineapple Beach Antigua
showcases the affordable side of the island, melding stunning waterfront, tropical gardens and the all-inclusive resort philosophy for a budget-friendly holiday. A coral reef shelters the beach, making for smooth snorkeling and plentiful wildlife. And dining choices include a renowned rib shack, the Outhouse, a no-frills spot for barbecue and beer overlooking the ocean.
The U.S. Virgin Islands and British Virgin Islands.
With six major isles to choose from, this tropical cluster is all about variety. Americans are drawn to
St. Thomas
,
St. Croix
and
St. John
in
the USVI
, since passports aren't required for entry. Potential visitors should pack their paperwork, anyway, if they're interested in a side trip to
the BVI
-- the nightlife in
Tortola
is legendary, so budget some time for cocktails. Guests of the
Buccaneer
, a pedigreed property dating to the 17th century, have their pick of an extensive wine list or cocktails made with local rum; enjoy a toast while overlooking St. Croix's beaches and verdant hillsides. There's also an on-site golf course and tennis courts, hosted art classes, guided nature walks, an active kids' club and even weekly crab races. Guests as young as 10 also are treated to complimentary scuba lessons.
Puerto Rico.
This isle, less than a three-hour flight from Miami, is another U.S. territory known for its assortment of attractions. In the capital,
San Juan
, tourists choose from historic (we recommend the stylish
Hotel El Convento
, a 17th-century nunnery-turned-luxury inn wrapped by the city's UNESCO World Heritage Site) and modern venues (look to Condado, a bustling neighborhood catering to tourists, and the
San Juan Marriott Resort and Stellaris Casino
's gaming tables and nightly entertainment). You could stretch east to
Rio Grande
, home of the
St. Regis Bahia Beach Resort
and neighbor to El Yunque National Forest, a 28,000-acre playground filled with hiking trails, towering waterfalls and secluded picnic spots. And you'll find five-star developments in the boating capital of
Fajardo
, home to
El Conquistador Resort
, a Waldorf Astoria property with a 35-slip marina and its own private island.
The Bahamas.
The Bahamas
encompass about 700 isles and 100,000 square miles of beckoning sea, so it's hard to pick a favorite destination. In
the Exumas
, you can rub elbows with the rich and famous or swim with the pigs of Major's Spot Cay. On
Eleuthera
, from the Greek word for "freedom," you're at liberty to soak up the sun from pink-sand beaches. The aptly named Grand Bahama Island is big on nature, with three national parks and a popular underwater cave system for experienced divers. But
Paradise Island
is the Bahamian archipelago's ultimate playground, 685 acres of amenities ranging from secret sunbathing spots to award-winning eateries crafted by celebrity chefs, like Todd English and Nobu Matsuhisa's restaurants at Atlantis Paradise Island. This 3,000-room megaresort has every conceivable amenity -- water park, wildlife attractions, movie theater, kiddie pools, chic adults-only lounge space and accommodations from
family suites
to
balcony penthouses
.
Caribbean Cruising
You'll island-hop with ease (and more than a little style) aboard a fully stocked ocean liner traversing this scenic sea.
Making the most of your vacation days
. Some very popular cruises sail round trip from Florida and ports along the U.S. Gulf coast, but consider the itineraries that begin and end among the islands. Sailing to the Caribbean round trip from, say, Miami usually means one or more "at sea" days on your schedule; you'll have plenty of time to enjoy onboard amenities, but you might feel shortchanged on port calls. Compare the
Nov. 1 departure
of the
Carnival Glory
to a
Nov. 2 cruise
of the
Carnival Valor
, two seven-day explorations of the Caribbean. The first departs Miami and includes two days at sea and four island stops in the Bahamas, Puerto Rico and British Virgin Islands. The second travels round trip from
San Juan, Puerto Rico
, and offers just one day at sea plus five ports, including far-flung
St. Lucia
and
St. Kitts
. Visit Vacations To Go's
portal for Caribbean cruise discounts
and use the Find A Bargain tool on the left side of the page to seek cruises departing
San Juan
,
St. Thomas
or
Barbados
, your best options for interisland vacations.
Your choice: budget versus luxury
. You don't have to scrimp and save for an island getaway. Carnival Valor's
Nov. 2 sailing
starts at just $489 for an ocean-view cabin, bumping up to $659 for those in need of a balcony -- bringing the daily cost of your weeklong vacation under $100 per person. But if you're looking for a more upscale experience, two ships of the
Seabourn Cruise Line
also are available for island-hopping. While Carnival ships often are called floating vacation resorts, the 208-passenger, six-star
Seabourn Legend
and
Seabourn Spirit
offer something closer to a country club experience -- exclusive amenities and top-shelf service. Vacations To Go offers per-person prices from $2,799 for a
Seabourn sailing
departing
St. Maarten
on Nov. 9 for a week of calls along the southern edge of the Caribbean.
A variety of venues
. You'll have your pick of island-hopping lines when booking a fall trip, including
Celebrity Cruises
,
Royal Caribbean International
and
SeaDream Yacht Club
. Disney Cruise Line's seven-day, round-trip jaunts from San Juan call on Antigua and Grenada, among other hot spots; with Vacations To Go, you can book your berth aboard the Disney Magic's
Oct. 11 departure
for $1,519 per person. And
Windstar Cruises
will offer a unique itinerary later this year with
forays to the far eastern side of the region
, beginning and ending in Barbados to see
St. Vincent
and
the Grenadines
and overnighting in St. Lucia. Prices start at $1,799 per person for ocean-view cabins aboard the
Wind Star
, a 148-guest, motor-sail yacht that will leave you feeling like the captain of your own personal vessel.
The information in this story was accurate at the time it was published in January/February 2014. Please visit
Vacations To Go
or call (800) 998-6925 for current rates and details.
Send This Article to a Friend
Bookmark this Content
Digg it!
Reddit
Furl
del.icio.us
Spurl
Yahoo!