Say Aloha to Hawaii
Peruse our tropical to-do list and plan the perfect island getaway
By Jennifer Davoren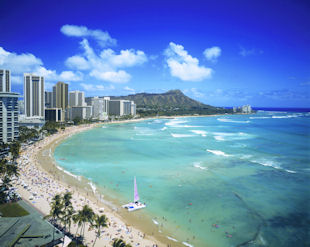 Tomas del Amo/Fotolia.com
H
awaii is more than a land of leis and luaus. Look beyond the stunning beaches, swaying palm trees and sumptuous resort buffets and you'll find an engaging island atmosphere -- one that lures some 7 million visitors per year.
Below, we've provided dining, drink and destination suggestions for Hawaii's top tourist isles. The list highlights some of the best of each island; seafood specials, innovative cocktails and lively cultural events are just a few of the offerings. We've also provided a few ideas for lodging, with accommodations ranging from budget-friendly beachfront rooms to six-star luxury resorts.
When you're ready to sample these spots for yourself, view a complete list of Hawaiian hotels at
Vacations To Go
or call the resort specialists at (800) 998-6925.
Eat:
The
Big Island
, as Hawaii's easternmost mass is known, was introduced to beef in 1798 by English explorers. Outposts like Kahua Ranch, an 8,500-acre cattle farm, uphold the island's cherished herding traditions. Paniolos, as Hawaiian cowboys are known, still rope, ride and run this farm outside Kamuela. Kahua Ranch offers authentic cowboy cuisine throughout the week with a series of sunset dinners. Visitors are stuffed with steak, potatoes and Kona-crafted beers, and as the sun sets over the Kohala Mountains, they can sing campfire songs, roast marshmallows and try line dancing under a starry South Pacific sky.
Drink:
Rich, volcanic soil benefits Big Island vineyards. At the aptly named Volcano Winery, the hardy symphony grape -- bred specifically for harsh, tropical climates -- is blended with nuts, honey and island fruits to create a variety of sweet, flavorful beverages. Free wine tastings are offered 365 days a year, so stop in to sample Hawaiian Guava, Macadamia Nut Honey or Volcano Red, a bold wine blended with black cherry and the exotic jaboticaba berry.
Go:
Hawaii sprang from the sea some 70 million years ago as lava spewed and spread from a series of underwater volcanoes. A visit to Hawaii Volcanoes National Park traces the islands' unique geologic history and offers a glimpse of its fiery nature -- the park's central landmark, Kilauea, has been continuously erupting since 1983. Stop by the Thomas A. Jaggar Museum to meet local volcanologists and view working seismographs; afterward, hike across cooled lava fields to explore the park's moonlike topography.
Stay:
A $150 million renovation added a spa, lavish suites and revamped dinner menus to the
Mauna Kea Beach Hotel
, which reopened last December. The on-site golf course received a makeover, too -- putters now have access to a new pro shop, clubhouse and a more challenging course. In addition, Mauna Kea guests can hop a shuttle to enjoy amenities at the neighboring
Hapuna Beach Prince Hotel
.
Eat:
Hawaii is famed for its pineapples, but the islands' enticing tropical climate offers other fresh fruits. At Maui Tropical Plantation, 60-acre fruit farm on the outskirts of Waikapu, visitors can tour the fields, snag free samples and grab lunch at an on-site restaurant. Each dish is accompanied by a local specialty -- mango, pineapple, coconut and guava are particular favorites. Try the grilled mahi-mahi, stuffed with spinach and curried crabmeat and topped with a tangy citrus salsa. The plantation's sublime desserts include a farm-fresh banana split, served with a side of Roselani premium ice cream, and a mouthwatering macadamia nut cream pie.
Drink:
Try a handcrafted ale, lager or coconut porter from Maui Brewing Co. Its uniquely flavored beers are found at restaurants throughout the islands, but the company's brewpub in
Lahaina
pairs suds with seafood, sandwiches and fresh summer salads. A kid's menu offers nonalcoholic treats, including homemade root beer.
Go:
Maui
is an artists' isle, stuffed with galleries, concert halls and dance studios. Visitors can sample the local culture and pick up unique souvenirs during Wailea on Wednesdays, a gallery walk that showcases island talent, or at Friday Art Night in Lahaina. These events usually feature traditional music, as buskers often offer traditional island tunes in exchange for tips. For a hands-on cultural experience, consider a hula, ukulele or leimaking class at Auntie Aloha's Hawaiian Hut in Kihei.
Stay:
Royal Lahaina Resort
offers a high-rise hotel and private cottages at the heart of Kaanapali Beach, a scenic spot on Maui's western coast. Most guests opt for accommodations in the hotel's central tower -- a refurbishment added $100,000 in amenities and improvements to each room. A nightly oceanfront luau and all-you-can-eat buffet highlights the island's Polynesian heritage, with fire dances, hula demonstrations and food served fresh from an imu, an authentic underground oven.
Eat:
Just 3,000 people make their home on laid-back
Lanai
, an island once operated as the world's largest pineapple plantation. Visitors in search of a beachfront meal will find a host of no-frills hangouts. The Blue Ginger Cafe, an eatery operating in an old plantation building, and Canoes Lanai, a luncheonette in service for nearly 80 years, are two locals' favorites in Lanai City. Here, burgers are served on homemade buns and fish is fried and folded into hearty sandwiches.
Drink:
Lanai is known as the Pineapple Isle, and the fruit's heavenly juice can be added to just about any drink you can imagine. You can try it in a cocktail, such as a Lazy Lanai, a simple mix of sloe gin and pineapple juice. Add it to your iced tea, replacing refined sugars with a shot of a more natural sweetener. Or, have a chilled glass alongside a cup of Kona coffee with your island breakfast.
Go:
Scuba or snorkel around the Cathedrals, twin lava tubes off Lanai's southern coast. Often named among Hawaii's best dive sites, the Cathedrals are known for their occasionally holy appearance -- at certain times of the year, stained-glass patterns created by churning waves and filtered sunlight fill these abbeylike caverns. Octopuses, green turtles, white-tip reef sharks and butterfly fish are just a few of the creatures that make their home here, but most visitors are on the lookout for The Alien, a giant moray eel and the Cathedrals' unofficial mascot.
Stay:
The Four Seasons Resort Lanai at Manele Bay
offers stylish lodging on the south side of the island. Among the hotel's six-star amenities are tennis courts, a full-service spa and the Challenge at Manele, a cliff-top golf course designed by Jack Nicklaus. A neighboring marine reserve offers premier snorkeling.
Eat:
No island vacation is complete without a thorough sampling of the local seafood. High-end eateries on
Oahu
offer sushi and freshly grilled fare like mahi-mahi, wahoo and ahi tuna. These spots usually boast breezy balconies, too, providing jaw-dropping views as well as lip-smacking cuisine. Travelers on a budget can head to the island's storied North Shore, where locals and tourists alike crowd around an assortment of roadside shrimp trucks. Order yours spicy, smoked or sweet and sour -- lunch specials run between $8 and $10, depending on your truck of choice.
Drink:
The
Royal Hawaiian
-- known as Honolulu's Pink Palace, thanks to the rosy color of its beach umbrellas and Pepto-Bismol paint job -- served the state's first mai tai in 1953. Stop by the hotel bar for traditional and pink varieties of this fruity cocktail, made with orange juice, sweet curacao and a hefty helping of rum.
Go:
Explore
Honolulu
, Hawaii's hub. Cosmopolitan pursuits in the state capital include dinner in Chinatown and shopping at Ala Moana Center, the largest mall in the state. See Honolulu's wild side with a hike up Diamond Head, the city's most prominent landmark, or a snorkeling trip to coral-rich Hanauma Bay. History buffs might prefer a tour of the Polynesian Cultural Center, with exhibits highlighting seven South Pacific nations, or the USS Arizona Memorial, a tribute to soldiers lost in the 1941 bombing of Pearl Harbor. Looking to entertain the grandkids? Sign them up for a surfing lesson on Waikiki Beach, or take a trip to Sea Life Park, Oahu's expanding aquarium.
Stay:
A recent refurbishment of the "First Lady of Waikiki," the 108-year-old
Moana Surfrider
, added flat-screen televisions and Westin Resorts' signature "Heavenly Bed" to every guest room. The 17,000-square-foot Moana Lani Spa, billed by the hotel as the first oceanfront spa in Waikiki, offers traditional Hawaiian treatments like lomilomi massage and alaea sea salt body
scrubs.
Eat:
Hawaii's perch on the Pacific Rim welcomes a variety of Asian influences. On
Kauai
, one of the westernmost islands, cuisine from Japan, China, Korea, Thailand, Vietnam and the Philippines incorporates popular local ingredients like pork, pineapple and Spam. Yes, Spam. The mystery meat in a can is so beloved on the islands that it's often called "the Hawaiian steak." It's served at many restaurants, including McDonald's. Sample Spam musubi, wrapped with rice and seaweed like more traditional forms of sushi, or try the poke, a spicy twist on sashimi. Japanese noodle houses are prevalent in Hawaii, too. In Kapaa, the simply named House of Noodles is famed for its savory saimin, a ramenlike soup. In the mood for Asian-style barbecue? Seek Korean cuisine and try the kalbi, marinated short ribs.
Drink:
Fruit juice, smoothies and sticky-sweet mochi, a Japanese rice dessert, are fan favorites at the Hanalei Taro & Juice Co. Served from a roadside kiosk on Kauai's northern shore, each icy drink is crafted from a secret family recipe using fresh taro, the same starchy substance used to make a luau staple, poi.
Go:
The Garden Isle, as Kauai is known, is Hawaii's evergreen Eden. Popular helicopter sightseeing excursions soar over the dramatic cliffs of the Na Pali Coast, or you can drive to a roadside overlook for views of Wailua Falls, an 80-foot cascade outside
Lihue
. Try a pleasure cruise down the Wailua River to reach the Fern Grotto, a natural amphitheatre formed by ancient lava flows. Musicians gather here to sample the acoustics and serenade passing tourists.
Stay:
The budget-friendly
Outrigger at Lae Nani
offers one- and two-bedroom condos with full-service kitchens. An ocean pool, protected from pounding surf by a ring of lava rocks, joins a traditional resort-style pool, lighted tennis courts and beachfront barbecue grills among amenities.
The information in this story was accurate at the time it was published in May/June 2009. Please visit
Vacations To Go
or call (800) 998-6925 for current rates and details.
Send This Article to a Friend
Bookmark this Content
Digg it!
Reddit
Furl
del.icio.us
Spurl
Yahoo!