Relax and Recharge on Amelia Island
A soothing setting of towering oaks, marshlands and sandy beach
greets guests at this expansive Florida resort
By Emily Coleman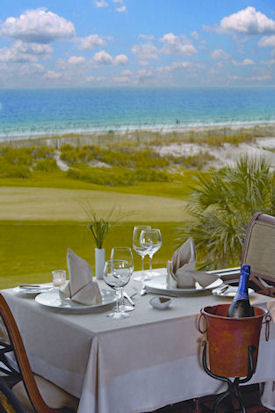 Amelia Island Plantation
(Scroll down to see a slide show.)
B
y the time I arrived at
Amelia Island Plantation
, located at the far northeastern tip of Florida about 30 miles north of the Jacksonville airport, I felt a bit worn down. Air travel can fray even the calmest person's nerves, and after lugging luggage and standing in long lines, I was ready for a leisurely afternoon on the beach. I checked into the reception center, boarded a shuttle for my room in the Amelia Inn, and got my first look at the beautifully maintained property -- and all tensions melted away.
The posh resort felt more like a small village. Guests strolled the walkways, and the sun shone brightly through soaring slash pines and towering live oaks draped with Spanish moss. We drove past low-lying buildings in subdued hues, a few shops and restaurants, and the resort's conference center, which hosts corporate meetings and retreats.
Amelia Inn sits along an uncrowded, three-mile expanse of beach, and all 249 rooms have balconies with stunning views of the Atlantic Ocean. Step onto the walkway just outside your front door to look inland, toward a thick blanket of leafy flora that masks the property's buildings and streets. The 1,350-acre resort and residential community was developed with the utmost care for the nature that envelops it, and 70 percent of the tree canopy has been preserved.
"I have guests tell me they came for the beach, but they remember the trees," says Richard Goldman, chief marketing officer for Amelia Island Plantation.
After settling into my room and watching the waves lap at the shore for a while, I ventured out to explore under the shady trees, postponing my beach-bumming until the next day.
In addition to ocean-view rooms at the Amelia Inn, accommodations are available in one-, two- and three-bedroom villas. Most come with a fully equipped kitchen and living room. There are nearly 1,000 single-family homes on the property as well, for the many full- and part-time residents of Amelia Island.
The expansive grounds quickly became familiar and easy to navigate. Although private cars are welcome, guests can ride shuttles -- called trams at Amelia Island -- to the shops, restaurants and full-service spa. At Amelia's Wheels, bikes of all sizes and motorized golf carts, aka "island hoppers," are available for rent by the hour, day or week.
Amelia's Wheels is the starting point for the resort's Segway tours. Eager to try out one of the two-wheeled, electric vehicles, I signed up for an excursion. After a safety orientation and a little practice, our group was off, cruising along the miles of biking trails. Guests also can ride Segways along the beach, marsh and golf courses.
I have to admit I'm no expert at riding a Segway -- it requires far more coordination than I thought. But Gary Bleil, the manager of Amelia's Wheels and our guide for the day, clearly has mastered this skill. He steered his Segway with practiced ease, even turning around and riding backward. If you wish, Bleil will help you pick out a Segway of your own to take home. The resort is an authorized dealer of the personal transporters.
Speeding on a Segway was fun, but I also enjoyed touring the marsh by kayak. Accompanied by an experienced naturalist, I learned about the marsh's ecosystem as I paddled through the serene waters. Great blue herons, cormorants and snowy egrets are just a few of the majestic birds that can be found on the Atlantic barrier island.
Sunset bird tours, stargazing sessions, "owl prowls" and other programs are offered at the resort's Nature Center. Naturalists with backgrounds in biology, ecotourism and environmental studies staff the center; they can keep your youngster enthralled with a tale of a creepy critter, then identify that unusual plant that caught your eye during a stroll. They also diligently serve the native residents of the island, rescuing creatures as needed.
"Go green" is a term heard at many hotels and resorts in these days of eco-conscious living, but Amelia Island Plantation pays more than just lip service to the mantra. Builders ensured that the resort would exist in harmony with nature at its founding in 1971, and the master plan balances the topography, animal life and plant ecology. Strict building and maintenance guidelines are in place to protect the dunes, marsh and centuries-old trees. I saw one home with a large portion of roof cut out to accommodate a live oak.
Energy-efficient appliances, long-lasting fluorescent lighting, green pest control and the use of reclaimed water for landscaping and golf courses are all part of the resort's green initiative. Guests are encouraged to aid the effort by recycling paper, plastic and cans. These and other eco-friendly adjustments helped the resort earn certification from the Florida Green Lodging Program, developed by the state's department of environmental protection.
Amelia Island Plantation also boasts a spa that's "clean and green." Treatments incorporate products that are free of chemicals, artificial ingredients and preservatives. The light-filled, airy building features exposed wood beams and lots of open space, and the waiting area faces a meditation garden. The 13,200-square-foot facility has 25 treatment rooms, but the personal service and courteous staff make for an intimate and relaxing experience.
Traditional massages are offered, along with aromatherapy, lomilomi and deep-tissue varieties. Arrangements can be made for couples' massages or in-room treatments. There's an array of facials and wraps, including a "Tropical Moisturizing Facial" and a "Sweet Sugar Glow," which uses a concoction of coconut milk, coconut oil, macadamia nuts and cane sugar.
The meditation garden behind the spa leads to one of my favorite spaces at the resort: the spa's tree house. A rather sophisticated construction of the childhood favorite, it comes complete with a small balcony overlooking the water. The whimsical spot hosts princess-themed tea parties for young visitors and, several times a week, calming yoga classes.
I tried to balance my time at Amelia Island Plantation between active adventure and leisurely lounging, but it's possible to fill every waking moment with some sort of recreational pursuit. Avid golfers can stay busy on one of the four courses -- 72 championship holes in all. Ocean Links was constructed along the Atlantic coast, with five oceanfront holes, while Oak Marsh meanders through the salt marsh creeks of the island. Long Point is the club members' primary course, but it is available to resort guests who reserve a tee time. Amelia River is open to the public and winds around a forest of live oak, sabal palms and wax myrtles.
There also are 23 clay tennis courts, multiple swimming pools and the vast waters of the Atlantic. A well-appointed fitness center has a variety of cardio machines and weights, and the indoor lap pool is heated for comfortable swimming year-round.
Guests who wish to exercise their wallets will find 12 shops that offer designer clothing and shoes, works by local artists, home decor and gourmet eats; there's even a canine boutique. At Marche Burette, guests can peruse fresh fruits and vegetables, cooking gadgets and cutlery and an extensive selection of wine. The store hosts wine or food tastings on Saturday afternoons and has an adjoining cafe with indoor and outdoor seating. Its brick oven pizza has some delicious options for toppings -- the smoked salmon version with creme fraiche was outstanding.
During my three-night stay at Amelia Island Plantation, I ate nearly every meal at a different restaurant on the property. Yet I still didn't get to experience every one of the resort's dining choices, about 10 in all. Most offer a casual setting, but there's a fine dining option, Ocean Grill, in the Amelia Inn. This beachfront restaurant offers a seasonal menu of steaks, chops, seafood, chef's specials and lavish desserts. My favorite venue, however, was my balcony, where I enjoyed room service breakfasts with ocean views.
For me, Amelia Island was a great place to relax and recharge and enjoy some time to myself. But there's just as much to attract honeymooners, multigenerational groups and business retreats. The large size of the resort keeps vacations enjoyable for everyone. "We serve groups, couples and families," says Richard Goldman. "We can do this because of all of our space. Different people aren't getting underfoot."
Information:
To find the best rates for
Amelia Island Plantation
, we logged onto the hotel and resort site of national travel discounter Vacations To Go. We found four-night stays, from Wednesday through Sunday, starting at $640 per couple ($320 per person) through December. A four-night retreat in a one-bedroom, oceanfront villa went for $1,036 per couple ($518 per person). To book a stay, visit
Vacations To Go
or call (800) 998-6925.
The information in this story was accurate at the time it was published in July/August 2009. Please visit
Vacations To Go
or call (800) 998-6925 for current rates and details.
Send This Article to a Friend
Bookmark this Content
Digg it!
Reddit
Furl
del.icio.us
Spurl
Yahoo!