Boston to Vancouver
August 2-September 17
By Madison G. Welch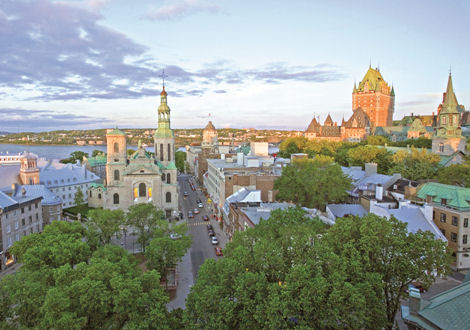 Luc-Antoine Couturier/Quebec City Tourism
AUG 2 to 9
Seven nights aboard Holland America Line's Maasdam
Boston to Montreal
The trip:
Travel from historic
Boston
to avant-garde
Montreal
with Holland America's
weeklong Canada and New England sailing
. The 1,258-passenger
Maasdam
will traverse the Northeast and the St. Lawrence River, defined by rugged coastline, tranquil islands and marine wildlife.
Onboard comforts:
Reminiscent of an opulent Turkish bath, the Greenhouse Spa and Salon features grottoes that release dry heat, steam and mist. Relax and cleanse with a "bright eyes" treatment, oxydermy facial, bamboo massage and more.
Great outdoors:
In
Bar Harbor
, don't miss a morning hike on Maine's Cadillac Mountain, known as the first place in the United States to receive sunlight during the year's colder half. Or, simply admire the peaked backdrop as you peruse the town's sundry shops and restaurants.
Historic highlights:
Discover the 158-year-old citadel in
Halifax, Nova Scotia
, which welcomes visitors to tour the barracks, guardroom, signal mast and more. Outside the city, you can stroll through the town of Lunenburg, a beautifully preserved British colonial settlement and UNESCO World Heritage Site.
Literary connection:
Canada's
Prince Edward Island
is a treasure trove for fans of "Anne of Green Gables." Visitors can envision the charming, redheaded orphan's adventures at Avonlea Village and the Green Gables House.
Cultural ties:
Quebec City
's colonial heritage is marked by stone buildings and winding lanes with a European feel. Take a ride in a horse-drawn carriage through streets peppered with entertainers, and stop by Old Quebec's open-air art gallery, Rue de Tresor.
Stay at Fairmont the Queen Elizabeth in Montreal
Stay in the cultural center of
Montreal
at Fairmont's
Queen Elizabeth
, an elegant hotel connected to the city's extensive underground network of shops, entertainment and restaurants. Opened in 1958, the property has welcomed many political dignitaries as well as approximately 22 million other travelers to its 982 guest rooms and suites. Its most famous digs, the John Lennon and Yoko Ono Suite, was the setting for one of the couple's peaceful "bed-in" protests during the Vietnam War; the song "Give Peace a Chance" was composed and recorded here. The hotel's more budget-friendly accommodations are comfortable, with modern amenities and decorated with a contemporary flair in rich, earthy tones. Hotel conveniences include multiple dining venues, a 24-hour gym and indoor pool.
AUG 10 to 17
"The Best of Eastern Canada" with Collette Vacations
Montreal to Toronto
Fresh maple syrup meets verdant vistas and must-see attractions on
an eight-day Canadian tour
. Beginning in Montreal, where New France culture blends with ultramodern construction, a sightseeing jaunt highlights important landmarks: Jacques-Cartier Square, which honors the famed French mariner credited with naming Canada; the Notre-Dame Basilica, with twin towers and an 11-ton bell called Jean-Baptiste; and Saint Joseph's Oratory of Mount Royal, a shrine at the foot of the metropolis' hilltop refuge.
Collette
guests arrive in Quebec City on Day Three and take in the splendor of Old Quebec, a UNESCO World Heritage Site. Enjoy views of the picturesque Chateau Frontenac, a red-brick, gabled-roof structure standing out in the skyline; the Parliament building, inspired by the Louvre in Paris; and Place Royale, a historic square and gathering spot. Then, savor a sampling of local dishes during a progressive dinner -- your own epicurean tour. Tastings continue the next morning as you learn about maple syrup production at a sugar shack in the Quebec countryside. With your free time, consider visiting Artillery Park, where characters in period dress welcome guests at colonial-era fortifications.
Day Five of the tour dawns with a departure for Ottawa, Canada's cosmopolitan capital. Here you can try a fried BeaverTails pastry sprinkled with cinnamon and sugar as you stroll through ByWard Market, a premier destination for regional foods, arts and collectibles. Explore the Rideau Canal, which becomes a gigantic skating rink in winter months, and the Supreme Court buildings.
From Kingston, cruise Lake Ontario and idyllic Thousand Islands, once patrolled by pirates and bootleggers. Look for lighthouses, mansions and museums. Then, travel to Toronto to see the harbor and Ontario Legislative Building, which has housed Ontario's parliament for more than a century. During your afternoon leisure time, stop in at the Royal Ontario Museum, Canada's largest exhibition of world cultures and natural history.
Spend Day Seven at Niagara-on-the-Lake, a charming town featuring fine dining, shopping and estate wineries. A final night in Toronto and breakfast the next morning concludes the itinerary.
Stay at the Ritz-Carlton, Toronto
For breathtaking views of
the city
or harbor, stay at the
Ritz-Carlton, Toronto
, where all 267 rooms feature floor-to-ceiling windows. The 53-story hotel, opened in February 2011, is the only AAA Five Diamond hotel in town. References to Canadian culture abound inside, where guests will find bronze maple leaves embedded in the lobby floor and more than 450 pieces by local artists throughout the hotel.
Rooms include heated perimeter flooring, marble bathrooms and plush bathrobes, and guests can enjoy the 23,000-square-foot sanctuary with an urban spa, fitness center and indoor pool. On-site dining options include homegrown dishes like seared scallops with creamy chorizo rice and Cornish hen at signature restaurant TOCA by Tom Brodi; classic cocktails and a tapas-style menu at Ritz Bar; and Mediterranean fare at DEQ Terrace Lounge. Its location offers easy access to theaters, sports venues and shopping, including the Toronto Eaton Centre with more than 230 retailers, eateries and services.
AUG 21 to SEPT 2
"Trans-Canada Rail Adventure" with Rocky Mountaineer
Toronto to Vancouver
Sweep across Canada on a
13-day trip
bookended by two train rides. Begin your tour by exploring the country's largest city, Toronto, at your leisure and visiting one of the great natural wonders of the world: Niagara Falls. Cruise to its base with Maid of the Mist, which has operated tour boats at Niagara Falls since 1846, for a closer look at this incredible waterfall system.
On Day Three, start weaving across northern Ontario and the Prairie provinces aboard
Via Rail
, with onboard accommodations in a sleeper car. You'll disembark in Jasper, a bustling town that grew from a trading post. View eye-popping blue-green lakes, alpine meadows and local wildlife (think caribou and bighorn sheep) in Jasper National Park, a UNESCO World Heritage Site and the largest of the Canadian Rocky Mountain parks. Other activities include kayaking, hiking, horseback riding and listening to legends in a cozy tepee.
Get the cameras out for the Icefields Parkway, which stretches 144 miles through pristine wilderness. Stop at Athabasca Falls, a powerful waterfall that flows through a narrow gorge; the Columbia Icefield, where you can ride a specially designed vehicle to the middle of the Athabasca Glacier; and Bow Lake. Finally, spend the night at Lake Louise, Canada's "diamond in the wilderness."
Day Nine brings explorers to Yoho National Park to see the Spiral Tunnels, Emerald Lake and a natural rock bridge that spans the Kicking Horse River. After a night in Banff, prepare for a day with gorgeous vistas: Travelers will ascend 2,292 feet in a fully enclosed gondola cabin to the summit of Sulphur Mountain for a view of six mountain ranges. You'll also soar more than 7,000 feet above sea level on a 12-minute helicopter flight.
Then board your second train, the
Rocky Mountaineer
, the largest privately owned passenger rail service in North America. For this leg, you'll ride the rails by day and overnight in hotels. Guides entertain travelers with interpretive storytelling as the route winds past glacier-fed lakes, mighty mountains and roaring rivers.
During a Kamloops stop, see the Continental Divide, Kicking Horse Canyon, Rogers Pass and Craigellachie, where the final spike was driven into Canada's first transcontinental railway. Your westbound adventure ends in Vancouver, where you'll check into a hotel for the final evening.
Stay at the Wedgewood Hotel & Spa in Vancouver
Step into the
Wedgewood Hotel & Spa
in
Vancouver
and see fresh flowers, fine antiques and original works of art -- just a few examples of the understated elegance here. Privately owned and operated, the hotel welcomes guests with a special gift and note from the proprietor. Other thoughtful touches include twice-daily cleaning service and freshly baked cookies by the bedside at turndown. The property's 83 uniquely appointed rooms and suites feature inviting amenities such as private balconies, garden terraces, double soaker tubs and Egyptian cotton bathrobes. Located downtown, the hotel is close to some of the city's best shopping, dining and entertainment venues. Across the street is Robson Square, the University of British Columbia's main downtown complex, which includes the Vancouver Art Gallery, cascading waterfalls and a winter ice rink. Guests also can relax with a soothing retreat to the hotel's spa or dine at its signature French restaurant.
SEPT 4 to 13
Nine nights aboard Silversea Cruises' Silver Shadow
Round trip from Vancouver
Visit six striking seaside towns -- Ketchikan, Juneau, Skagway and Sitka in Alaska and Prince Rupert and Victoria in Canada -- on Silversea's
round-trip Alaskan cruise
from Vancouver.
Sail the Inside Passage during your first full day on board the 382-passenger
Silver Shadow
and bask in the luxury of amenities offered by this internationally acclaimed cruise line. Activities include culinary demonstrations, enrichment lectures, golf putting, spa treatments and matinee movies -- but feel free to simply lounge on deck as well.
The third day begins with your arrival in the Alaskan port of
Ketchikan
, known for its brightly colored totem poles and mountainous island setting. Disembark to check out the spunky town's Creek Street, a row of small, vibrant houses restored as trendy shops. Attractions here include the Great Alaskan Lumberjack Show or the salmon ladder, a series of pools that help fish travel upstream.
Drop anchor the next morning for a full day in
Juneau
, Alaska's capital city, and follow the blue signposts for a personalized tour of downtown. The Mount Roberts Tramway, a favorite excursion of many cruisers, lifts you 1,800 feet above the shore to the side of the mountain where you can take advantage of hiking trails, bear-watching platforms, the Timberline Bar & Grill and harbor views. The windy Alaskan town of
Skagway
also invites visitors to discover its historic sites by foot, with highlights like Corrington's Museum of Alaskan History and Klondike Gold Rush National Historical Park. For more striking landscape scenery, step aboard the White Pass & Yukon Route train.
Sitka
introduces passengers to some of southeast Alaska's most iconic landmarks: the Alaska Raptor Center, a 17-acre educational center and avian hospital for bald eagles and other birds, and St. Michael's Cathedral, a domed structure filled with Russian religious objects. Here you also can stop by Sitka National Historical Park to learn about Russia's colonial legacy in North America.
Immerse yourself in the rich Canadian culture of
Prince Rupert
, a small fishing town with a relaxed atmosphere. The historic waterfront area surrounding Cow Bay features shops, galleries, seafood restaurants and boat charters for a half-day of fishing. After a full day at sea, your next stop will be in the Canadian port of
Victoria
, where you can enjoy beautiful gardens, restored 19th-century architecture and countless harborside attractions. Fisherman's Wharf, for example, has floating shacks selling ice cream and other snacks.
Stay at the Victoria Marriott Inner Harbour
Take a ferry from Vancouver to
Victoria
, a picturesque city on Vancouver Island that boasts the mildest climate in Canada, for a stay at the
Victoria Marriott Inner Harbour
. All 236 rooms feature luxury linens and Wi-Fi, and many face the Olympic Mountains and downtown. The centrally located hotel serves as an ideal hub for exploring the city's countless activities. Options include whale-watching adventures, zip lines that soar through beautiful scenery at almost 40 mph, gardens totaling more than 2 billion blooms each year and walks through Canada's oldest Chinatown. Fire & Water Fish and Chophouse, the hotel's on-site restaurant, offers fresh fare from the Pacific Northwest, with dishes like savory clam chowder and cashew-crusted sturgeon. In your downtime, enjoy the hotel's fitness facility and indoor pool.
The information in this story was accurate at the time it was published in January/February 2014. Please visit
Vacations To Go
or call (800) 998-6925 for current rates and details.
Send This Article to a Friend
Bookmark this Content
Digg it!
Reddit
Furl
del.icio.us
Spurl
Yahoo!