An American Paradise
The beautiful U.S. Virgin Islands lie under the flag and
across the sea
By Michelle White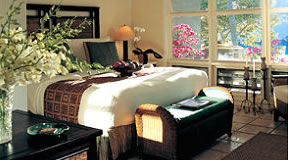 U.S. Virgin Islands Dept. of Tourism
I
mmediately upon arriving at
St. Croix
in the
U.S. Virgin Islands
, I began to gain a new understanding of an old concept: island time. A gentle humidity lagged in the air, and the atmosphere was relaxed and unhurried. At a stand in the airport's baggage claim area, I picked up a cup of complimentary rum punch. It seemed that something magical was under way, in a place where lovely scenery and a leisurely island spirit could both soothe and invigorate the senses.
Eleven hundred miles southeast of Miami and 40 miles east of Puerto Rico, the U.S. Virgin Islands comprise three main islands: St. Croix,
St. Thomas
and
St. John
. Each has its own distinct appeal. The myriad surrounding smaller islands, cays and large rocks reminded Christopher Columbus of St. Ursula and her 11,000 virgin companions, hence "Las Islas Virgenes" -- the Virgin Islands. On his second voyage to the New World in 1493, Columbus landed on an island he called Santa Cruz, or "holy cross," which the French later adapted to St. Croix.
Seven nations -- Spain, England, Holland, France, Malta, Denmark and the United States -- have all governed this island group. Today, it is a U.S. territory. The calypso lilt heard in the dialect of English-speaking locals reflects a rich multicultural heritage, and the varied island music includes quelbe (made by percussive "scratches" on gourds), reggae and salsa.
In 1917, the United States purchased the islands from Denmark for $25 million in gold to improve military positioning during World War I. Denmark's influence is readily apparent in
St. Croix
, nicknamed "Twin City" for its two towns named after Danish kings -- Christiansted on the north coast and Frederiksted on the west side. Here, pastel architecture, quaint shops and 18th-century churches reveal a history that extends far beyond the sun-washed setting of the Caribbean isle.
After a drive along curvy roads that wind through green rolling hills, I arrived at my first accommodations at
Carambola Beach Resort
. Situated in a secluded valley on the north shore of St. Croix, its beach facing Davis Bay, Carambola is a paradise in itself. Cell phones generally don't work here, but as I strolled down a sun-dappled breezeway lined with fluttering white curtains, I was more than happy to set my phone aside and explore the exquisite surroundings. This retreat strikes an ideal balance of intimate ambiance and luxurious amenities.
Carambola has 157 rooms, 18 of which had been refurbished at press time. Renovations for the remaining accommodations were completed in early 2007. Carambola is popular for weddings and honeymoons, and golfers delight in the 18-hole course designed by Robert Trent Jones Sr. Guests also enjoy a sparkling pool, whirlpool and fitness center. Massage treatments are available, and a new spa is scheduled to open in the winter of 2007. Every meal I ate at the resort, from the first night's multicourse dinner in the elegant Mahogany Room -- with an appetizer of delectable conch fritters -- to breakfasts of generous omelets, was incredibly fresh, due in part to the herbs plucked from Carambola's own garden.
Two-story buildings house Carambola's accommodations, and second-floor units have vaulted ceilings. The King Regency Villas contain a four-poster king-size bed, a well-equipped kitchenette, a small sitting area and a large bathroom with granite countertops. My immaculate, wood-accented room irresistibly invited bare feet, with plush white rugs and Turkish marble floors. The soothing sounds of the waves reached my ears from just beyond a screened-in porch, and I could see the ocean shimmering through the foliage.
Another impressive feature of my room was having not one, but two flat-screen plasma televisions. I loved that little bit of luxury, but what I loved even more was that I did not turn them on once. At every opportunity I headed outside to investigate the transformative power of beachfront hammocks. How refreshing it was to sway gently over the sand with only the sounds of birds cooing and the waves washing steadily up and down the stretch of golden beach.
Christmas through Easter is the peak travel season for the U.S. Virgin Islands According to Shannon Burdge, Carambola's general manager, the climate in the islands becomes very hot and humid by August. My stay in early June was during the shoulder season, and for me the absence of crowds further contributed to the prevailing serenity.
At 84 square miles,
St. Croix
is the largest of the U.S. Virgin Islands. In the 18th and 19th centuries, St. Croix prospered from sugar and rum exports, driven by slave labor on sugarcane plantations. The ruins of 54 sugar mills scattered throughout the island provide a glimpse into this past, most notably the restored Estate Whim Plantation Museum. St. Croix also is home to the Cruzan Rum Distillery and the 16-acre St. George Village Botanical Garden, with more than 1,500 plants including sausage trees, mango trees and noni trees.
I took a kayaking excursion along Salt River, winding through a 900-plus-acre ecological preserve on St. Croix's north shore. This site marks the first and only documented place that Columbus explored upon landing in the U.S. Virgin Islands in 1493. A tour guide from Caribbean Adventure Tours shared local history and lore as our small group paddled two-person kayaks through peaceful mangroves, home to an abundance of wildlife. At one point he stopped and handed me a Cassiopeia jellyfish, which doesn't sting while out of the water. I'm not sure how he fished it out of the river in the first place, but I can only conclude he did so very carefully.
A minute-long ferry ride brings passengers from Christiansted to the Harbour Master Beach Club on tiny Protestant Cay for a Caribbean feast held every Tuesday. The buffet, organized in a large outdoor setting, includes ribs, chicken, fish, macaroni and cheese, sweet potatoes and beans and rice. Local musicians play steel pan drums, perform fire tricks, walk on glass and persuade visitors to participate in limbo dancing. I also saw mocko jumbies, colorfully costumed dancers on stilts. Originating from West African folklore, the term "mocko jumbies" also refers to dolls that are handmade on St. Croix.
Natural beauty abounds throughout the
U.S. Virgin Islands
, but for me, nature at its best came during an excursion with Mile Mark Charter to Buck Island, the United States' first underwater national monument. This 880-acre nature preserve, one mile northeast of St. Croix, features a snorkeling trail over an undersea grotto. The gorgeous waters, pierced with rays of sunlight, offer another world to behold. Underwater markers indicate the spots where various species of colorful coral and fish can be viewed. At one point I floated over a school of blue tang, flat black-and-blue fish that made for a dazzling sight. I also stared down two barracudas.
After extensive snorkeling, I enjoyed the beach on tiny Buck Island, where the color and clarity of the sea and sky were simply incredible. No man-made attraction can rival the crystalline aqua waters and soft, pristine white sands of this locale. The temperatures of the air and water were perfect that day, and I could have stayed for hours.
After two days in St. Croix, I boarded a seaplane for my next destination, 32-square-mile
St. Thomas
. The most developed of the islands, it's known as "Rock City" due to Crown Mountain, the islands' highest peak at 1,550 feet. Here, Charlotte Amalie, the capital, is best known for its duty-free shopping and busy cruise ship port.
The 481-room
Marriott Frenchman's Reef and Morning Star Beach Resort
overlooks Charlotte Amalie's beautiful harbor. The setting is especially pretty at night, when the blackness of the water contrasts with the hotel's illuminated palm trees and pools and the lights twinkling in the hills. Frenchman's Reef offers 11 restaurants and bars, a spa, an 18-hole golf course, land and water sports and three pools, including one with a swim-up bar. The Windows on the Harbour restaurant, which overlooks Charlotte Amalie, features a scrumptious breakfast buffet with everything from bagels and lox to fresh omelets and a vast variety of fruit.
For a fun, educational and interactive experience on St. Thomas, head to Coral World Ocean Park, an underwater park and marine observatory on the island's northeast shore that contains countless aquatic species. Coral World hosts kids' sleepover parties, weddings and other special events. It offers "sea trekking" as well as up-close-and-personal encounters with sea turtles, sharks and stingrays. An aviary opened in late November 2006.
I've snorkeled, but I've not yet scuba dived, and I found sea trekking to be a great way to explore life under the ocean. "You don't even have to know how to swim. You just have to be able to breathe and walk," said Thea, one of the friendly guides. Sea trekkers don 75-pound helmets connected to an air tube, thus allowing them to walk along the ocean floor (at a depth of 18 feet in this case) while keeping their heads dry. A loud whirring noise occurs as oxygen is pumped into the helmet, but it hardly distracted me from the sights. I stayed underwater for about half an hour, viewing arrow crabs, brittle stars, angelfish, damselfish and sand divers.
I also swam with green sea turtles, which can weigh up to 350 pounds and live for 80 to 100 years. The turtles at Coral World are youngsters at seven to nine years old. Coral World serves as a rehabilitation center for sick or injured turtles, which in the U.S. Virgin Islands are threatened by pollution, beachfront development, disease and boating. Before the day was over, I also got to pet the tail of a baby nurse shark.
Skyline Drive offers a scenic passageway amid St. Thomas' hills and overlooks. Magens Bay, a mile-long stretch of sand renowned as one of the world's best beaches, boasts a view of not-too-distant islands and a striking palette of Caribbean hues, from brilliant turquoise to opaque sapphire. The scenic route leads to Valdemar Hill, which looks southward upon Charlotte Amalie's white buildings capped by red roofs, as well as Water Island and Hassell Island.
In Hull Bay, Homer's Scuba and Snorkel Tours provides a thrilling nighttime diversion. Partnered with snorkel buddies and with colored glow sticks affixed to our gear, we resembled color-coded aliens in the water. We ventured into the bay and combed the ocean floor with flashlights in search of nocturnal marine life such as octopus. Though we didn't find any eight-armed creatures that night, we did spot sea cucumbers and various fish. Time seemed suspended during this serene experience.
The last stop on my U.S.V.I. getaway was
St. John
. Only 19 square miles, it is nicknamed "Love City" for its tranquil, romantic ambiance. Two-thirds of St. John is protected as a national park, thanks to land donations from Laurance Rockefeller in the 1950s. The Rockefeller family also established the sprawling, secluded
Caneel Bay Resort
, with seven beaches and a golf course. St. John is the only one of the islands to offer campsites, including the well-known Cinnamon Bay Campground. There are also eco-resorts -- some running on solar and wind power -- that provide basic accommodations and beautiful views.
We stayed at scenic
Gallows Point Resort
in Cruz Bay, the small harbor and "downtown" of St. John. Gallows Point has 50 one-bedroom suites in two-story, four-unit buildings, each laden with bougainvillea and hibiscus. Full kitchens make Gallows Point ideal for an extended stay, and 8-foot-tall doors open onto porches and balconies that front lush landscaping and the Caribbean Sea. The pool is perfectly situated for relaxing while gazing upon the ocean. Gallows Point is within easy walking distance of the charming restaurants, bars, galleries and shops of Cruz Bay.
Hikers can choose from 22 trails within Virgin Islands National Park on St. John. I followed the Lind Point Trail, which begins at Cruz Bay and ascends through cactus scrub up to a 160-foot overlook, with views of the Caribbean Sea meeting the Atlantic Ocean. The second half of the trail winds through a dry forest environment. Though the hike wasn't strenuous, it seemed only appropriate to cool off afterwards with a dip at Honeymoon Beach. The saltwater there had me feeling especially buoyant, as though I could drift off to sleep while floating.
The best-known ruins on the island are at Annaberg Sugar Plantation, built in the early 1700s. The restored stone structures sit amid brilliant, crimson-colored royal poinciana trees and look upon Leinster Bay. Breathtaking views abound on St. John, including the lush green hills and azure waters around Trunk Bay, Hawksnest Bay and Maho Bay. The
British Virgin Islands
are visible across the water.
I found a laid-back, idyllic adventure in the islands, made all the more convenient for U.S. residents by the familiar American dollar. I believe the United States purchased something priceless in 1917 -- an escape from the mainland that offers something altogether different: the languorous lifestyle of a Caribbean retreat.
Lodging
: Carambola Beach Resort, Marriott Frenchman's Reef and Morning Star Beach Resort, Caneel Bay Resort, Gallows Point Resort and other hotels and resorts in the U.S. Virgin Islands can be booked through Vacations To Go. For more information, call (800) 998-6925 or click
here
.
The information in this story was accurate at the time it was published in November/December 2006 . Please visit
Vacations To Go
or call (800) 998-6925 for current rates and details.
Send This Article to a Friend
Bookmark this Content
Digg it!
Reddit
Furl
del.icio.us
Spurl
Yahoo!