10 Romantic Beach Resorts
From sunrise to sunset, these retreats offer idyllic settings
By Dai Huynh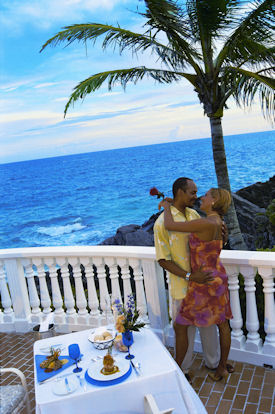 Fairmont Hotels & Resorts
W
ithout fail, two things occur every day -- in the morning, the sun rises, and at night, the sun sets. But nowhere do these daily events seem more majestic than on a beach.
Sunrise is stunning on lucid days when the sea sparkles crystalline blue. Dazzling dawn throws a rosy veil across the horizon, and the world once black and gray comes alive in Technicolor.
Sunset is no less dramatic. Dipping into the ocean, the sun glows crimson, splashing gold on the waves and casting a pinkish hue on pale sand.
The perfect moment. The perfect beach. The latter is relative, of course. For some, the ideal beach has volleyball and sea kayaks. For others, secluded romance. No matter what you're looking for, here are 10 outstanding romantic tropical resorts with a gorgeous beach to start or end the day.
Five are all-inclusive resorts, which means that your room, food, beverages and many activities are covered in one rate that you pay in advance. Three of our choices have kids-free settings, including one just for couples. Two provide particularly family-friendly environments but offer ample opportunities for parents to spend some quality one-on-one time together.
For more information, visit
Vacations To Go
or call the resort specialists at
(800) 998-6925.
Sandals Grande Antigua Resort and Spa


St. John's, Antigua
There are 365 beaches in Antigua, one for every day of the year. Most are nestled on the Caribbean side amid calm, protected waters. On the northwest coast lies Dickenson Bay, perhaps the most famous of the island's natural treasures. An idyllic spot for windsurfing, sailing, parasailing and water skiing, this white-sand beach is most alluring when the skies turn burnt orange at sunset.
Dickenson Bay is home to
Sandals Grande Antigua Resort and Spa
, where guests can choose lodging in one of two enclaves. Caribbean Grove is a quaint seaside garden oasis with pastel cottages shaded by towering coconut palm trees, just steps from the beach. The Mediterranean Village offers a more polished ambience, with an expansive pool and hillside suites overlooking the ocean and horizon.
Sandals Grande Antigua is designed for couples only. It's all-inclusive, boasting nine restaurants, 10 bars and an array of evening entertainment, from beach parties to carnival nights. Guests can make appointments at the Red Lane Spa for treatments like a sea salt and lemongrass scrub or a soothing post-sun body wrap that uses exotic water lily extracts. Or, just look toward the sea to calm the mind and soul.
"Many couples choose to make sunset the scene for their destination wedding or a private candlelight dinner on the beach," says general manager Gerald Christ. "The sunset is the most romantic time to take a stroll on the beach. The pinks, oranges and greens swirl together to form a surreal setting, like an Impressionist painting come to life."

Maui, Hawaii
Five bays and white-sand beaches create a captivating shoreline on the western edge of Maui. It's here that the
Ritz-Carlton Kapalua
straddles one of the most beautiful beaches in the United States, according to Stephen Leatherman, aka Dr. Beach, director of the Laboratory for Coastal Research at Florida International University. He annually compiles a list of the country's top 10 beaches, using 50 criteria such as water and sand quality. In 2006, he gave top billing to D.T. Fleming Beach Park.
Guests of the Ritz-Carlton Kapalua have direct access to this mile-long crescent, which boasts stunning vistas of nearby Molokai Island. The beach is backed by a forest of trees on a low sea cliff, and the area is home to flowering ginger, coconut, taro and lychee.
Recently, the Ritz-Carlton completed an extensive $180 million transformation, which resulted in spruced-up accommodations, a new fitness and yoga center and a luxurious 17,500-square-foot spa. While the 36 holes of championship golf attract many guests, it's the stunning Maui sunset, turning the sky orange-red, that entrances visitors to this magical isle.

Harbour Island, Bahamas
Aquamarine waters lap a smooth, pink-sand beach at Harbour Island, a speck of land that lies just off the north coast of Eleuthera Island. The three-mile stretch is anchored by the
Pink Sands Resort
, a 20-acre paradise with 25 darling pastel-colored cottages. Here, guests can sip mojitos made with local rum as they sit on their private deck and watch clouds float by and boats bob in the distance.
Breezes take the edge off warm days made for year-round swimming. And at night, guests can dip their toes in the sand while dining on sashimi and sushi at the Blue Bar, located right on the beach. Meanwhile, a dramatic display unfolds before their eyes as the sun dips into the ocean, casting the island into shades of yellows and oranges, followed by bright coral pinks and purples.
"In the '50s, this was the playground for the rich and famous," says general manager Mark Kitchen. "It remains a celebrity hangout. Victoria's Secret was down here for a photo shoot."
Supermodel Elle Macpherson and fashion icon Diane von Furstenberg own homes on Harbour Island. Visitors are drawn by its picturesque colonial town with shady lanes and clapboard houses. A profusion of flowers punctuates the scene, notably fuchsia bougainvillea. Against blue skies and aquamarine waters, the stage is set for romance.

Playa del Carmen, Mexico
Azure water kisses soft white sands at Maroma Beach. Nestled into the coast of the Yucatan Peninsula, it's a photogenic respite from the hustle and bustle of Cancun 30 miles away.
In the early '60s, Mexico's Yucatan Peninsula was sparsely populated by a few fishing villages. That changed in 1974, when the government decided to develop the area in the state of Quintana Roo and gave birth to the Riviera Maya. It quickly became a favorite destination for couples seeking secluded romance.
At the heart of the 500-plus acres of beach and rain forest is
El Dorado Maroma
, an intimate 72-suite, adults-only resort, where romance can flourish on what the Travel Channel considers one of the top beaches in the world. At this all-inclusive getaway, couples can get four-hand massages under a beach hut while listening to the sounds of the ocean. Sunset strolls and candlelight dinners on the beach are the norm, and so are canopied outdoor ocean-view beds with butlers who provide guests with water vaporizers and cocktails.
Accommodation choices at El Dorado Maroma include rooms with private plunge pools and swim-up suites with access to a lazy river that connects to the main pool.
Paradisus Playa Conchal All-Suite Beach and Golf Resort


Guanacaste, Costa Rica
Playa Conchal sits against a verdant nature reserve spanning 2,500 acres, which lends a wild, exuberant touch to this strip of sand. The area is relatively untouched, remaining much the same as when Spanish sailors laid eyes on Costa Rica for the first time. The name Costa Rica says it all: "rich coast."
Anchoring this lush destination is the all-inclusive
Paradisus Playa Conchal All-Suite Beach and Golf Resort
, an upscale retreat with a 172-acre course designed by Robert Trent Jones II, tucked amid forest-covered hills.
Paradisus Playa Conchal offers an array of marine activities, including deep-sea fishing, sailing and windsurfing. Clear waters entice swimmers, snorkelers and divers. It's a rustic setting, not the manicured beach you may find in the resort zones of Mexico or the Dominican Republic. The Spanish colonial-styled property attempts to fit into its natural surroundings with meandering walkways, tropical gardens, bubbling fountains and crystallized lakes.
"The sand on the beach is made of crushed tiny shells, and by law, nothing can be built on the beach," says marketing director Francina Gutierrez. "There are a few huts where local artisans sell their crafts, but nothing else other than sand and water. It's unspoiled."

Playa del Carmen, Mexico
Legend has it that just before sunrise, poetry can be heard from the whispering ocean bordering the seven-mile pearlescent beach in front of
The Tides Riviera Maya
, a luxury kids-free resort three miles from Playa del Carmen. True or false, it's a nice thought.
The resort accentuates the beauty of its natural surroundings, boasting an intimate setting of 30 palapa-roofed stucco villas that are tastefully decorated with minimal Mayan aesthetics. Guests can spread out in more than 1,000 square feet of space that includes a canopy bed with hand-stitched Egyptian cotton, a private plunge pool and terrace with hammock and outdoor shower.
From sunset to sunrise, the resort cultivates romance and well-being. Daily hatha yoga classes are available on the beach, along with the signature Mayan sauna called
temazcal
. The ritual incorporates massages and holistic practices to cleanse the body, spirit and mind. After one of these sessions, there's nothing left but to relax in each other's arms.

Fajardo, Puerto Rico
Imagine sailing off to a private paradise with a talcum-soft beach surrounded by the bluest water.
El Conquistador Resort and Golden Door Spa
has an exclusive lease on Palomino Island, 100 acres of lush coconut groves, plantain fields and orchards of lemon and papaya trees. It's the biggest private island in Puerto Rico, owned by a family that occupies one half. The other half is rented by the hotel.
Guests of El Conquistador board a catamaran for the eight-minute ride to Palomino, where they can tan, snorkel, windsurf or go horseback riding. Hammocks are strung between palm trees, and waiters take orders for mojitos and pina coladas, so you can linger languidly until sunset.
Back on the mainland, El Conquistador is perched 300 feet above the sea on the cliffs near Las Croabas, where the Atlantic Ocean and Caribbean Sea converge. The property is expansive. There's a casino, championship golf course, the 26,000-square-foot Golden Door Spa and a 35-slip marina. La Marina Village also offers boutique shopping.

Southampton Parish, Bermuda
Set against a flourishing backdrop of pines and palm trees, the
Fairmont Southampton
provides an elegant atmosphere for romance to blossom. It's perched on a hill at the southern end of Bermuda, an island famous for its shimmering pink-sand beaches. Guest rooms and suites have private balconies and panoramic views of the ocean, harbor or golf course.
Old World British charm mingles with the free spirit of Bermuda here. The Newport Room serves continental cuisine, and the Cellar re-creates the cozy atmosphere of an English pub. Windows on the Sound, with floor-to-ceiling windows facing the sea, puts on a Sunday brunch spread loaded with island specialties like cassava pie, fried bananas and codfish and potatoes.
Regular shuttles ferry guests around the property for a game of tennis or golf. They also stop at the beach, where vacationers can spend hours snorkeling around coral reefs, jet skiing, horseback riding or napping beneath a thatched umbrella. The Willow Stream Spa offers couples' massages, men's and women's relaxation lounges and an indoor heated pool.
Barcelo Bavaro Family Deluxe


Punta Cana, Dominican Republic
At dawn on Bavaro Beach, gold streaks illuminate dark skies and shapes emerge as the horizon is washed in daylight. Tiny boats glide on calm waters, and palm trees arch toward the ocean like graceful ballerinas. There's no movement on the silken white sand, and the wind is shushed. With no other human in sight, it feels like the beginning of time, and the world is eerily silent.
"The sea appears to have no limits. The skies have no limits. You and this moment of waking up just go on and on," says Spanish-born Sara Ramis, chief marketing officer for Barcelo Hotels & Resorts. She has experienced this scene many times at
Barcelo Bavaro Family Deluxe
, a recent addition to the all-inclusive Barcelo Bavaro Beach Resort complex in Punta Cana, the easternmost province of the Dominican Republic that faces the Caribbean Sea and Atlantic Ocean.
This 180-suite resort on Bavaro Beach was designed with the family in mind, but it draws many vacationers seeking a romantic, seaside haven.
So, while the kids are swinging in their mini discotheque and golf course, their parents can let loose at the adult-version disco and 18-hole golf course. The resort's staff also can arrange romantic excursions and private dinners for Mom and Dad.
The beach offers activities ranging from kayaking to surfing, but it's particularly well-suited for swimming and snorkeling. Stretching more than a mile, it's protected by a coral reef -- rich in marine flora and fauna -- that forms a tranquil natural pool. Waves stop in their tracks about 1,000 feet from the shoreline.
"It's amazing to see," Ramis says. "You have this wave, then suddenly -- poof! Smooth water."
Beaches Turks and Caicos Resort and Spa


Providenciales, Turks and Caicos
Just because the kids are with you doesn't mean there isn't room for romance on the family vacation. The 12-mile stretch of pristine beach that fronts
Beaches Turks and Caicos Resort and Spa
is ideal for a sunset walk, as you watch crystal-clear waters turn from brilliant turquoise to molten gold. You might even catch a glimpse of a couple promising to have and to hold. Weddings, it seems, are a daily event.
Meanwhile, where are the kids? The all-inclusive resort has a full-service nursery for babies and toddlers, and it's manned by a battalion of nannies. For young children, there's the Kids Camp and Sesame Street-themed activities. Older children can play at the interactive gaming center, Xbox 360 Game Garage. To explore their artistic side, they can head to the Crayola Art Camp, open to all ages. Baby-sitting services are available for a fee after hours.
The main family attraction is the 45,000-square-foot Pirates Island Waterpark, with seven new slides for exhilarating twists and turns, a 650-foot lazy river for floaters and a splash deck with water cannons, pop-up jets and surf simulators.
Beaches recently expanded its family accommodations to include the Italian Village, a $125 million project that added new restaurants and 162 luxury suites. The Italian Village suites with separate kids' rooms were designed expressly to meet the needs of families, says Adam Stewart, chief executive officer.
The information in this story was accurate at the time it was published in January/February 2010. Please visit
Vacations To Go
or call (800) 998-6925 for current rates and details.
Send This Article to a Friend
Bookmark this Content
Digg it!
Reddit
Furl
del.icio.us
Spurl
Yahoo!