Unforgettable Rail Trips
All aboard for these nostalgic rides
By Jennifer Davoren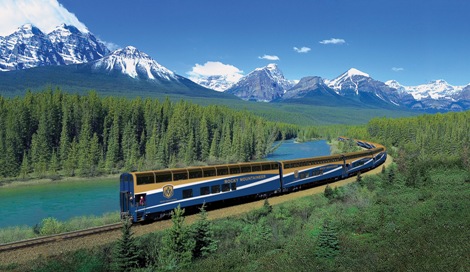 Rocky Mountaineer
V
acationing by train recalls the "golden age" of cross-country travel -- when steam locomotives chugged their way across rolling landscapes, seeking far-flung spots inaccessible by other means. The following itineraries feature stunning destinations, exciting excursions and a historic charm that long has lured passengers looking to ride the rails to their favorite escapes.
For detailed itineraries and other information on train travel, call (800) 680-2858 or visit www.TourVacationsToGo.com/Train.
Rocky Mountain Highs
Setting the standard for rail vacations since 1990,
Rocky Mountaineer
is known for its stylish trains and expert onboard guides. The company traverses the Canadian half of its namesake range, with stops from metropolitan Vancouver and the cowboy country of Calgary to stunning wilderness preserves like Lake Louise. Rocky Mountaineer trips range from two to 24 days, with longer itineraries -- like "
Trans-Canada Rail Adventure
" a 20-day journey from Vancouver to Toronto with a stop at Niagara Falls -- incorporating Holland America Line cruises to Alaska.
These trains have two levels of service: RedLeaf, where passengers are served cold breakfasts and lunches at their reclining seats next to picture windows, and the pricier GoldLeaf, which offers 180-degree mountain views via bilevel, glass-domed passenger cars and hot meals in a separate onboard restaurant. (A middle tier, SilverLeaf, offers extended legroom and larger windows on "First Passage to the West" itineraries.) At night, guests disembark for hotel stays. By day, they can photograph passing wildlife, distant peaks and other wonders of western Canada, all from the comfort of the train.
'Round the Redwoods
"
California's Historic Trains
" Cosmos' 10-day loop through the center of the Golden State, explores wine country, wilderness preserves and local railways. First up is the Napa Valley Wine Train, which treats guests to a leisurely gourmet lunch along with passing vineyard views. The tour makes a stop at the Korbel Champagne Cellars to sample some bubbly before heading for Fort Bragg and a ride aboard the Skunk Train, named for its original, gas-belching engine. This line now is known for its awe-inspiring Redwood Route, a slow ride through old-growth forests.
Fine dining is the main attraction on the Sierra Railroad, another Cosmos favorite, though this 115-year-old track also offers its fair share of historic lures. Your last full day in California includes a ride on Roaring Camp Railroads' 19th-century steam engine, which chugs its way past towering redwoods on its path up Bear Mountain. In San Francisco, the beginning and end point of this tour, you might opt for a ride aboard one of the city's iconic cable cars.
A Grander Canyon
Often compared to Arizona's top tourist attraction, Copper Canyon is a network of vast, water-carved trenches stretching across Chihuahua, Mexico, that's actually four times larger than its "grand" neighbor to the north. It's an ecotourist's dream, host to lush river gorges, arid desert and alpine forests reaching for the snowcapped peaks of the Sierra Madre. The canyon also shelters the Tarahumara, an indigenous group known for its evasion of Spanish conquistadors in the 16th century. (The tribe's cousins, the Aztecs and the Mayans, were not so lucky.)
With so much ground and biodiversity to cover in a single visit, tourists often choose the Chihuahua al Pacifico, also known as El Chepe, to view this expanse from a cushioned train seat. Brendan Vacations includes tickets for El Chepe in its "Mexico's Copper Canyon" escorted tour. Guests can choose from two itineraries. A
seven-day version
travels round trip from Tucson, while the
nine-day getaway
departs from Phoenix. Added perks include a day cruise on the Sea of Cortez, folkloric dance performances, a home-cooked meal with a Mexican family and a meeting with a Tarahumara medicine woman.
Matterhorn and More
Explore high-altitude destinations and high-end delights on "
Alpine Lakes and Scenic Trains
" a 10-day Collette Vacations tour through Switzerland and Italy. The Swiss lakeside cities of Zurich, St. Moritz and Montreux are featured, as is Lake Como, an Italian escape known as much for its resident celebrities as its Mediterranean-like mountain beauty. Transportation between attractions comes courtesy of the GoldenPass Panoramic, a speedy sightseeing train; the Glacier Express, on a narrow-gauge line cut through the heart of the Alps; the Bernina Express, which traverses a high-mountain pass to connect popular ski towns; and the William Tell Express, which traverses the spirals and horseshoe curves of the Gotthard tunnel, a masterpiece of civil engineering.
Collette guests also spend a full day reveling in the alpine air of Zermatt, Switzerland. Gas guzzlers have been banned in this eco-conscious resort, leaving only electric-engine shuttles and foot and ski traffic. Cuisine also is a highlight of this vacation, from Swiss fondue and fruit-filled strudel to fresh fish and pasta in waterfront Italian cafes.
Ghan Down Under
Trafalgar's 14-day "
Wonders of Australia
" lives up to its name with an all-encompassing, cross-continental exploration of this diverse land. From Sydney, home of a famed opera house and the surfers' paradise of Bondi Beach, guests are whisked to Adelaide in the heart of wine country; to Alice Springs, dotted with sheep stations and camel farms; and through the mysterious Outback, where a stop at Uluru, or Ayers Rock, includes folktales at its aboriginal culture center. Free time in Cairns on the country's northeast coast provides ample opportunities for snorkeling and sailing around the Great Barrier Reef.
The centerpiece of this vacation, however, is an overnight journey aboard The Ghan, a passenger train named for the Afghan herders who once traversed Australia's Red Centre. Trafalgar guests are treated to Ghan gold service, which includes a private cabin that transforms from cozy sightseeing lounge to twin sleeping berths. They'll also have access to the golden-age inspired Queen Adelaide restaurant, where specialties range from seafood to kangaroo steaks.
Eurasian Odyssey
Make tracks to Russia with Intrepid Travel's "
Trans-Siberian and Mongolia
" and you'll spend 21 days crossing Eurasia, from China's bustling capital city to St. Petersburg, a capital of culture. In Beijing, the departure point, guests can set their own schedule and explore the famed Forbidden City and the Temple of Heaven, or join an included excursion to the Great Wall of China. Among the unique activities planned for the rest of the trip are a night in a Mongolian nomad camp, complete with tented accommodations, and a feast of local fare on Lake Baikal, the "blue eye of Siberia."
Train buffs will look forward to an overnight journey on the Trans-Siberian Railway, which zips across five time zones on its path to Russia. This vacation concludes with opportunities to see the ice caves of Kungur, Iron Curtain artifacts in Moscow and the treasures of St. Petersburg's State Hermitage Museum, home to more than 3 million works of art.
The information in this story was accurate at the time it was published in January/February 2012. Please visit
Vacations To Go
or call (800) 680-2858 for current rates and details.
Send This Article to a Friend
Bookmark this Content
Digg it!
Reddit
Furl
del.icio.us
Spurl
Yahoo!