Top 5 Countries to See on a Tour
Ireland, Italy, France, the US and Egypt
are popular spots for escorted vacations
By Elizabeth Armstrong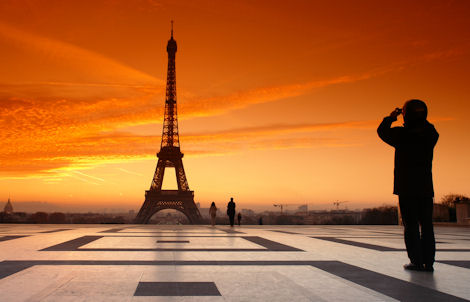 Hassan Bensliman/Fotolia.com
(Scroll down to see a slide show.)
T
he romance of Italy and France, the green hills of Ireland, the diverse landscapes of the U.S. and the antiquities of Egypt: These are the most sought-after destinations for travelers who choose an escorted tour, according to
Vacations To Go
, a travel agency that specializes in competitively priced trips. The company, which represents more than 30 tour operators, based its findings on bookings made by customers in 2009.
Escorted tours give you the most bang for your buck. You pay a per-person rate in advance, locking in your price. It covers hotels, transportation between cities (usually by motor coach), sightseeing with guides and daily breakfasts. Typically, some lunches and dinners are included, but the number varies with the company and itinerary.
A package like this can save up to 40 percent over purchasing the individual components separately. This is because tour operators buy lodging, meals and tickets to attractions in bulk, securing low group rates and passing the savings on to you.
It also can save a lot of headaches. No need to scour through rental car and hotel Web sites, guidebooks, maps and train schedules. Tour companies design itineraries that ensure you'll see the most popular sights, and your guide will probably lead you to some personal favorites that are off the beaten tourist path. And, someone else does the driving, which can be a big advantage to those who may not want to maneuver a car down narrow European streets, for example.
We've highlighted the sights you're likely to see in each destination on a tour. For more information, call the tour division of Vacations To Go, (800) 680-2858, or visit the links listed below.
Postcard-ready scenes await in the Emerald Isle, a land of rolling green hills, sea-beaten cliffs, splendid castles and peaceful villages. Itineraries start in
Dublin
, where guests see elegant Georgian squares, tour 12th-century St. Patrick's Cathedral and visit Trinity College Dublin to view the Book of Kells, a medieval manuscript of intricate, richly colored illustrations. You'll also have time to pop into a pub for a pint of the nation's favorite brew, Guinness.
Built in 1868, Kylemore Abbey is one of Ireland's great baronial castles, with a six-acre Victorian walled garden and lovely lake views. Since 1920 it has been home to an order of Benedictine nuns. They welcome visitors and operate a pottery studio and crafts shop at the site.
Breathe in the bracing sea air at the Cliffs of Moher, which rise 700 feet over the Atlantic Ocean at their highest point. The area is home to protected colonies of seabirds that nest in the heath. Less well-known are the Slieve League Cliffs, though they're nearly three times taller and just as breathtaking.
To see a complete list of escorted Ireland trips, click
here
.
A trio of cities -- Rome, Florence and Venice -- is featured on just about every tour of Italy. Requisite stops in
Rome
include the Colosseum and Vatican City, where you'll visit the Sistine Chapel and walk across enormous St. Peter's Square. In
Florence
, enter the Galleria dell'Accademia to see Michelangelo's "David," which he sculpted in the early 1500s, and view the complex facade of Il Duomo, embellished with bands of red, green and white marble. Highlights of
Venice
include visits to a glassblower's studio and perhaps a gondola ride.
You might pay a call on the leaning tower in
Pisa
, built as the campanile for the nearby cathedral. It started to sink just a few years after construction began in 1173, due to a faulty foundation. Walk through the streets of
Pompeii
to get a picture of life in an early Roman city. Sample
la dolce vita
in the Mediterranean island of
Capri
, a hot spot for the jet-set crowd, or window-shop in the neoclassical Galleria Vittorio Emanuele II of
Milan
, the model for the modern-day mall.
View an array of escorted tours to Italy
here
.
Cobblestoned lanes tempt you to explore every corner of an ancient town. A vineyard owner hands you a glass of his estate's prized vintage. A chateau filled with priceless tapestries, art and antiques captures the lavish lifestyle of a long-ago aristocracy. Scenes such as these are incorporated into many escorted vacations in France.
In
Paris
, guided sightseeing takes in top attractions like the Eiffel Tower, Notre Dame Cathedral and the Champs-Elysees. Impressionist painter Claude Monet set up house about 50 miles away in Giverny, where he found inspiration in his beautiful gardens.
Drive past sheep grazing in salt marshes on the way to
Mont St. Michel
, perched on a tiny tidal island in
Normandy
. Most tours then head to D-Day landing beaches and the American Cemetery, burial site of U.S. soldiers killed in World War II.
Some tours enter
Chartres
Cathedral, treasured for its remarkable stained-glass rose windows. Excursions to the
Loire Valley
visit Chenonceau, a chateau on the River Cher.
To see escorted tour itineraries in France, click
here
.
Escorted tours in the United States are as diverse as its landscapes, cultures and people. Among the best-selling itineraries are those that focus on the striking national parks of the Southwest. These visit the hoodoos of
Bryce
, the granite monoliths of
Zion
and the red-rock sentinels of
Monument Valley
.
Learn about Amish traditions in
Pennsylvania Dutch Country
, or revel in the sounds of the South in
Memphis
and
New Orleans
, birthplaces of the blues and jazz.
Meet bears, moose, whales and eagles in
Alaska
as you travel to the glacier-strewn Inside Passage and Denali National Park and Preserve. If it's sunshine and sand you seek, consider America's own tropical isles,
Hawaii
. Or, choose an itinerary that spends time in high-energy spots like San Francisco or New York City. San Antonio is the seventh-largest city in the U.S., but its centerpiece is the charming, mellow River Walk.
Follow these links for more information on packaged vacations in the
continental United States
,
Hawaii
or
Alaska
.
An escorted tour led by experienced guides is one of the best ways to see a country like Egypt. They can bring stories of the pharaohs to life, decipher hieroglyphics etched into ancient monuments, and help you navigate bustling bazaars like Khan el-Khalili in Cairo.
Egypt itineraries usually include a few days of cruising the
Nile River
. The world's longest waterway, the Nile has served as a lifeline for Egyptians for thousands of years, shaping the country's history, economy and geography. Sights along the route include the Colossi of Memnon, massive stone sculptures that once guarded the entrance to a pharaoh's shrine, and the temple complex at
Luxor
, beautifully preserved for centuries.
In
Aswan
, guests visit that city's main attraction, the High Dam, and take a sunset sail in a traditional boat known as a felucca. See the treasures excavated from King Tutankhamun's tomb at the Egyptian Museum in
Cairo
, and join an excursion to the nearby desert to stand in the shadows of the
pyramids
.
To learn more about tours in Egypt, click
here
.
The information in this story was accurate at the time it was published in January/February 2010. Please visit
Vacations To Go
or call (800) 680-2858 for current rates and details.
Send This Article to a Friend
Bookmark this Content
Digg it!
Reddit
Furl
del.icio.us
Spurl
Yahoo!