The Rare Mountain Gorillas of Rwanda
The Dian Fossey Gorilla Fund partners with locals to protect these endangered creatures
By Alexis Loyd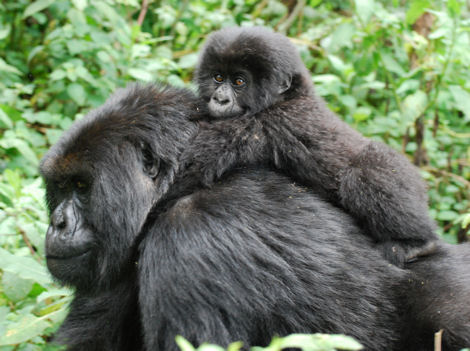 The Dian Fossey Gorilla Fund International
T
he trek through dense and damp rain forest to glimpse the rare and gentle mountain gorilla can be arduous, but the journey is at the top of many wildlife lovers' wish lists. The misty jungle of central Africa is the only place on the planet where travelers can encounter these endangered beasts. Less than 900 of the great apes remain. In recent years, however, their numbers have been on the rise because of organizations like the Atlanta-headquartered Dian Fossey Gorilla Fund International, which works to protect the primates through creating partnerships with the communities that share their ecosystem.
The nonprofit tracks roughly 120 gorillas living amid the peaks of
Volcanoes National Park
, along the border of
Rwanda
and the Democratic Republic of Congo. Juan Carlos Bonilla, chief operating officer of the Fossey fund's Africa programs, supervises two teams -- a large contingent in Rwanda and a smaller one in the DRC. He says the Fossey fund is a rarity among conservation groups for its long-term success.
"Gorillas are winning friends -- not just the scientists or people who read National Geographic or see Discovery Channel movies, but the people who have a stake in their survival because their own well-being depends on the survival of the gorillas," says Bonilla.
Year-round, scientists at the Karisoke Research Center in Rwanda, founded by famed primatologist Dian Fossey in 1967, collect data about the location, movements and daily behavior of the mountain gorillas. These vegetarians are the world's largest primates; an adult male, called a silverback, can weigh about 400 pounds. They live in family groups, or troops, commonly consisting of silverbacks and adult females, juveniles and infants. They communicate through facial expressions, sounds, postures and gestures.
While the mountain gorilla population declined dramatically following their discovery in the early 20th century, according to the last census in the Virunga Mountains, where the fund operates, the number has grown from roughly 260 in Fossey's time to about 480 individuals in 2010. A 2011 survey of the neighboring groups of gorillas in Uganda's
Bwindi Impenetrable National Park
also revealed population growth, from 302 in 2006 to 400.
Bonilla says that the two main threats that gorillas face -- loss of habitat and poaching -- are driven by poverty and lack of resources in the region's rural communities. Gorillas live in a sector that straddles parts of
Uganda
, Rwanda and the DRC, population-dense countries where locals have limited access to basic necessities such as food, clean water and health care. Terrain surrounding gorilla territory is converted to farmland, which encroaches upon the animals' living space. Locals hunting for food set traps for smaller game, such as antelope, and unintentionally snare primates, which often are maimed or die of infected wounds. Eastern mountain gorillas and the Grauer's gorilla, a subspecies the Fossey fund works to protect in the DRC, also face dangers related to political unrest and traders smuggling baby gorillas out of the country to private collectors.
Recognizing that the fates of the gorillas and the people residing in the area are intertwined, the Dian Fossey Gorilla Fund employs a dual approach. Gorilla ecology and behavior studies, caring for orphaned gorillas and anti-poaching patrols are combined with programs that support development in local villages and community outreach. Projects have included building and rebuilding schools, assisting in growing crops and raising livestock, and installing tanks that supply residents with clean water. The group aids rural health clinics and tests and administers treatment for intestinal parasites, which can be left in the soil and picked up by gorillas.
Creating awareness and providing conservation training is a crucial element of the Fossey fund's mission. The nonprofit partners with other organizations to conduct environmental education programs in primary and secondary schools located around Rwanda's
Volcanoes National Park
. The staff members at the Karisoke Research Center teach field courses to students at the National University of Rwanda, and they write and update training manuals on gorilla behavior, conservation and biodiversity for guards and tourist guides in the national park.
The Dian Fossey Gorilla Fund aims to employ members of villages surrounding the gorilla habitat. "This cannot be an effort led and sustained by foreigners; this needs to be a local effort," Bonilla says, adding that the nonprofit is one of the largest employers in the region. When he came to the organization, Bonilla says, both the DRC and Rwanda teams had foreign directors; now both programs have native leadership. In 2012, Rwandan Felix Ndagijimana was appointed the first African director of the Karisoke Research Center. And out of the Fossey fund's 120 staff members based in Africa, he adds, only three are expatriates. "By far, our effort is an African effort."
By providing jobs with practical benefits to locals, such as a steady income and health insurance, the organization creates stakeholders in the gorilla's cause, says Bonilla. People become more aware that their own livelihoods are dependent on the survival of the primates that live nearby. Once this knowledge permeates all levels of the society, locally to nationally, "that is really where things begin to change," he says.
The Dian Fossey fund operates a scientific research program in the Democratic Republic of Congo, similar to Rwanda's Karisoke facility. But while the organization has built strong partnerships with local government and authorities in Rwanda, it does not have the same level of official support in the weaker DRC. Instead, the nonprofit mainly works with traditional chieftains and leaders to carry out conservation initiatives, such as assisting communities to establish a series of nature reserves in the region that is home to the Grauer's gorilla.
Tourism is a major income earner for the country of Rwanda and therefore plays a key role in the protection of mountain gorillas. Funds from the sale of gorilla-viewing permits and park entrance fees provide much-needed support for preservation programs. While the Dian Fossey group emphasizes the importance of strict guidelines to ensure minimal negative impact from human visitors, Bonilla says, "We are very clear and understand that the survival of these gorillas, their success story, is also driven by the economic benefits that come from tourism."
Dian Fossey spent nearly two decades living among the primates of northwestern Rwanda. Bonilla calls the fund's founder an icon and credits her with directing the world's attention to the plight of her beloved primates. "It caught the imagination of people, you know, this woman living off in the mountains and defending gorillas," he says.
More than a source of inspiration, Fossey also introduced a permanent presence to gorilla research in central Africa.
"She stayed through thick and thin, essentially set up camp and lived there. And I think time has told that it requires a really extreme, intense effort to be successful in this kind of environment. ... And we are here, 40 years later," says Bonilla.
Though human impact is known to be a major force in extinction across species, Bonilla says it is not always easy for individuals to connect to this issue on an emotional level. "But a gorilla, it's so close to us that we can really understand what it is for them to die out. It's like a family member dying."
Interested readers can learn more about the Dian Fossey Gorilla Fund International and check for updates on monitored gorilla groups at
www.GorillaFund.org
, which has a link to the Gorilla Blog under the News and Events tab. Advocates can become a member, adopt a gorilla and find information about hosting a fundraising event.
Visiting the Gorillas
Vacations To Go
is a corporate sponsor of the Dian Fossey Gorilla Fund International. The Houston-based, full-service travel agency is the world's largest seller of oceangoing cruises and river cruises and also offers tropical resort stays, escorted tours and safaris in eastern and southern Africa, including trips to see the endangered mountain gorillas of
Rwanda
and
Uganda
.
Expert guides lead small parties of travelers through thick forests to family groups of gorillas, where participants spend about one hour observing the creatures. Certain rules and restrictions are in place to protect the primates. Guests are asked to maintain a calm demeanor and stay a minimum of 7 meters (23 feet) away from the animals. Children under the age of 15 and those who have colds or other contagious illnesses cannot participate.
For more information about escorted trips to the gorilla territories of Rwanda and Uganda, visit Vacations To Go's
safari site
or call the experts at (800) 291-3346.
The information in this story was accurate at the time it was published in July/August 2013. Please visit
Vacations To Go
or call (800) 680-2858 for current rates and details.
Send This Article to a Friend
Bookmark this Content
Digg it!
Reddit
Furl
del.icio.us
Spurl
Yahoo!