Sydney to Cape Town
February 11-April 19
By Kimberly Garza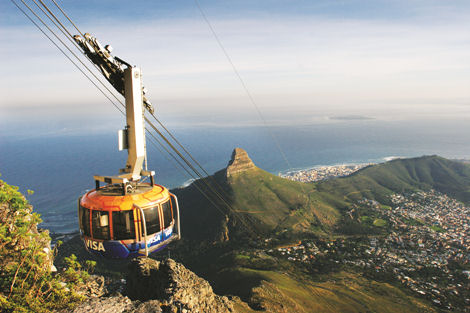 Cape Town Tourism
FEB. 11-MARCH 3
20 nights aboard Holland America Line's Amsterdam
Sydney to Hong Kong
From Sydney,
sweep northwest to Southeast Asia
on the 1,380-passenger
Amsterdam
, calling at a few Australian ports before heading to Papua New Guinea, Micronesia, the Philippines and ultimately Hong Kong. First, make your way to Queensland capital
Brisbane
, a bustling riverfront city with everything from lush green space to skyscrapers. Then it's on to
Yorkeys Knob
, a seaside spot just 15 minutes from Cairns, featuring palm-studded beaches and world-class diving and snorkeling along the Great Barrier Reef.
Bid "hooroo" (goodbye) to Australia and make for the dramatic landscapes of
Papua New Guinea
, ranging from striking mountain ranges to steamy jungles. You'll call at ports Alotau and
Madang
, the latter the gateway to its namesake province encompassing beaches, rain forests and mountains. Grab your fins and snorkel the kaleidoscopic reefs or feed the eels in the Balek Wildlife Sanctuary during two days in the country.
Save your dive suits for your next stop, Yap Island, one of Micronesia's 607 isles and atolls. This pristine locale has been open to tourists for less than 20 years, so expect such rustic elements as stone pathways and thatched-roof huts. Brilliantly colored flora grows thick across the island, but its main draw is in the water: Yap is known around the world for its plentiful manta ray population, luring divers longing to swim with the gentle giants (the largest mantas have wingspans reaching more than 20 feet across).
Then prepare for three days of sailing to the Philippines, made up of more than 7,000 islands, each with its own personality. Wander the streets of the capital,
Manila
; one of the largest cities in the world, it is divided into two distinct regions, Intramuros -- where you'll find historic parks and walled districts built during the Spanish colonial era -- and modern Manila, a metropolis with massive shopping malls and skyscrapers. After two days of exploration, you'll embark for your final destination,
Hong Kong
. On the cutting edge of cosmopolitan and luxury, Hong Kong and its stunning skyline greets you as you pull into port, offering attractions like Stanley Market for shopping, the Hong Kong Museum of Art's extensive collection of Chinese works and Tian Tian Buddha, the world's largest Buddha.
MARCH 4-7
"Hong Kong: Gateway to China" with SITA World Tours
Round trip from Hong Kong
The trip:
Learn the ins and outs of the Pearl of the Orient over
four days of sightseeing
.
Where you're headed:
Arrive at your hotel via private car, then spend the next morning on an exclusive tour with
SITA
guides. View the iconic skyline from the top of Victoria Peak, with the best panoramic views. Then explore Repulse Bay and Aberdeen fishing village -- a pirates' den centuries ago, the village has seen high-rises spring up to turn it into a vibrant resort town. Check out the boats that not only house thousands of residents, but restaurants and seafood vendors as well. The next morning, board the high-speed passenger Jetfoil for a full day at Macau. Lunch at a local restaurant, traverse the Ruins of St. Paul's, explore sections of the old wall and Senado Square and snap shots at the border gate of mainland China and A-Ma Temple before returning to Hong Kong.
Going up?
Your trip up Victoria Peak -- known locally as just "the peak" -- comes in the form of a ride on the Peak Tram, in operation since 1888. Skyscrapers whiz past your window as you ascend the hill, nestled in your seat on the funicular railway. Soak in the vista from the highest point on Hong Kong.
A sight to seek:
The bauhinia flower is the emblem of Hong Kong, and Golden Bauhinia Square got its name from the gilded sculpture of the bloom that was a gift from the Chinese Central Government marking the 1997 transfer of sovereignty over Hong Kong from the United Kingdom.
MARCH 8-APRIL 6
29 nights aboard P&O Cruises' Aurora
Hong Kong to Cape Town
The trip:
Sail the high seas from Asia to Cape Town, South Africa,
taking in ports along the South China Sea and Indian Ocean
.
The details:
After Hong Kong, your voyage seeks out
Hanoi
, the first of three Vietnamese ports at which you'll call. Then admire the tiny islands dotting World Heritage Site Halong Bay (called "the bay of the descending dragon," due to a local legend) and stroll the streets of history-rich
Ho Chi Minh City
, on the banks of the Saigon River. More ports include
Bangkok, Thailand
; Kuala Lumpur, Malaysia; and Colombo, Sri Lanka. You'll cruise into African waters and stop at Port Louis, the 18th-century capital of volcanic Mauritius, off the coast of Madagascar. From there, it's on to Port Elizabeth -- home to beautiful beaches and colorful Edwardian architecture -- and finally vibrant Cape Town.
Photo op:
Malaysian Port Klang, where the ship docks, is a 90-minute drive from Kuala Lumpur. But two stellar sites can be found on the way to the city: the Blue Mosque, built to accommodate 16,000 worshippers; and the Batu Caves, where resident monkeys play and a stone staircase of 272 steps leads to a Hindu shrine.
Onboard amenities:
Built for 1,870 passengers, P&O's
Aurora
boasts an elegant design, from its striking tiered stern to its Lalique-inspired waterfall at the center of the atrium. Guest amenities include three pools and an expansive gym as well as a variety of bars and lounges, four restaurants, a casino and a professional theater group.
For Your Time in Cape Town:
Take the ferry across Table Bay to Robben Island, where Nelson Mandela was held for 18 years; the site was used as a prison from the 17th century through 1996. Now a museum and UNESCO World Heritage Site, Robben Island hosts visitors on guided tours. You'll see the former maximum security facility, led by an ex-political prisoner who offers firsthand insight; get a glimpse inside Mandela's cell; and take a 45-minute bus tour to various notable places, like a lime quarry where prisoners like Mandela worked and an old church from the island's history as a leper colony. The museum is home to extensive archives, including about 104,000 images of the prison during the 1940s through the 1980s, during the conflicts of colonialism, apartheid and liberation. Tickets cost roughly $25; purchase them online ahead of time, since the tours can fill up quickly.
***Fly to Livingstone, Zambia***
APRIL 8-19
"South Africa & Botswana Explorer" with General Tours
Livingstone to Cape Town
Traverse the southern region of Africa during a
12-day trek
starting in
Zambia
, where you'll stay at Toka Leya Camp. On the banks of the mighty Zambezi River, the lodge includes 12 luxe, safari-style tents with water and island views, plus amenities like a swimming pool and a shady canopy over the dining and bar areas. A sunset river cruise further introduces you to the beauty of the Zambezi and its shores. Spend the next day on a guided tour of the spectacular Victoria Falls -- with water cascading down a roughly 350-foot gorge, sending up columns of spray visible for miles. It's easy to see why the falls were described by the 1800s-era Kololo tribe as "the smoke that thunders."
Next, travel into northern
Botswana
, setting up shop at the exclusive Linyanti Reserve and Savuti Camp, which runs along the edge of wildlife-rich
Chobe National Park
. This will serve as home base for a two-day safari in the region, alongside expert guides who offer tips and point you toward game (from the safety of deluxe, open-air vehicles). An additional excursion takes you to the Savuti Channel, an often-dry riverbed that's a popular gathering spot for lions and elephants. After a day's journey into the Okavango Delta's wetlands, you'll spend the night at Seba Camp, with intimate lodgings overlooking a scenic lagoon. The eight tented rooms have private bathrooms and decks. Enjoy a land-and-water safari, where you'll ride in a canoe to spot everything from rare flowers to birds and hippos to delta impalas.
Then head to Cape Town, the heart of
South Africa
. Accommodations at the centrally located Taj Hotel (originally home to the South African Reserve Bank and neighboring Temple Chambers, where Supreme Court barristers officed) introduce you to Cape Town's blend of heritage and modernity. Two days are devoted to simply sightseeing in the city, with such highlights as a cable-car ride to the top of Table Mountain.
Spend a day driving to the southernmost part of the continent, where you'll glimpse Cape fur seals on Duiker Island, witness the convergence of the Indian and Atlantic oceans at the Cape of Good Hope and feast on a seaside lunch among African penguins at Boulders Beach. In the region's famous vineyards, anchored by historic villages Stellenbosch and Franschhoek, you can toast your journey over a gourmet meal and samples of fine local wines.
The information in this story was accurate at the time it was published in January/February 2014. Please visit
Vacations To Go
or call (800) 680-2858 for current rates and details.
Send This Article to a Friend
Bookmark this Content
Digg it!
Reddit
Furl
del.icio.us
Spurl
Yahoo!