Sculpted Lands
Time and nature have worked their magic on these destinations
in America's Southwest
By Elizabeth Armstrong
T
he Southwest is a rich palette of contrasting colors and textures. Indigo waters lap vermilion rocks in Lake Powell, while in Bryce Canyon, knobby stone pinnacles flaunt an ever-changing array of pinks, reds and oranges.
Following are eight photo-worthy places in the canyon lands of Arizona and Utah. Seven are masterpieces of nature, and one was constructed by man centuries ago. All rank high as treasured tourist destinations.
Vacationers who want a convenient way to see these spots can opt for an escorted tour, which provides lodging, some meals, transportation between the sites and sightseeing led by a knowledgeable guide. Canyon land tours are among the most popular escorted trips and typically begin in Denver, Las Vegas and Phoenix.
For example, the nine-day "
Canyon Country
" itinerary from
Collette Vacations
visits five of the scenic wonders pictured in this story -- the Grand Canyon, Lake Powell, Monument Valley, Bryce Canyon and Zion. Other companies offering similar Southwest sojourns include
Globus
,
Insight Vacations
,
Tauck World Discovery
and
Trafalgar Tours
.
For more information on escorted vacations that visit these destinations, call the tour department of Vacations To Go at (800) 680-2858, or visit
Vacations To Go
to see itineraries.
Arches National Park
Utah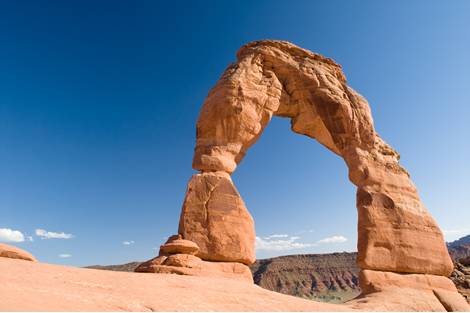 More than 2,000 natural sandstone arches frame this high-desert landscape, which spreads across elevations ranging from about 4,000 to 5,700 feet above sea level. Pictured here is the park's most famous formation, Delicate Arch, a favorite at sunset. Click
here
to see a list of trips that visit Arches National Park.
Bryce Canyon National Park
Utah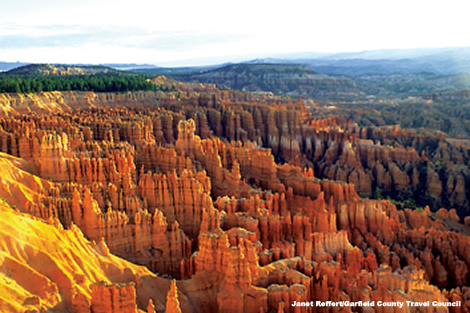 Rugged, rocky spires emerge from the floor of Bryce Canyon's amphitheater. They're called "hoodoos," and their colors subtly shift with the rising and setting sun, from rosy pink and cream to burnt orange and rust. For a list of tours that visit Bryce Canyon, click
here
.
Zion National Park
Utah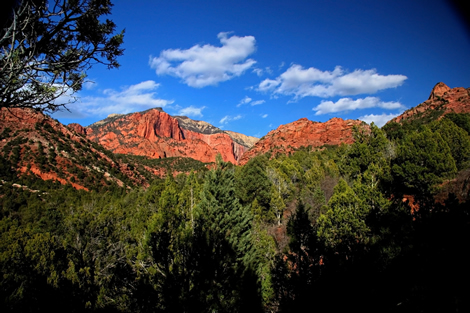 Thick sandstone walls meet azure skies in this park just down the road from Bryce Canyon. The Virgin River flows through Zion, carving cliffs and towers, supporting a diverse collection of wildlife and feeding forests of cottonwood, ash and birch. Click
here
to view a list of tours that visit Zion National Park.
Lake Powell
Utah/Arizona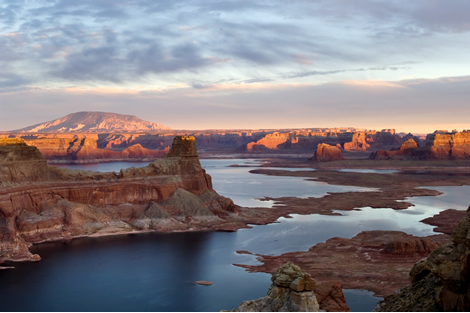 The glassy waters of Lake Powell spill into the red-rock country of two states to form the Glen Canyon National Recreation Area. It's a popular playground for boaters, who enjoy cruising against the backdrop of stunning sandstone cliffs. Click
here
to see a list of trips that visit Lake Powell.
Monument Valley Navajo Tribal Park
Utah/Arizona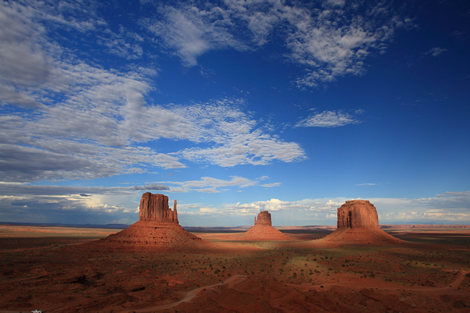 Solitary buttes and mesas act as sentinels, silently guarding an arid desert. The striking setting gets plenty of screen time: More Western movies have been filmed here than at any other U.S. location. To see a list of tours that visit Monument Valley Navajo Tribal Park, click
here
.
Antelope Canyon
Arizona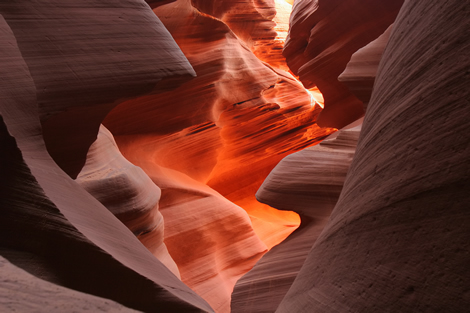 Soothing waves of sandstone envelop the visitor who enters one of the slot canyons of this otherworldly place on Navajo land. In some places, the narrow passageways accommodate only a few people, who can stand with one hand on each wall. Click
here
for a list of tours that visit Antelope Canyon.
Grand Canyon National Park
Arizona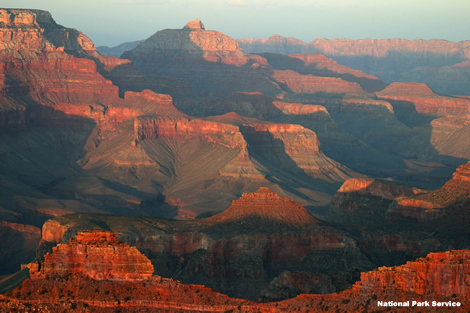 This great chasm impresses with its dimensions: 277 miles long, up to 18 miles wide and one mile deep. The world's most famous canyon is also one of the most studied geological areas, drawing those who would scrutinize the layers of history captured in the rock. For a list of trips that visit the Grand Canyon, click
here
.
Montezuma Castle National Monument
Arizona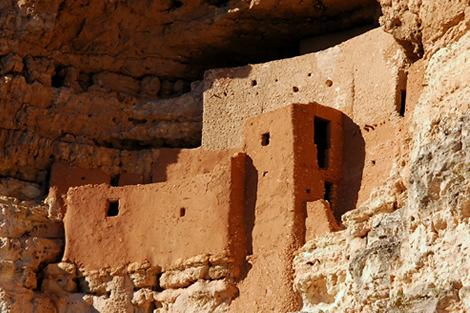 Some 600 years ago, the Sinagua built their homes in a limestone recess high above Beaver Creek. Today, the five-story, 20-room "apartment" is one of North America's best-preserved cliff dwellings. To see a list of tours that visit Montezuma Castle, click
here
.
The information in this story was accurate at the time it was published in March/April 2008. Please visit
Vacations To Go
or call (800) 680-2858 for current rates and details.
Send This Article to a Friend
Bookmark this Content
Digg it!
Reddit
Furl
del.icio.us
Spurl
Yahoo!