June: Wild Things
Get your camera ready for close-ups of whale sharks,
polar bears, strutting moose and stampeding wildebeest
By the Vacations Staff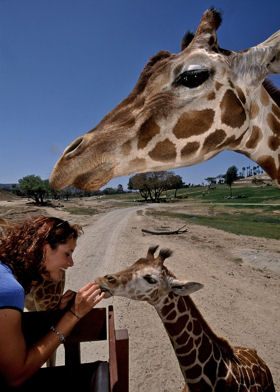 SDZ Safari Park
(Scroll down to see a slide show.)
Animal kingdoms
Honor National Zoo and Aquarium Month with a visit to one of these renowned sanctuaries. The
Singapore
Zoo stands out with an open-concept design, allowing unobstructed views and an intimate experience; mostly moats and natural barriers separate creatures from guests, and walk-through exhibits create close encounters with kangaroos, flying foxes and lemurs. Free-ranging orangutans and the rare blue-eyed tiger make top billing. Others worth checking out are
New York City
's 265-acre Bronx Zoo, with more than 6,000 animals; California's Zoological Society of
San Diego
, with its zoo and safari park; and Bioparc
Valencia
in Spain, designed with sustainability and a "zoo immersion" philosophy in mind. Alluring
Honolulu, Hawaii
, boasts award-winning Waikiki Aquarium, with its 3,500-plus marine animals including the uncommon peppermint angelfish, on display in a public venue for the first time here. One of Europe's largest underwater worlds also makes the list, the
Genoa
Aquarium in Italy. All of these waterfront cities are featured on
cruise itineraries
.
Swim with whale sharks
Leave Cancun to the party animals. A more peaceful wildlife encounter awaits just offshore, around Mexico's Isla Mujeres. The largest concentration of the world's biggest fish, the whale shark, cruises the warm waters along the Yucatan Peninsula between May and September each year. The population peaks in high summer, when plankton blooms draw these gentle giants -- anywhere from 15 to 40 feet in length -- for group feedings. Though scuba diving isn't allowed in protected habitat, snorkeling tours offer a less intrusive way to experience this tranquil underwater world. Tourism officials offer a few tips for choosing whale-watching escorts: Responsible guides will offer biodegradable sunblock and avoid using boats with diesel engines to cut down on water pollution, and they'll watch that guests keep their distance from the animals -- at least six feet, no touching allowed.
Area resorts
will have recommendations for the best companies and offer beachfront and poolside activities to enjoy between excursions.
Polar bear odyssey
From crystalline glaciers to stunning fjords and whales to walrus, the Arctic has plenty to lure adventurous travelers. Bundle up for "
Spitsbergen Explorer: Wildlife Capital of the Artic
" an 11-day cruise with
Quark Expeditions
that takes in the Norwegian island, known for its variety of fauna protected within six national parks. Be on the lookout for reindeer, whales, seabirds and polar bears; with no fixed itinerary, the crew can set a course to the best spots for animal sighting. Phippsoya is a favored hunting area for polar bears, while noisy walrus gather at Torellneset and Arctic fox roam the cliffs of Alkefjellet in search of bird eggs. On select voyages, optional excursions include a snowshoe trek across Smeerenburg, a sea kayak jaunt around some of the isolated inlets of Spitsbergen or a visit to a 1906 memorial for 17th- and 18th-century whalers. Your ship embarks and disembarks in Longyearbyen, the island's largest settlement.
Follow the herds in Africa
Each year, nearly 2 million animals come galloping through Tanzania and Kenya, following seasonal rains. Known as the
Great Migration
, this thundering trek of wildebeest, zebras and gazelles is a sight sought by many safari-goers, and
African Travel
has designed its nine-day "
In Search of the Great Migration
" to showcase the event. Travelers explore the creature-dense wilds of Tanzania's Tarangire National Park, Ngorongoro Conservation Area and Serengeti National Park, all likely spots in which to catch the action. Though the Great Migration occurs over many months, June is a peak time to view one of the most suspenseful parts of the journey in the western and northern Serengeti: As the plains dry up and the masses push northward, they face the dramatic crossing of the crocodile-infested Grumeti River. African Travel has two departures in June, but trips are available in every month of 2013.
The Galapagos up close
On June 8, celebrate World Oceans Day with an intriguing cruise from
Lindblad Expeditions
to the
Galapagos Islands
, 600 miles off the coast of Ecuador. Lindblad partners with the National Geographic Society to educate and entertain guests through group discussions, lectures and presentations from field experts and excursions like snorkeling and bird-watching. Aboard the small ships Islander or Endeavour, a 10-day cruise explores the legendary islands made famous by Charles Darwin. Each has its own unique personality: Snap photos of sea lion harems and frigate birds at
North Seymour
, admire the bright red beach of
Rabida
or hike across hardened lava flows and tide pools on
Fernandina
. With a variety of colorful critters and numerous nesting sites for sea turtles and iguanas, the islands provide ample opportunities for wildlife spotting, plus lagoons for snorkeling and olive- and black-sand beaches to lounge upon. Guests recount the day's adventures and watch underwater footage captured by the ship's naturalists during daily recap sessions.
Wild Alaska
Creatures great and small roam
Alaska
, from tiny voles and chickadees to 1,200-pound moose and 50-foot whales. Choose a cruise to navigate this wilderness and maximize possibilities of animal viewing. Two Princess Cruises vessels,
Star Princess
and
Golden Princess
, follow similar Inside Passage itineraries from Seattle. The Golden spends a day in Tracy Arm Fjord, where harbor seals and their pups lounge on the ice. The Star heads to
Glacier Bay National Park and Preserve
, first picking up a park ranger who will direct your attention to humpbacks, orcas, porpoises and sea otters. Opt for a cruise tour to extend the adventure. Celebrity Cruises tacks a three- to six-day land package to weeklong Gulf of Alaska voyages on the
Celebrity Millennium
. You'll travel in the glass-domed railcars of the Wilderness Express and overnight in Denali National Park and Preserve. Dall sheep, wolves, ptarmigan and gyrfalcons are among the year-round residents of this 9,419-square-mile expanse. Moose calving occurs from late May through early June, so look for females and their young along roads and in thickets.
-- Elizabeth Armstrong, Jennifer Davoren, Kimberly Garza and Alexis Loyd
The information in this story was accurate at the time it was published in January/February 2013. Please visit
Vacations To Go
or call (800) 680-2858 for current rates and details.
Send This Article to a Friend
Bookmark this Content
Digg it!
Reddit
Furl
del.icio.us
Spurl
Yahoo!