Cape Town to London
April 21-May 17
By Kimberly Garza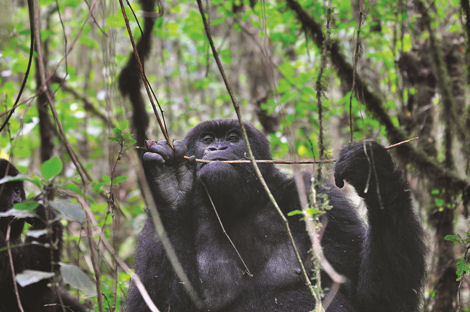 Karen Fox
APRIL 21-23
"Rovos Rail" with African Travel
Cape Town to Pretoria
The trip:
Ride the rails --
the luxury Rovos Rail
, more specifically -- for three days en route from the capital of the Western Cape to outside Johannesburg on a nearly 1,000-mile journey. You'll cross the dramatically different landscapes this country offers, from the grasslands of the Highveld to the deserts of the Great Karoo.
Map it out:
Head northeast from Cape Town, navigating the area's vineyards as you dine and sip afternoon tea in the lounge and observation cars. Afterward, stretch your legs at the National Heritage Site of Matjiesfontein; this perfectly preserved Victorian-style village began as a refreshment stop in 1890. The next day, enjoy breakfast and lunch on board before your stop in Kimberley, the "diamond city." A bus tour shows you the Big Hole, a massive crater where some 3 tons of diamonds were excavated between 1871 and 1914. Tea awaits back on the train that afternoon in preparation for the last leg of your journey. Enjoy breakfast in the dining car with views of the legendary gold fields of the Witwatersrand, and go through Krugersdorp and Johannesburg, before arriving in Pretoria around noon.
All aboard!
The
Pride of Africa
offers three types of suites, ranging from the typical Pullman to the luxury Royal. Sofa beds, twin beds and double beds are available, and all suites are air-conditioned, with a bathroom and shower, luggage shelf, cupboards, private safe and minibar.
Good to know:
In keeping with the throwback vibe of the rail, no radios, televisions or Wi-Fi are provided on board. Bring your own entertainment or enjoy the board games, playing cards, books and magazines provided in the lounge and observation cars.
***Fly to Entebbe, Uganda***
APRIL 23-26
"Uganda Gorilla Shortbreak" with Intrepid Travel
Round trip from Kampala
Let the experts show you around
Uganda
-- home to mountain ranges and white-water rapids, plus the highest concentration of primates in the world -- on a
four-day safari
from
Intrepid Travel
. "Uganda Gorilla Shortbreak" starts in Kampala, the capital located near Lake Victoria; it's about an hour's drive from the Entebbe airport. Head southwest for
Lake Mburo National Park
-- at just about 100 square miles, it's Uganda's smallest savanna national preserve, but it's packed with five lakes (covering 20 percent of the surface area) and a plentiful array of wildlife, from zebras, buffaloes and leopards on land to crocodiles, waterbirds and hippos in the water. You'll be camping beneath the stars all three nights. On the morning of Day Two, make the acquaintance of another African species -- the endangered mountain gorilla -- at
Bwindi Impenetrable National Park
. Here, about half of the world's mountain gorilla population can be found.
Strap on your boots and hike through the hilly terrain and dense forests. It can be a muddy, thickly vegetated trek, but your experienced local guide makes it educational by indicating various flora and fauna, from colorful frogs to delicate-winged butterflies. Spying the mountain gorillas in the wild will be worth it -- look upon dark-furred females and distinctive silverback males. The largest males can grow up to 6 feet tall and weigh a solid 400 pounds; all gorillas communicate through grunts, roars and shouts. Your guide will instruct you on proper behavior and safety guidelines for viewing the creatures.
Your last day is your journey back through the jungle to Kampala, although you have the option of a trip to Lake Victoria to mingle with the playful residents of Ngamba Island's chimpanzee sanctuary.
***Fly back to Cape Town***
APRIL 28-MAY 17
19 nights aboard MSC Cruises' MSC Opera
Cape Town to London
The trip:
It's farewell to South Africa as you
head up the western coast of the continent
en route to London.
Itinerary:
First stop is Namibia's
Walvis Bay
, a former whaling station now bustling with visitors eager to take in attractions, from a museum showcasing the history of the town to a nearby bird sanctuary. Then, six days at sea allow plenty of time to explore the
MSC Opera
and all its amenities. At port in
Dakar, Senegal
, opt for a popular daytrip to nearby Goree Island to view former slave houses, a historical museum and colonial mansions. Then it's on to the upper coastline where northern Africa blends into Europe, including the
Canary Islands
and Portugal. Explore the region at
Funchal
and
Lisbon
, your two Portuguese stops. Admire the jagged shoreline of
Vigo, Spain
, one of Galicia's urban centers, and then cruise into
Cherbourg, France
, home of green pastures and beaches along the English Channel. Iconic London is the next day, where world-class shops, eateries and galleries await.
Your vessel:
The classically designed MSC Opera is built for 2,199 passengers and boasts the line's trademark Italian style, with a sweeping marble lobby to private balconies for many of the staterooms. Amenities include three restaurants, such treats as an ice cream bar and coffee bar, and entertainment provided in the Teatro dell'Opera.
Can't-miss excursion:
"A Taste of Tenerife" in Santa Cruz de Tenerife, Spain, includes a drive to a local fishing village, San Andres, and a visit to Las Teresitas beach and El Baladeiro, the highest point on the island, where you can snap panoramic shots of the valley. Sample local cheese and wine in Taganana village, famous for vineyards and goat's milk goods.
The information in this story was accurate at the time it was published in January/February 2014. Please visit
Vacations To Go
or call (800) 680-2858 for current rates and details.
Send This Article to a Friend
Bookmark this Content
Digg it!
Reddit
Furl
del.icio.us
Spurl
Yahoo!