Around the World in 37 Vacations
What if you had a year to travel the world?
By Vacations Staff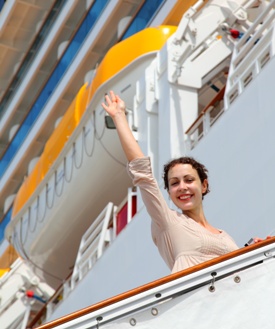 Pavel Losevsky/Fotolia
W
e're kicking off 2014 with the vacation of our dreams: a globe-trotting odyssey that keeps us on the move for the entire year. It covers a variety of travel modes: oceangoing voyages and river cruises, escorted tours and adventure-filled getaways, and escapes to beachfront resorts and city hotels. There are safaris that seek out creatures in the wild, and rail trips through stunning landscapes inaccessible by road. Use our legend on the opposite page as a guide.
Our fantasy escapade starts in
Singapore
in January, when we board the chic 112-passenger
SeaDream II
for a cruise to Malaysia and Thailand. By December, we're on the
Zaandam
ocean liner -- part of the stately
Holland America Line
fleet -- heading south to the pristine and hauntingly beautiful
Antarctic continent
. In between, we trek through the
Ugandan jungle
to commune with rare mountain gorillas, and
cruise to Old World capitals
on an intimate riverboat. We visit
Mediterranean coastal gems
aboard an amenity-filled ship, and join a motor coach jaunt to the
ethereal canyon lands of the American Southwest
.
While undertaking an around-the-world journey like this would be a more-than-daunting endeavor in real life -- not to mention rather pricey -- each of these vacations is a worthy and fulfilling experience on its own. Follow the provided links for information on fares and additional departure dates.
The adventure starts below. Bon voyage!
Singapore to Sydney
Sydney to Cape Town
Cape Town to London
London to St. Petersburg
St. Petersburg to Boston
Boston to Vancouver
Vancouver to the Caribbean
Tropical Island-Hopping
New Orleans to Antarctica
The information in this story was accurate at the time it was published in January/February 2014. Please visit
Vacations To Go
or call (800) 680-2858 for current rates and details.
Send This Article to a Friend
Bookmark this Content
Digg it!
Reddit
Furl
del.icio.us
Spurl
Yahoo!