A Culinary Weekend in London
Explore the gastronomic offerings of the vibrant British capital
By Elizabeth Armstrong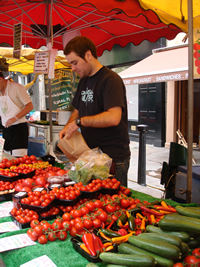 (Scroll down to see a slide show.)
T
he fishmonger at London's Borough Market pulled a few live scallops from a net bag. He deftly pried the broad shells apart and flipped the nuggets within onto a hot grill for a quick saute. In a matter of seconds, the scallops were plated and proffered to eight waiting visitors who were touring the market that day. The samples were sweet and nutty, with pleasant traces of saltwater and sea air.
The brothers who own Shell Seekers dive for these scallops and harvest them by hand, eschewing the easier but more environmentally damaging practice of dredging. Like all the food vendors at Borough Market, they are passionate and extremely knowledgeable about what they do.
Hordes of locals make the pilgrimage to the East End's Borough Market every weekend, visiting traders who sell fruits, vegetables, seafood, meats, cheeses and wine. There are organic offerings, imported products, packaged foods and meals to go. Encompassing five acres, much of it housed under a glass roof, the market is a noisy flurry of enticing sights, smells and tastes. For me, someone whose default television channel is Food Network and who plans dinner party menus six weeks in advance, this was a holy place.
The excursion to Borough Market revealed just how deeply many Londoners care about the quality and provenance of their food, and it was the highlight of my weekend stay in the British capital. Last July,
London
was the ending point for a trans-Atlantic cruise I had taken with my friend Cheryl. Less interested in matters of the kitchen but game nonetheless, she agreed to tag along on what I had proposed as a quick culinary exploration of the city.
We had two and a half days to partake of London's diverse food scene, but we also wanted to make time to roam at least one of its fabulous museums, stroll a couple of its storied neighborhoods, and even get in a little shot of adventure. Our home base was the elegant, centrally located Radisson Edwardian Mountbatten Hotel in Covent Garden, and our ticket to ride was the Oyster card, a prepaid, reloadable transit pass that can be used on London's buses and subway system, also known as "the tube."
With limited time to spend, we needed to get oriented quickly. We opted for a narrated ride aboard one of the red double-decker buses of The Original Tour. Touristy, it is, but it is also a terrific way to preview London's myriad attractions and plan your sightseeing accordingly. You can hop on and off the bus at any time, and tickets (19 pounds for adults, about $38) are valid for 24 hours. We disembarked late in the afternoon at Westminster Abbey, just in time to attend 5 o'clock evening choral services.
After that, we wanted a bit of spice for our first dinner in the city. London has long been an ethnic eating capital, embracing Far Eastern, Pacific Rim, African and Middle Eastern influences, among many others. Opened in 1987, BaliBali is a family-run Indonesian restaurant in the heart of London's West End.
Indonesian cuisine reflects the flavors of multiple nationalities, including Chinese, Indian, Malay, Dutch and Portuguese cultures. Aromatic dishes range from mild to tangy to spicy hot. Rice, not water, is the best remedy for an overindulgence of chili heat, say BaliBali's proprietors.
The menu listed tantalizing curries, coconut-based dishes and savory, meat-filled pastries. Cheryl and I shared a rijsttafel, or "rice table." Rijsttafels are meals that can consist of up to two dozen or more dishes, presented in small servings and accompanied by rice. At BaliBali, two people can share seven portions of the restaurant's most popular dishes for about $30 per person. The restaurant is located at 150 Shaftesbury Ave., just a short stroll from the Radisson Edwardian Mountbatten.
The Mountbatten is one of a dozen elegant London hostelries in the Radisson Edwardian Hotels collection. It's chic yet comfortable, with a warm and helpful staff that always made us feel at home.
"We're luxury hotels, but without the pretension," said Linda Plant, Radisson Edwardian's marketing director, over breakfast at the hotel's Dial restaurant. "We believe that everyone should display service with a human touch."
The 151-room Mountbatten fronts brick-paved Monmouth Street and is near Seven Dials, a small rotary where seven roads converge. It's close to West End theaters, the clubs and bars of Soho, Trafalgar Square and the National Gallery. The immediate neighborhood has a villagelike feel, and the hotel's lounge, with its expansive windows, is a prime spot for people-watching.
Plant noted the popularity of the "food miles" movement in the United Kingdom. The term, coined by a London professor, refers to the distance that food travels from the time it is produced until it lands on your plate. For its part, Radisson Edwardian launched the "Just British" initiative at its hotels' restaurants, which emphasizes fresh, seasonal British foods sourced from local producers: pears and plums in autumn, for example, asparagus in spring and, in summer, monkfish caught off the Cornish coast.
Radisson Edwardian even created a weekend gourmet getaway for foodies. The "Love Food" package includes accommodations, dinner for two and breakfast. A bottle of wine, Stilton cheese, smoked salmon and biscuits await in your room, and guests also receive a voucher that can be redeemed at Books for Cooks, a Notting Hill haven for cooking enthusiasts.
Located at 4 Blenheim Crescent, just off Portobello Road, Books for Cooks is crammed floor to ceiling with thousands of cookbooks. An hour in the shop can turn into a trip around the world, with sections devoted to the cuisines of Italy, France, Spain, Australia, China, India, Africa, the Middle East and more. Other shelves are dedicated to topics ranging from fish, spices and soups to desserts, wines and teatime treats. There are food memoirs, too, and a rack of booklets that offer tastes of British regions, such as the Cotswolds and Devonshire.
Celia Brooks Brown worked at Books for Cooks for many years and still conducts classes in its upstairs kitchen. Now an accomplished cook and food writer, Brooks Brown -- who grew up in Colorado and moved to Britain at age 19 -- leads gastrotours of foodie haunts in London's Portobello and Marylebone Village neighborhoods, as well as the Borough Market. Up to 12 participants in each group meet food producers and visit shops, cafes and wine cellars. The excursions last about four hours and cost 55 to 80 pounds, about $110-$160.
Our field trip started with brunch at Roast, an airy restaurant perched above the market. As we nibbled on sweet and fluffy pikelets -- similar to crumpets -- served with rhubarb and vanilla jam, and pigs in a blanket accompanied by a tomato-horseradish dip, Brooks Brown briefed us on the market.
A government act officially established the Borough Market in 1756, though a market has survived in the same spot in some form or another for 20 centuries: Romans found food sellers on this site when they sacked London in A.D. 43. It is open Thursdays 11 a.m. to 5 p.m., Fridays noon to 6 p.m., and Saturdays 9 a.m. to 4 p.m., and best accessed by the London Bridge tube station. Saturdays are mobbed, warned Brooks Brown, and on any market day, it's wise to arrive early. The best time to taste food, she said, is between 11 a.m. and 2 p.m., when the palate is at its most receptive.
The market seems a life force unto itself and is constantly changing. "I come here every week, and I'm never quite sure what to expect," said Brooks Brown.
We visited a mushroom vendor displaying summer truffles from the Italian region of Umbria and girolles from Scotland. We met the proprietors of Northfield Farm, which specializes in rare and traditional breeds of cattle, sheep and pigs. At the Isle of Wight Tomatoes stand, we popped sugar-sweet, oak-smoked cherry tomatoes into our mouths, and at a juice bar, we drank shots of acai juice, pressed from berries that grow on Amazonian palm trees.
The man behind the Apulia Blend table was happy to chat about the dozen or so varieties of Italian olive oil and balsamic vinegar he sold, while the folks at the Parmesan Cheese Co. offered slivers of organic parmigiano-reggiano that had been aged for 30 months by Umberto and Carolina Avanzini, who live in the foothills of Italy's Parma Apennines. The company imports the high-quality wheels from the Avanzini family, whose mountain cows produce a rich, sweet milk that gives the cheese a creamy, buttery flavor.
We ended our food foray at Brindisa. "This is where you find the best of all things Spanish under one roof," said Brooks Brown. Platters of Spanish cheeses and meats were passed around, including delicate slices of Iberico ham, which is cured for four years and considered to be "the Rolls-Royce of ham," she said.
One of the more significant trends to sweep across the U.K. dining scene in the last decade and a half is the gastropub, a concept that was born in London when David Eyre and Mike Belben coined the term in the early '90s to reflect the upmarket food served at their public house, The Eagle on Farrington Road.
Scores of young chefs followed their example, taking over Victorian-era pubs that became available when the British government, fearing a monopoly, forced brewers to sell off a significant number of their pubs. The new owners renovated the establishments into slightly more upscale but still informal eateries, redefining pub grub in the process. Gastropubs emphasize good-quality food, fresh ingredients and sometimes organic ales and wine.
Now there are legions of gastropubs throughout Britain. Chef and reality television kitchen tyrant Gordon Ramsay got in on the act last spring when he opened The Narrow in London's East End. Each cider and ale served at The Narrow is lovingly described on the menu, and dishes include such fare as Dorset mackerel with warm fennel and watercress, and wild mushroom, spinach and blue cheese tart.
Knowing that we wanted at least one "nice" dinner out, Linda Plant of Radisson Edwardian suggested The Wolseley at 160 Piccadilly, and the hotel's concierge secured a late-evening reservation for us at the stylish restaurant. Housed in a building that was designed as a high-end car showroom in the 1920s, The Wolseley offers a stunning setting of marble floors, high vaulted ceilings and wrought-iron chandeliers.
Despite the grand surroundings, the Wolseley serves comfort food alongside high-class fare. Beluga caviar, Dover sole and lobster omelets share the menu with roast chicken, hamburgers and steaks with fries. We leisurely dined on Irish rock oysters and duck confit, content to be part of a festive, glamorous scene.
But a trip to Britain wouldn't be complete without sampling the working man's dish, fish 'n' chips. We followed a recommendation to try Rock and Sole Plaice, at 47 Endell St. in Covent Garden. Founded in the 1870s, it's one of London's oldest "chippies." Current owner Hassan Ziyaeddin, who hails from Cyprus, counts actors Peter O'Toole and Anthony Hopkins among customers.
His establishment is small, cozy and unpretentious, and theater posters spruce up the white tiled walls. Customers can choose cod, haddock, plaice, rockfish, skate, halibut or sole, which is then dipped in batter and fried in peanut oil. The moist, pearly-white fish comes enrobed in a thick, golden mantle that crunches nicely at every bite. Rock and Sole Plaice does a brisk take-out business, too, and it's a little cheaper if you order your fish 'n' chips to go.
One of the best ways to burn off a few calories is to stroll one of London's impressive museums. We opted for the Victoria and Albert Museum, whose collections are spread over seven levels. It's impossible to see it all at once, so we each chose a few exhibits.
I headed for the two British galleries, which span four centuries, 1500 to 1900. They house the country's most comprehensive collection of British art and decor, including paintings, furniture, ceramics, tapestries, apparel and items belonging to past monarchs. It's a fascinating, eclectic hodgepodge of items, and walking through the rooms is much like wandering through the very large, antique-filled attic of an extremely wealthy old aunt.
Afterward, we met at the museum's pleasant outdoor cafe for lunch, sitting at one of the tables overlooking an Italianate courtyard edged by lemon trees in planters.
We countered our high-culture outing with a thrill on the River Thames: a ride in a 12-passenger, high-speed craft called a RIB, or Rigid Inflatable Boat. Flying Fish Tours offers these exhilarating, fast-paced trips, giving guests an opportunity to see London's landmarks from the river.
Michael O'Keefe, an ex-homicide cop, narrated our tour, while his business partner, Paul Gaughan -- still on the police force -- piloted the RIB. We dipped and curved as we sped across the water past the Tower of London, Big Ben and the Houses of Parliament. It's a wild ride, making the cut for VisitBritain's 11 "Be a Brit Different" experiences in London -- a list of unique, off-the-beaten-tourist-path activities.
O'Keefe and Gaughan also offer joyrides on a 20-person jet boat, a civilian version of a vessel originally developed by the Royal Marines as an offshore raiding craft. The company's trips start at 25 pounds, about $50.
After riding the river James Bond-style, it's appropriate to head to Dukes Bar, which boasts "the best martini in the world." James Bond creator Ian Fleming frequented Dukes, which may have inspired 007's love of martinis. Dukes is located at the Dukes Hotel at St. James's Place, a few blocks north of Buckingham Palace. The more fanciful concoctions contain touches of saffron, rose liqueur, passion fruit juice or even aged balsamic vinegar.
But the classics are here, too, and you can order a simple gin or vodka martini, with extra-dry vermouth and a whisper of lemon oil, shaken -- or even stirred -- to your liking.
Information:
For air and hotel packages to London, visit
Vacations To Go
, or call (800) 680-2858.
The information in this story was accurate at the time it was published in January/February 2008. Please visit
Vacations To Go
or call (800) 680-2858 for current rates and details.
Send This Article to a Friend
Bookmark this Content
Digg it!
Reddit
Furl
del.icio.us
Spurl
Yahoo!