12 Spectacular Sights to See on Tour
These destinations should be on the wish list of any avid traveler
By Justin Boyd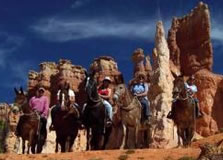 Michael Quinn/National Park Service
P
lanet Earth is filled with places that stretch the limits of our imaginations. These destinations are so large in size and scope, so beautiful and vast that they must be seen to be believed. From roaring rapids to violent volcanoes, from colossal icebergs to cascading waterfalls, they thrill even the most experienced traveler.
Among the 12 natural wonders that we highlight here are the world's largest falls, the most active volcano, the planet's coldest place and some of the globe's most fascinating wildlife. All are offered as destinations on escorted tours, which provide a particularly good value by combining accommodations, some meals and sightseeing in one price you pay upfront. And when it comes to Earth's more far-flung attractions -- the
Galapagos Islands
and
Antarctica
, for example -- an escorted vacation is often the only way to go, delivering unparalleled access as well as inside information from experts well-versed in the site's history, geology and ecology.
The following are among the world's most awe-inspiring places. To learn more about vacations that take in these sights, call the tour department of
Vacations To Go
at (800) 680-2858. Or, click
here
to do a custom search.
Arizona
Its dimensions are astounding. Nearly 277 miles long and as much as 18 miles wide in some places, the Grand Canyon is truly a sight to be seen -- and seen it is, by more than 4 million people each year.
Located in northern Arizona, the Grand Canyon is one of America's greatest treasures and has been a national park since 1919. Over millions of years, the waters of the Colorado River slowly carved the canyon to a depth of more than a mile. The rapids of the Colorado still roar through the gorge, providing world-class white-water rafting for the adventurous. Hiking trails, Jeep tours and mule rides that venture from the chasm's lofty rims to its bottom are excellent ways to experience the colorful canyon in all its glory.
For a list of tours that visit the Grand Canyon, click
here
.
New York-Ontario
Long a favorite spot among honeymooners, the famed Niagara Falls sets an impressive backdrop for newlyweds and other visitors alike. The falls lie about 20 minutes from Buffalo, NY, and about 90 minutes from Toronto, Canada. Most tours typically stop on the Canadian side.
Niagara Falls is actually composed of three separate cascades: Horseshoe Falls, American Falls and the adjacent Bridal Veil Falls. The legendary Maid of the Mist vessels have carried passengers through the sprays at Niagara's base since 1846, offering an up-close encounter with the largest and most powerful waterfall in North America. Rainbow Bridge, which connects the twin cities of Niagara Falls, Ontario, and Niagara Falls, NY, also affords visitors terrific views of this spectacular sight.
For a list of tours that visit the Niagara Falls, click
here
.
Alaska
Situated in inner Alaska about 240 miles north of Anchorage,
Denali National Park
is home to majestic Mount McKinley. At 20,320 feet, the snowcapped McKinley is North America's highest peak. Climbing the magnificent mountain is possible for extreme thrill-seekers, but it could take awhile -- approximately two to three weeks.
But for many visitors, the wildlife is the star attraction at Denali, as a variety of birds and mammals roam the park's 6 million acres of land. Grizzly bears, black bears, caribou, Dall sheep, moose and dens of gray wolves inhabit the park's subarctic ecosystem, along with smaller creatures such as arctic ground squirrels, beavers, foxes and snowshoe hares.
The park has a large bird population, including waxwings, pine grosbeaks, arctic warblers, wheatears and even golden eagles. It is also home to 10 species of fish.
For a list of escorted land tours that visit Denali National Park, click
here
.
Hawaii Volcanoes National Park
Big Island, Hawaii
With its year-round tropical weather and pristine beaches, Hawaii is considered by many a natural wonder unto itself. But about 30 miles southwest of
Hilo
lies what could be the Aloha State's most impressive marvel, Hawaii Volcanoes National Park. Spread across more than 330,000 acres, it is home to the world's largest volcano, the 13,677-foot Mauna Loa. The park, established in 1916, also features one of the world's most active volcanoes, Kilauea.
The latter has been erupting almost continuously for the last 24 years, leaving black sand beaches in its wake. While the park is open 24 hours a day year-round, many visitors opt to arrive at night for the impressive views of red-hot lava flowing from Kilauea.
For a list of tours that visit Hawaii Volcanoes National Park, click
here
.
Canada
Stretching between the provinces of New Brunswick and Nova Scotia on Canada's east coast, the 170-mile-long Bay of Fundy possesses the world's highest tides. In the upper basins, high tides can reach as much as 50 feet. In a 24-hour period, visitors can see two high and two low tides, when 100 billion tons of seawater flow in and out of the bay during one tide cycle.
The unusual tidal activity has sculpted the delicate sandstone of the Fundy Coast into breathtaking volcanic cliffs, sea stacks and caves, creating a bewitching landscape around the bay. It also lures a rich array of wildlife -- whales, dolphins, seals and seabirds among them.
The extreme tides are the force behind the famous Reversing Falls, where the Saint John River empties into the bay. The best place to view this phenomenon is Fallsview Park in the city of Saint John.
For tours that include a stop at the Bay of Fundy, click
here
.
Brazil-Argentina
Iguacu Falls, located on the Brazil-Argentina border, brings together the Iguassu and Parana rivers, forming a massive semicircle 8,100 feet long. The widest falls in the world, Iguacu Falls, called Iguazu Falls in Argentina, is composed of 275 cascades that plunge 250 feet. The majority lie within the Argentinean border, though many escorted tours view the falls from both the Brazil and Argentina sides. Tour guests typically overnight at lodgings near the falls.
At the base of the falls is a national park that houses the world's largest pluvial forest, 12 species of amphibians, 18 species of fish, 40 species of mammals and 700 species of butterflies. Some tours include a boat ride near the base of the falls, or an optional helicopter ride for a bird's-eye view.
For a list of tours that visit Iguacu Falls, click
here
.
Ecuador
Visitors to these "Enchanted Islands," located 600 miles off the coast of Ecuador, may easily feel as if they've been transported to another world. Volcanic forms dominate the landscape -- cinder cones, collapsed craters, tuff cones and ropelike lava deltas. Crystal-clear waters edge shorelines that range from fine, sandy white stretches to rugged lava rockscapes to unusual red-sand beaches.
And then there are the extraordinary opportunities to view rare wildlife up close -- species not found anywhere else on Earth. Giant Galapagos tortoises inhabit the archipelago, as do marine iguanas, lava lizards, sea lions, frigate birds, flightless cormorants and penguins. It's here that Charles Darwin developed his early theories of evolution, during a visit in 1835.
Tour guests typically begin their vacation in the Ecuadorian capital of Quito, then fly to the Galapagos to explore the archipelago by ship. Often there are opportunities for snorkeling amid the captivating marine life or kayaking through tranquil waters.
For a list of tours that visit the Galapagos Islands, click
here
.
Norway
Positioned along Norway's extensive north Atlantic coastline, these famed fjords supply the country's rugged and mountainous west coast with a touch of beauty and elegance. Narrow inlets of the sea that are tucked between cliffs or steep slopes, the fjords range in size, and each has its own unique characteristics.
Geirangerfjord draws visitors with its lush green mountains and seemingly endless waterfalls. Massive Sognefjord is one of the world's longest (126 miles) and deepest (4,291 feet) fjords, framed by some of Norway's highest mountains and glaciers. Hardangerfjord is known for its apple, pear and plum orchards; Lysefjord for its steep granite walls; Varangerfjord for great bird-watching opportunities; and Oksfjord for its glaciers that calve into the sea.
Norwegian Coastal Voyage
, which has traveled up and down Norway's coast since the 1890s, specializes in cruises of the fjords. Each day, the company carries passengers, along with cargo, to 34 ports of call between Bergen in the south and Kirkenes in the north.
For a list of cruises taking in the Fjords in Norway, click
here
.
Zambia-Zimbabwe
The falls of Niagara might enjoy the most name recognition, but they aren't the largest. That honor goes to Victoria Falls, located in southern Africa on the Zambezi River and straddling the border between Zambia and Zimbabwe.
Named after Queen Victoria by Scottish explorer David Livingstone in 1855, Victoria Falls is the largest single sheet of water in the world, measuring more than a mile wide and more than 350 feet high. With a thunderous roar, 546 million cubic meters of water crash into a deep gorge every minute, sending up thick columns of spray. The Kololo people who lived in the area in the 19th century called it "the smoke that thunders."
Part of both the Mosi-oa-Tunya National Park in Zambia and the Victoria Falls National Park in Zimbabwe, the falls are one of southern Africa's major tourist attractions and are often included as a stop on safaris in Zambia. Tour guests typically follow rain forest paths to the best viewing points.
For a list of tours and safaris that visit Victoria Falls, click
here
.
Tanzania
Often called Africa's Garden of Eden,
Ngorongoro Crater
in northern Tanzania boasts one of Africa's richest concentrations of wildlife, including the "big five" -- lion, elephant, rhino, leopard and buffalo. Herds of zebra, gazelles and wildebeest graze in this natural amphitheatre, and visitors may spot an endangered black rhino.
Ngorongoro is a must-see stop on safaris that visit Tanzania in eastern Africa. A collapsed caldera forms the crater, which measures 15 miles at its widest point. Travelers set out in four-wheel-drive vehicles for the 2,000-foot descent to the crater's floor, which covers 102 square miles and includes sweeping grasslands, swamps, forests, springs and a shallow lake favored by pink flamingos.
Nearby is Olduvai Gorge, where anthropologists Mary and Louis Leakey discovered the nearly 2 million-year-old bones that some believe are the remains of the earliest humans.
For a list of safaris that visit Ngorongoro Crater, click
here
.
Australia
Off the coast of Queensland in northeast Australia, in the deep blue to turquoise waters of the Coral Sea, lies the world's largest and most diverse coral reef system, the Great Barrier Reef.
The Great Barrier Reef is made up of about 3,000 individual reefs and 900 islands, spanning more than 1,250 square miles. For divers and snorkelers, it is the ideal place to observe some 1,500 species of fish -- including many endangered varieties -- as well as whales, dolphins and colorful coral formations.
Tour guests typically travel to the reef by catamaran. Snorkeling and scuba enthusiasts should look for itineraries that include time in the water. Those who prefer to stay dry can opt for tours that offer a glass-bottom boat cruise or an excursion in a semisubmersible vessel.
For a list of tours that visit the Great Barrier Reef, click
here
.
Adventure-seekers who think they have done it all can find a once-in-a-lifetime experience on the southernmost continent. Antarctica's temperatures are frigid (it is officially the coldest place on the planet) and the landscape barren, but the true sight to behold here is the wildlife.
Most tours of Antarctica start in South America, with guests typically arriving in
Santiago, Chile
, or
Ushuaia
or
Buenos Aires, Argentina
. They board expedition ships for the journey south, and the decks of these vessels offer the perfect vantage point to observe whales, penguins, sea lions and albatross amid the imposing blue glaciers and drifting icebergs. For closer inspections ashore, passengers ride small, motorized Zodiacs. Specialists in Antarctic history, wildlife, geology and geography often lead shore excursions and give informal onboard lectures.
For a list of tours that visit Antarctica, click
here
.
The information in this story was accurate at the time it was published in January/February 2007 . Please visit
Vacations To Go
or call (800) 680-2858 for current rates and details.
Send This Article to a Friend
Bookmark this Content
Digg it!
Reddit
Furl
del.icio.us
Spurl
Yahoo!