Uniquely Caribbean
Look for these arts, crafts and food treats
as you shop the islands
By Van Sheridan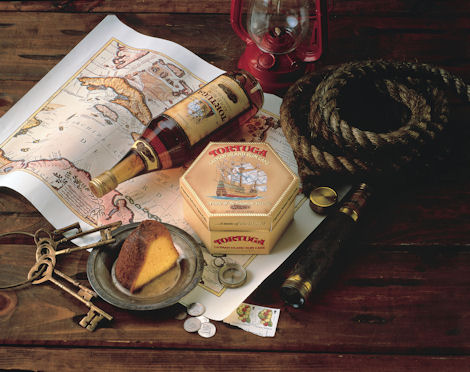 Tortuga Rum Co.
W
e were giddy at our discovery. While in the cities of
La Romana
and
Santo Domingo
, my friend and I stumbled upon rows and rows of shops selling amber transformed into beautiful jewelry. We had come to the Dominican Republic for the beaches, but we found instead a treasure trove and spent many happy hours shopping. As my companion said while perusing the selection, "Those who shop are never sad."
Her words echoed those of actress Bo Derek, who once proclaimed that those who said "money can't buy happiness simply didn't know where to go shopping." Or perhaps, they just don't know what to shop for while traveling abroad.
One of the joys of travel is happening upon mementos to share with friends and family back home.
The Caribbean
has yielded many unique finds ever since Christopher Columbus set foot on its pristine shores, and while duty-free, tax-free purchases are part of the draw, the adventure is uncovering one-of-a-kind souvenirs and locally made goods. Take, for example, traditional Creole dolls from
St. Lucia
dressed in madras fabrics, or the custom glasswork and wooden crafts for which the
U.S. Virgin Islands
is famous.
Here are other finds in the Caribbean, from one of the world's rarest coffees to precious gems.
Merengue music is part of the Dominican Republic's DNA, and so is amber. Much of the world's amber is mined in the steep, treacherous mountains of this country that occupies the eastern two-thirds of Hispaniola, the second-largest island in the Caribbean after Cuba. Amber, the fossilized resin of prehistoric trees, is sold throughout this resort destination.
From street corner vendors to fine jewelry stores, you'll find examples of saps that have been petrified over millions of years; they sell for as little as $10 and up to thousands of dollars. Most people know of yellow amber, but fewer are familiar with the blue variety, which is considered to be the rarest of ambers. Translucent blue in color, the stone appears almost ethereal. You also can find green and red hues.
Many samples are showcased in shops around La Romana, Santo Domingo and the province of Puerto Plata, nicknamed the Amber Coast. While in Puerto Plata, a must-visit is the Amber Museum, which boasts an impressive collection of insects, amphibians and animals preserved in resin, including a nearly 17-inch lizard.
Amber is found throughout the world, but unique to the Dominican Republic is larimar, a stone whose milky-blue color is reminiscent of a robin's egg. Dominicans believe it attracts love and harmony.
Another local find are cigars in an array of flavors and prices. Most come from the Santiago and Cibao Valley regions. The Dominican Republic, one of the largest cigar producers in the world, dedicates more than 600,000 acres to growing tobacco. Popular brands include La Aurora, possessing a mild to medium taste, and Romeo y Julieta, whose spicy, woodsy notes have garnered such fans as actor Jack Nicholson.
Puerto Rico
in Spanish translates to "rich port," and this is particularly true in regard to its bon vivant spirit, food and art. In narrow alleys and wide avenues, shops display expertly crafted works. Among the most recognizable island pieces are carved religious figures called santos. The artisans who make these, santeros, have been using clay, stone and cedarwood since the 1500s to fashion 8- to 20-inch statues. The tradition dates to pre-Columbian times, when small statues were thought to protect villages from evil. Today, popular santos include St. Anthony of Padua, the Virgin Mary and the Three Kings.
Chicago-based artist Cuca continues to be inspired by the traditions of her homeland. "Art is very strong in Puerto Rico. The people love their artists," says the 47-year-old, who operates an online gallery called Galeria Cuca. It features original pieces from Cuca, most notably vejigante (bay-he-GAHN'-tay) masks. Made from papier-mache, they are worn during carnivals to scare off malevolent spirits. Often, they're half-demon, half-animal creations with fangs and bulging eyes. The more elaborate the mask, the more expensive it is. Typically, prices range from $12 to $80. "The masks are available all over Old San Juan," Cuca says, "and they're nice mementos to bring back from Puerto Rico."
Woven cotton hammocks in a variety of colors are another Puerto Rican specialty. Supposedly, the hammock was invented by the Caribbean's Taino Indians. Another good buy is mundillos lace, made by weaving thread through intricate patterns of pins. The finished product is used to embellish clothes and linens.
In 1987, Carlene Hamaty started making Tortuga Rum cake using a recipe from her grandmother. Back then, she sold a dozen cakes a week, neatly wrapped in aluminum foil, to restaurants in
Grand Cayman
. These days, the Tortuga Rum Co. facility makes about 12,000 cakes daily. Hamaty's husband and company co-founder, Robert, says this popular rum-laced treat is the Cayman Islands' No. 1 export.
Many souls, including former President Jimmy Carter, have left the island with a Tortuga Rum cake packed in their bags. It's even wowed tough critics like chef and author Anthony Bourdain, who sampled the treat for the first time at a Cayman cookout. "That's good!" declared the wise-cracking, irreverent chef. "It makes me believe in dessert again."
Another treasure of this aquatic playground is caymanite, a semiprecious stone that comes in a variety of earthy tones. Artisans use diamond-tipped grills and grinders to polish the hard material to a marblelike finish and sculpt it into a variety of trinkets, from pendants to paperweights.
The Bahamian
shopping scene boasts posh names such as Fendi and Gucci, and upscale stores and restaurants line Nassau's picturesque Bay Street. From high-end leather goods to rare cigars, it's a shopper's paradise. But for a dose of island charm, visit a straw market. Straw-weaving is a long-held tradition in the Bahamas and remains especially strong on Cat Island and in Red Bay on Andros Island, known for its watertight baskets. Generations of families pass down weaving traditions, and there are more than two dozen types of techniques, with names such as ric-rac and Jacob's ladder.
In the hands of Bahamians, this practical craft has evolved into an art form. Many of them sell their baskets, purses, hats and mats at straw markets, which flourished after the 1940s when the islanders turned to weaving after the demise of the sponge industry. These days, vendors peddle everything from designer knockoffs to cheap sunglasses, but handmade straw goods remain a popular souvenir.
The third-largest island in the Caribbean lures visitors year after year with its beaches, fern glades and cascading waterfalls. All kinds of foods and juices are canned here, packaged and exported worldwide. A trip to a local grocery market can result in some real foodie finds.
One item to look for is Pickapeppa Sauce, a mellow, tomatoey condiment prepared with cane vinegar and aged in oak barrels, says food historian Robb Walsh, co-author of "Traveling Jamaica With Knife, Fork & Spoon: A Righteous Guide to Jamaican Cookery." Another item he recommends bringing home is spicy jerk marinade or seasoning sold all over the island, most notably nearPort Antonio at Boston Bay Beach, the home of jerk. Walsh says that most of the jerk mixes sold in the United States don't measure up to those in
Jamaica
.
Coffee plants grown at high altitudes result in better beans. Jamaican Blue Mountain coffee beans are cultivated at more than 4,000 feet in elevation and are considered among the most expensive in the world. A pound may sell for as much as $80. In Jamaica, you might pay as little as $15 per pound for a blend or $40 for single-estate beans.
The best Jamaican Blue Mountain coffee Walsh has ever sipped was from the Old Tavern Coffee Estate on the northern slopes. "It had a lot of fruit notes and chocolate," he says. "You know how when you eat really good chocolate, there's this aroma that's flowery and fruity? Coffee has fruit sugars, and some fruit sugars are just as aromatic."
In the Atlantic Ocean, several hundred miles north of the Bahamas,
Bermuda
isn't part of the official Caribbean but plays an integral role in the cultural heritage of the region. Bermuda is known for choice imports from Great Britain and Ireland as well as local products, such as cedarwood carvings and elegant pottery.
For connoisseurs of the hot stuff, there's Outerbridge's Original, a sherry pepper sauce. British sailors first concocted a pepper sauce fortified by sherry more than three centuries ago. Another popular souvenir can be found at the Bermuda Perfumery in St. George's, where fragrances are coaxed from locally grown flowers like oleander, sweet pea, Easter lilies and passionflowers.
In recent years, this
member of the Leeward Islands
has attracted many artists, both local and from afar. A number of galleries have cropped up to nurture the thriving scene.
The Anguilla Arts and Crafts Center displays paintings and ceramics by local artists. Devonish Art Gallery features the work of acclaimed Barbados-born potter Courtney Devonish along with other Caribbean talents. Anguillans are known for transforming driftwood into something intricate and beautiful, and a master of this art form is Cheddie Richardson, whose whimsical driftwood figures can be seen at Cheddie's Carving Studio.
Grenadians call their 130 square miles of
verdant island
"God's own country." Some may add "God's own spice island." The British brought nutmeg trees to Grenada in the mid-1800s. Today, this fertile outpost supplies nearly half the world's nutmeg and mace. Its main rival in the nutmeg market is Indonesia.
Other spices are grown on the island, too, including cinnamon, turmeric, pepper, ginger, cloves and star anise. Many shops sell combinations of spices attractively packaged in baskets. Consider picking up a bottle of nutmeg syrup, a favorite of Grenadian children when mixed with club soda and stirred well with crushed ice.
Shaped like a paddle,
St. Kitts
is blanketed by a mountain range that rises from east to west. The verdant landscape is threaded with colorful fauna and flora, which are the inspirations for Caribelle Batik, a cottage industry. In 1974, entrepreneur Maurice Widdowson started making batik fabrics in Romney Manor, which was reputedly owned by one of Thomas Jefferson's ancestors. The estate was later sold to the Earl of Romney. Over the next three centuries, termites, hurricanes and fires took their toll on the manor until Widdowson purchased the 10-acre property, restored it and turned it into his headquarters for Caribelle Batik.
Today, thousands of people visit the lush grounds and view hands-on demonstrations of how one of St. Kitts' most popular souvenirs is made. Using the Indonesian method of treating cotton fabric with wax to create designs, Caribelle Batik artisans produce colorful textiles for wall hangings and clothing.
Aruba
,
Bonaire
and
Curacao
are a trio of Dutch islands in the Lesser Antilles off the north coast of Venezuela. The first Spanish explorers referred to them as "useless islands" because they could find no freshwater or mineral resources. What the navigators overlooked was the natural beauty, surrounded by stunning beaches and sweet possibilities.
Liqueurs are concocted all over the Caribbean. Jamaica has coffee-flavored Tia Maria, Grenada has nutmeg-infused La Grenade and St. Maarten has an aperitif made of guavaberry, a cousin of the eucalyptus and clove plants. The most recognizable, however, is Curacao from the island of the same name. It's made from the sun-dried peels of laraha, a bitter orange. Curacao is famous for its deep blue color but also comes in orange, red, green and clear versions. They all taste the same.
Bonaire makes Cadushy liqueur from a native cactus. Aruba is known for its Coecoei, derived from kukwisa, an agave plant, and Ponche Crema, made with eggs, rum, sugar and spices.
Some people may argue that the Caribbean's greatest gift to the world is rum. Most famous are the Puerto Rican rums, light and subtle in style, and Jamaican rums, which are heavier and darker. But a rum collection can never be complete without a bottle or two from sun-splashed
Barbados
, the birthplace of the beverage. It's made from the sugarcane that grows on the island.
"All the islands make rum," rum expert Luis Ayala says. "But Barbados claims to have made it the longest."
And, the rum historian adds, through legally accepted documents, the island's Mount Gay Rum distillery can prove it has been making the drink since 1703 -- a little more than 200 years after Columbus discovered the Caribbean and all its treasures.
Find Your Caribbean Vacation
Travel agency
Vacations To Go
, (800) 998-6925, offers reduced rates at hundreds of hotels and resorts throughout the Caribbean. For a good value that's simple to budget, consider an
all-inclusive property
, where lodging, meals, drinks, entertainment and recreation are covered in a single price that's paid in advance. All-inclusives are plentiful along the shores of Jamaica and the Dominican Republic, and you'll also find a few in the Bahamas, Aruba, Barbados, Curacao, Grenada and elsewhere in the Caribbean. You can learn more about the all-inclusive resort experience in
this story
.
Want to sample several tropical islands in one trip? Cruise ships cover the entire Caribbean Sea, with abundant itineraries starting in
Florida's coastal cities
. You also can board a Caribbean-bound ship in
New York
;
Baltimore
;
New Orleans
;
Bayonne, NJ
;
Charleston, SC
; and
Galveston, TX
.
San Juan, Puerto Rico
, is a common starting point for sailings that venture into the Southern Caribbean.
Vacations To Go
offers Caribbean cruises that have been marked down by as much as 75 percent in price. Explore itineraries online or call (800) 338-4962 to speak to an agent.
Send This Article to a Friend
Bookmark this Content
Digg it!
Reddit
Furl
del.icio.us
Spurl
Yahoo!