Timeless Bermuda
Cruise to a country of British formality, African heritage and tropical seascapes
By Andy Dimond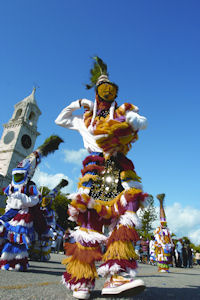 Bermuda Dept. of Tourism
T
his August,
Holland America Line
announced that after a 17-year hiatus, it would resume regular sailings from New York City to Bermuda in 2010 aboard the
Veendam
-- christened after the original HAL ship that sailed to Bermuda in the 1930s. Tourists have relished Bermuda's pink sands, elegant colonial airs and African-inspired folk traditions for generations. Now is the perfect time for cruising enthusiasts to revisit one of the world's classic destinations.
A cruise to
Bermuda
is especially appealing to residents along the eastern seaboard, since the island is just a day at sea away. Bermuda itineraries are offered from seven East Coast ports:
Boston
,
New York City
,
Philadelphia
and
Baltimore
, as well as
Norfolk, VA
;
Charleston, SC
; and
Bayonne, NJ
.
A common misconception is that Bermuda is a Caribbean island. We tend to lump it in with the rest of those little tropical specks on our mental map. But in reality, if you sailed due west from Bermuda, you would make landfall in South Carolina. The island (which is more accurately a cluster of islands) lies isolated in the middle of the Atlantic, 570 miles away from any other dry land. However, due to the activity of the Gulf Stream, it is blessed with mild summer temperatures, with averages usually peaking around 86 degrees, and winter lows that average in the 60s.
Bermuda
is more of a seasonal cruising destination than most other island paradises, says Cheryl Cunningham, director of special projects and group sales at
Vacations To Go
, which has specialized in offering deeply discounted cruises for 25 years.
"The season runs from mid-April through October," says Cunningham. "The upside of this is that the cooler beaches make for great deals at the beginning and end of that span. But you can expect Caribbean-style weather if you go in the summer high season."
Bermuda
differs from the Caribbean in more than just climate, though. As the oldest, most populous and wealthiest of Britain's remaining overseas territories, it retains a certain prim-and-proper way of life you won't find in the laid-back destinations of the steamy tropics. Bermudians are especially known for their unique dress code. The standard business outfit here consists of a navy blazer, a shirt and tie, dark kneesocks, loafers and, of course, the famous Bermuda shorts. These have their origins in Bermuda's history as a key military outpost and were adapted from the British army's warm-weather uniform. The specifications for Bermuda shorts are even mandated by local law: no shorter than 6 inches above the knee.
If that weren't enough to establish the island's upper-crust bona fides, consider this: Bermuda has more acres of golf courses as a percentage of its total land mass than anywhere else on Earth.
Balancing this charming if somewhat stuffy aristocratic flavor is Bermuda's deeply ingrained African heritage; a majority of Bermudians can claim enslaved ancestors. The island also has Native American and Caribbean roots, and overall the ethnic groups here have intermingled more than in most places with similar histories.
The most visible African-derived folk tradition is the gombey, a dance procession of around 10 to 30 people, traditionally men, in dazzling costumes. The parade makes its way through the streets to the rhythm of drums, fifes and whistles. Gombeys were originally how African slaves celebrated their few days of rest, such as Boxing Day and New Year's Day, but today they are performed on special occasions of all kinds.
Bermuda is served by many of the major cruise companies, with
Norwegian Cruise Line
and
Royal Caribbean International
maintaining particularly large presences. Itineraries typically range from five to seven days, with relaxing days at sea on the way there and back. Currently, Norwegian offers the only seven-day cruises from
New York City
and
Boston
. Royal Caribbean schedules nine-day trips from
Bayonne
that incorporate Caribbean stops as well.
In addition to the many charms of Bermuda, you'll have all the amenities and entertainment of your cruise ship itself. And because one fare includes your transportation to Bermuda, meals, snacks, entertainment and lodging, stepping aboard one of these "floating hotels" is also the most economical way to experience this fascinating and unique destination.
Bargain hunters will find many Bermuda cruises next year slashed by 50 percent or more at the Web site of
Vacations To Go
. At press time, for example, a seven-day cruise from Boston to King's Wharf aboard the
Norwegian Spirit
started at $699 per person for an inside cabin, a savings of 53 percent. Travelers can upgrade to ocean-view accommodations for just $799 per person. It departs
May 1
.
A six-day jaunt aboard the
Carnival Miracle
, leaving from New York City on
April 16
, was reduced to $849 for an inside cabin, $899 for a sea-view cabin and $979 for a stateroom with a balcony.
The crescent-shaped group of islands boasts three main tourist centers:
Hamilton
,
St. George's
and
King's Wharf
, also known as the
Royal Naval Dockyard
. Ships typically spend two or three nights stationed in one of these port towns. When Holland America resumes its Bermuda sailings in August 2010, it will call at both Hamilton and St. George's on a single itinerary.
One of the nice things about visiting Bermuda is its convenient public transportation; all these towns are just a quick bus ride away from each other. Rental cars are not available here.
Hamilton
is featured on just a few cruise itineraries. It is the capital and business center of Bermuda but has a year-round population of only about 1,500. Still, there's a whole lot to see. Hamilton Cathedral, built in a neo-Gothic style in 1897, is one of the signature sights and can be spotted from most of the surrounding parish. Brightly colored Victorian buildings line Front Street, the road that runs along Hamilton's harbor.
The Bermuda Historical Society Museum tells the story of the first permanent settlers, who were originally bound for Jamestown, VA, but ran aground here in 1609 during a storm. The Bermuda National Gallery contains paintings by Winslow Homer, Joshua Reynolds and Thomas Gainsborough. There also are a surprising number of parks for a city of Hamilton's size, the most notable being Victoria Park, which takes up a full city block and often hosts free concerts. Fort Hamilton, atop one of the highest hills around the city, offers fantastic views as well as a military history of the island.
St. George's
is visited exclusively by
Norwegian
ships. First known as New London, it was settled by the original shipwrecked adventurers and is the oldest continually inhabited English settlement in the New World. The entire town, along with some surrounding fortifications, has been named a UNESCO World Heritage Site. Its winding alleyways and colonial-era architecture make for perhaps the most rewarding sightseeing on the island.
At the center of the town lies King's Square, where the cruel and unusual punishments of yesteryear have become the tourist attractions of today -- stocks, pillory and a "ducking stool" originally used to plunge dishonest bakers and meddling women into the harbor.
Walk the short bridge to Ordnance Island in St. George's Harbor and you'll find a statue of Sir George Somers, who colonized Bermuda. It was his ship, the Sea Venture, that crashed upon the reefs en route to Jamestown. Somers and his entire crew survived. There's also a replica of the Deliverance, one of two vessels the castaways built from remnants of the Sea Venture; they sailed these to the Virginia colony 10 months after the shipwreck.
Somers Gardens is a lovely park and contains one of the resting places of Sir George. His body was shipped back to England, but he left his heart in Bermuda.
The Bermuda National Trust Museum focuses on the importance of the island in the American Civil War, when Confederate troops had to smuggle supplies through here from England to break the Union naval blockade. Other sights include the State House, the Old Rectory and St. Peter's Church, the oldest Anglican church in the New World.
Norwegian
,
Royal Caribbean
and
Princess Cruises
are the main lines calling at
King's Wharf
. The primary draw here is the Maritime Museum, a sprawling six-acre complex with eight exhibit buildings located in a fortress known as the Keep. An attraction called Dolphin Quest can be found in the Keep Pond, where for a fee you and your family can enjoy a swim with these much-loved creatures. Another animal you'll find throughout the Keep are sheep, used here as eco-friendly lawnmowers.
Other sights in the area include the Bermuda Arts Centre, where exhibits by local artists change every six weeks, and the cast-iron Gibbs Hill Lighthouse, with a fantastic view of nearly the entire island. It's located south of King's Wharf in Southampton Parish.
Finally, it's important to emphasize the abundance and quality of outdoor recreation available here. Golf is extremely popular throughout Bermuda. Adjacent to the Dockyard is the Bermuda Snorkel Park, which offers all kinds of marine sports equipment for rent. There are exceptional diving and snorkeling opportunities all over Bermuda, as well as boat tours and private rentals. This way, the islands' beautiful coves and waterways are yours to explore.
Many people choose to tour Bermuda by moped, a convenient and independent way to explore the island. Or, if you've got a little more time and energy, you can rent a bike. The most interesting bike route is the Bermuda Railway Trail, a relic of a 22-mile rail system built in 1931. Due to engineering problems and the lift of a ban on automobile traffic, it only lasted for 17 years. The railway's loss is your gain, though, as this trail is the best way to see the sights of rural Bermuda, away from the cities and the tourist trade, surrounded by the smell of allspice trees.
Information: To book your own
Bermuda
getaway, visit
Vacations To Go
or call (800) 338-4962.
The information in this story was accurate at the time it was published in November/December 2008. Please visit
Vacations To Go
or call (800) 338-4962 for current rates and details.
Send This Article to a Friend
Bookmark this Content
Digg it!
Reddit
Furl
del.icio.us
Spurl
Yahoo!