See the Med with Windstar Cruises
Explore the sights, flavors and history of intriguing ports
visited by the elegant Wind Surf
By Elizabeth Armstrong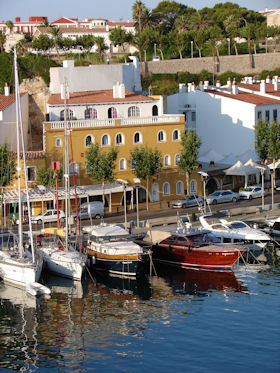 Elizabeth Armstrong
(Scroll down to see a slide show.)
C
hef Henry Tuliao carefully inspects the offerings at a charcuterie in Mercat de L'Olivar, a shiny, modern mall of food purveyors in Palma on the island of Mallorca. He samples the
lomo embuchado
, a pork loin cured with paprika and garlic, and eyes the spicy
chorizo iberico
. After a few moments of consideration, he begins to order a few items, starting with a 15-pound leg of serrano ham.
The vendor looks surprised. Perhaps she's more accustomed to customers who ask her to shave off just a quarter-kilo or so of the rich, salty meat. But Tuliao is the executive chef of the 312-passenger
Wind Surf
, and he has a lot of people to feed.
I was aboard the Wind Surf for a weeklong cruise that called at five Mediterranean islands, accompanied by my best travel buddy, Cheryl. We were lucky enough to accompany Tuliao on his market rounds in Palma.
While at least 90 percent of the ship's provisions come aboard on the first day of the cruise, occasionally Tuliao will visit local food suppliers in port to pick up regional specialties, which he usually showcases in the themed daily lunch buffets.
It was a treat to spend the morning with the very amiable Tuliao, who is from Manila in the Philippines. In addition to the cured meats, we bought a variety of olives and cheeses. Everything we purchased would appear the next day at a lunchtime tapas station.
Tuliao has been with
Windstar Cruises
for three years. Prior to that, he worked at Holland America Line, where, as a pantry cook assembling salads and sandwiches, he was tapped to enroll in that company's 18-month culinary training program.
Today, 37-year-old Tuliao supervises a staff of 32 in the Wind Surf's galley. He and his cooks test and taste each day's recipes before any dishes are prepared for guests. "More salt, less salt, more garnish -- we make sure everything is in place," says Tuliao.
On our cruise, everything that came out of the galley was superb. A salad of grilled pears, prosciutto, endive, goat cheese and balsamic vinegar hit all the right notes of sweet, salty, bitter, creamy and tart. The cold soups were among my favorites, especially a chilled sweet garlic soup and a red beet soup with a dollop of citrus creme fraiche.
Cheryl and I had sailed the Wind Surf once before, in the summer of 2006, and we both agreed that it was one of the most relaxing cruises we'd ever experienced. We were eager to return to the sleek, beautiful ship with the intimate ambience and friendly crew.
We got our chance this July, on a trip from
Rome
to
Barcelona
. The Wind Surf had some new features for us, including two alfresco dining venues that debuted in 2008: Le Marche, which offers a seafood menu, and Candles, a poolside grill. Each accommodates about 30 diners a night, and while there's no charge, reservations are recommended.
This year, Windstar began a partnership with The Onboard Spa Co. Treatments use products made of ingredients from sustainable sources, like Lissadell House, an organic medicinal cooperative in Ireland, and a women's farming co-op in Ghana.
The new Yacht Club has comfy chairs for reading, iPod listening stations, an espresso bar and a DVD and book library. There are eight computer stations here, plus wireless Internet service throughout the ship.
The Wind Surf is a motor-sail yacht whose seven billowing white sails are released at the touch of a button. We cruised into
Portoferraio, Elba
, with the sails up, at the request of local port authorities who wanted to film the ship's approach for a promotional video.
Elba is a fish-shaped island about 12 miles from the Italian mainland. Legend says that a strand of pearls worn by the goddess Venus broke, and the gems fell into the Ligurian Sea. She recovered all but seven, and these became the islands of the Tuscan Archipelago, the largest of which is Elba.
We joined an excursion to Porto Azzuro, passing a hilly, green interior and fields dotted with frothy Queen Anne's lace. The Porto Azzuro waterfront makes for a pleasant stroll, where fisherman untangle their nets and sunbathers stretch out on the small beach or on the pockmarked boulders beneath the promenade.
Napoleon Bonaparte was exiled to Elba in 1814 and established two homes here for his nine-month stay, one in Portoferraio and one in the countryside. We visited his town residence, Villa dei Mulini. It's sparsely decorated but notable for its lovely frescoed ceilings and manicured gardens that overlook the sea.
This was my second visit to Elba, and I wasn't leaving without acquiring two of the island's prized products: a cup of gelato from Zero Gradi and a bottle of perfume from Acqua dell'Elba.
Zero Gradi is across the street from the pier, and after a day of touring in the July sun, it's a great stop for a cool treat. Featured flavors can include Nutella, coconut, hazelnut, banana, melon and pineapple with ginger.
In a laboratory in Marciana Marina on the north coast, workers harvest the scent of the island's wildflowers and bottle it as Acqua dell'Elba. The classic women's perfume contains notes of orange, myrtle, gardenia, jasmine and cistus, a flowering shrub that grows in the rocky, dry soil. There are several Acqua dell'Elba shops, including one on Calata Mazzini in Portoferraio.
The next day, I was up at 6 a.m. as we motored toward Napoleon's birthplace,
Corsica
, the French island west of Elba. I headed to the aft Compass Rose Lounge, poured a cup of coffee and cobbled together a satisfying breakfast from the fruits, pastries, breads, meats and cheeses that were set out for early risers. It seemed as if I had the ship to myself as I sat outside. The rising sun cast a warm, golden light over the decks as Corsica came into view.
Cork oaks, eucalyptus, chestnuts and pines cloak Corsica's mountainous interior, and the dense, fragrant shrub called maquis grows all over the island. By 9, the Wind Surf had pulled up to the dock at
Porto Vecchio
.
We joined an excursion to
Bonifacio
, an old Genoese settlement atop a chalk-white limestone cliff at Corsica's southernmost tip. There's a little train that picks up passengers at Bonifacio's harbor and tours the pretty, fortified town. Corsica also boasts several nice beaches edged by pine forests and crystal-clear waters. Santa Giulia and Palombaggia are closest to the Porto Vecchio pier but still require a cab ride to reach.
Corsica's southern neighbor,
Sardinia
, was next on our itinerary. Upon visiting the Italian island in 1921, author D.H. Lawrence described it as a "savage, dark-bushed, sky-exposed land."
We dropped anchor at
Alghero
. Conquered by the Aragonese in the 14th century, it took shape as a Catalan colony that became known as Barcelonetta -- "little Barcelona." The narrow, cobblestoned streets of the old town bear both Italian and Catalan names.
Our guide, Ossie, showed us the Church of San Francesco, where the quiet murmurings of an unseen priest floated through the cool, dim interior. She pointed out the Gossip's Corner, so called because this is where the women of the town once gathered to collect their daily water. She also led us to the lovely cloister filled with pink hydrangeas.
There are 350 different kinds of bread in Sardinia, Ossie told us. The best-known is the crackly, paper-thin
pane carasau
, or
carta da musica
, which translates as "music bread." It's served with a drizzle of olive oil and a sprinkling of sea salt. Sardinia is also famous for its
vermentino
white wine and sheep's milk cheeses.
We got to sample a bit of each during a visit to the Sella & Mosca winery.
Founded in 1899, it is the largest wine-producing firm in Italy and churns out more than 7 million bottles a year. We tried a few varieties and nibbled at platters of music bread, cheese, salami and sweets.
You can pick up a bottle of red wine for as little as 7 euros, about $10, in the winery's store. At our last stop of the day, a scenic overlook at Capo Caccia, one passenger uncorked her bottle and shared it with the rest of us. We drank from plastic cups, which Ossie somehow rustled up, and took in the views of craggy bluffs and deep-blue sea.
We spent the next two days in the Balearic Islands off Spain's eastern shore, starting in
Palma on Mallorca
, the largest of the isles. The city's cathedral dominates the waterfront, and it's a good place to begin a walking tour of the old town, a mix of Moorish, Gothic and medieval architecture. Wind Surf provides a free shuttle bus from the pier.
Construction of the cathedral began in 1230, and by 1601 a bishop blessed the main door. It had taken almost four centuries to complete the edifice, which is enormous. There are 61 stained-glass windows, including five rose windows. Prisms of red, yellow, blue and green shimmer in the gray interior.
Some cruise visitors take taxi rides to Bellver Castle, a 14th-century circular fortress with magnificent views of Palma and the harbor. Windstar also offers an excursion to Valldemossa, a picturesque village tucked amid the mountains. French novelist George Sand and Polish composer Frederic Chopin spent a winter here in 1838-1839.
Menorca
is the easternmost of the Balearic Islands, and its residents are the first ones in Spain to see sunrise. I joined them on the morning we sailed into its capital,
Mahon
. The approach to Mahon is especially scenic, as it lies at the head of a long, narrow inlet lined by whitewashed homes with red-tiled roofs.
Menorca is the most tranquil of the three largest Balearic islands and was designated a biosphere reserve by UNESCO. It's a popular destination for vacationing Brits, who began arriving by chartered flights in the 1950s. Visitors still flock here to enjoy some of the Mediterranean's best beaches.
"I can't tell you how important this beverage is for us on this island," said tour guide Silvana at a 9 a.m. tasting at Mahon's Xoriguer Gin Distillery. She asked us if we knew about Menorca's famous dancing horses, referring to the well-trained, jet-black stallions that carefully prance on their hind legs through noisy crowds of people at festivals. "Well, how do you think we get that bravado?" she asked, holding up a bottle of gin. The company produces a variety of spirits, including a liqueur flavored with chamomile, and you can sample them for free at the distillery's store.
Later, Silvana spotted a man in a farmyard astride one of Menorca's performing stallions. She asked him to show us the horse's skills, and he obliged, rearing the handsome horse up high. We ended the day at Fornells, a mellow seaside village of whitewashed homes sporting green shutters, where children splashed in a calm bay.
It's the little touches that make a Windstar sailing special. Cold towels are handed to guests returning to the ship after sightseeing. On warm afternoons, waiters offer poolside loungers orange-peel cups filled with sorbet.
Crew members remember your name and go the extra mile to ensure that you're perfectly content. Cheryl and I were especially touched when Chef Tuliao presented us with a special dessert on our last night: slices of mango cheesecake, made just for us.
I had fun with the preloaded iPod that I borrowed at the reception desk on the first day of the cruise. Another new feature for the ship, it's packed with a range of musical genres: jazz, blues, classical and pop, as well as tunes from Mediterranean and Caribbean countries. Bob Marley's "Could You Be Loved" helped me unwind after a long day of touring. In the early evening, the bossa nova vibes of songstress Bebel Gilberto got me in the mood for the wining and dining ahead.
Pianist Philippe Entremont played Claude Debussy's dreamlike "Clair de Lune" as we sailed away from Elba late at night. The pilot boat was just below my porthole windows, accompanying the Wind Surf out of the harbor. I watched it for a while as it kept pace with us over the black waters, until finally it veered away and disappeared into the velvet night as the last melancholy chords sounded.
Information:
Windstar Cruises has three ships, the 312-passenger
Wind Surf
and the 148-passenger
Wind Star
and
Wind Spirit
. They primarily sail the Mediterranean, Greek Islands, Caribbean and Costa Rica. To learn more about deeply discounted Windstar cruises, visit
Vacations To Go
or call (800) 338-4962.
The information in this story was accurate at the time it was published in November/December 2009. Please visit
Vacations To Go
or call (800) 338-4962 for current rates and details.
Send This Article to a Friend
Bookmark this Content
Digg it!
Reddit
Furl
del.icio.us
Spurl
Yahoo!