Sailing Northern Europe
Travel by ship to fjords, fairy-tale castles and gilded cities
By Andy Dimond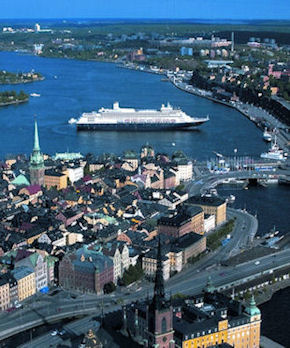 Holland America Line
S
ummer cruises in Europe's northern seas offer a fascinating look at storied lands. The craggy fingers of spectacular Scandinavian fjords give way to grand old cities filled with museums, shops and picturesque squares. In Great Britain, you can roam castles and cathedrals and then top off the day with a pint in a pub. St. Petersburg, Russia, is always a much-anticipated port of call, luring travelers who want to explore the opulent residences once occupied by czars.
The season for cruising Northern Europe is short, running from May through August, so it's best to book early to get the ship, itinerary and departure date you prefer. The days, on the other hand, can be long: This is the "land of the midnight sun," where daylight lasts well into the evening hours.
Northern Europe
cruises usually attract an older, well-traveled crowd of folks who enjoy learning about the history and culture of the region. Onboard entertainment and enrichment add to the appeal, covering topics from art appreciation to cooking seminars.
Familiar names like
Princess Cruises
,
Royal Caribbean International,
Celebrity Cruises
and
Holland America Line
sail these waters, along with small-ship operators like
Fred. Olsen
and
MSC Cruises
, and six-star luxury lines like
Crystal
and
Seabourn
. The most popular points of departure are
London
,
Amsterdam
,
Copenhagen
and
Stockholm
, and round-trip voyages are frequently available.
Itineraries can focus on Scandinavia, the Baltic Sea coasts, the British Isles and Western Europe. Here are some of the highlights encountered on Northern Europe vacations.
In
Norway
, cruise routes showcase the natural beauty of the country's fjords, which are accented by thundering waterfalls, pristine glaciers and clear lakes.
Oslo
, the capital, offers Akershus Castle, the Viking Ship Museum, the Nobel Peace Center and the Edvard Munch Museum.
During a stop in
Copenhagen, Denmark
, you can visit the National Museum of History at Fredericksborg Castle or walk the halls of Kronborg Castle at Elsinore, which inspired Shakespeare's tragedy "Hamlet." The city also is home to the Tivoli Gardens amusement park and regal Amalienborg Palace. Don't forget to pay tribute to the Little Mermaid statue, modeled after the subject of a beloved Hans Christian Andersen tale.
In the Finnish capital of
Helsinki
, shore excursions highlight the city's stylish design, with tours of buildings by famous Finnish architects Alvar Aalto, Eliel Saarinen and his son Eero Saarinen.
Sweden's capital city,
Stockholm
, is comprised of 14 islands connected by a series of bridges. Stroll the narrow streets and alleys of the old district known as Gamla Stan, packed with cafes and historic buildings. Or, take your pick from the more than 70 museums here. One of the most intriguing is the Vasa Museum, which tells the story of a 17th-century warship that debuted to great fanfare but sank on its maiden voyage. It was salvaged in 1961, and the restored vessel now gleams in the building that was specially constructed to house it.
Tallinn, Estonia
, was founded in 1154, and its Old Town district contains such historic treasures as the Alexander Nevsky Cathedral, a UNESCO World Heritage Site.
Gdansk, Poland
, is the birthplace of the Solidarity movement that helped end Soviet domination of Eastern Europe; it hosts an annual English-language theater festival to commemorate the visit of Shakespeare's touring company in the 16th century. Nearby is Malbork, Europe's largest feudal castle.
In Germany, you can join an excursion to
Berlin
if your ship calls at either
Warnemunde
or
Rostock
. Berlin's turbulent past is represented by such sights as the Brandenburg Gate, once a reminder of the city's division but now a symbol of its unification. The country's seafaring heritage is recounted at the open-air National German Maritime Museum in
Bremerhaven
, another common port. Here you can see seven historic vessels as well as more than 500 model ships.
Amsterdam
is a storybook Dutch city of labyrinthine canals, windmills and gabled homes. In spring, you can take the train to Keukenhof Gardens and gawk at the dazzling display of millions of tulips, hyacinths, daffodils and crocuses in bloom.
In Scotland, vibrant
Glasgow
and
Edinburgh
buzz with art and culture. At
Invergordon
you can walk the halls of ancient castles, or travel north in search of the Loch Ness Monster. At
Kirkwall
in the Orkney Islands, tour Skara Brae, Europe's most complete Neolithic village, and learn about life in 3000 B.C.
Popular Irish ports include
Dublin
, a city of bustling Georgian streets, the Norman St. Patrick's Cathedral and cozy pubs. In
Cork
, shop for Irish linen, woolens and Waterford crystal. London is one of the most common starting or ending points for Northern European routes. Passengers usually travel to
Dover
,
Harwich
or
Southampton
to board their ship, but not before spending a day or two in the British capital to take in such sights as Buckingham Palace, Westminster Abbey and Big Ben.
St. Petersburg
, Russia, is a highlight for many passengers, and ships usually stay here for one or two nights. Sailing into St. Petersburg is one of the easiest ways to gain access to this glittering city. In Russia, where bureaucratic hassles still occur, your cruise line will provide you with a "blanket visa," which means you can avoid the red tape.
The must-see attraction in St. Petersburg is the Hermitage, one of the world's best museums and home to the largest collection of paintings ever assembled. Works by Raphael, da Vinci, Titian and Rembrandt hang on the walls. Catherine Palace and Peterhof Palace are lavish monuments to Russia's czarist past; often compared to Versailles, Peterhof sits amid a 300-acre park studded with fountains.
With its multicolored onion domes, the Church of the Savior on Spilled Blood reminds many visitors of the famous St. Basil's Cathedral in Moscow, but it has its own unique story to tell. Its name refers to the assassination of Tsar Alexander II on this site in 1881. The main draw for tourists here is the largest collection of mosaics in Europe, some 7,500 square meters of tile. Regional food and gifts can be found in the shops along busy Nevsky Prospekt, from pelmeni dumplings and Russian tea to the popular matryoshka nesting dolls and porcelain figurines.
Information:
For more information on cruising in Northern Europe, visit
Vacations To Go
or call (800) 338-4962.
The information in this story was accurate at the time it was published in March/April 2009. Please visit
Vacations To Go
or call (800) 338-4962 for current rates and details.
Send This Article to a Friend
Bookmark this Content
Digg it!
Reddit
Furl
del.icio.us
Spurl
Yahoo!