Outstanding Sea Spas
Unwind in these onboard havens of relaxation
By Jennifer Davoren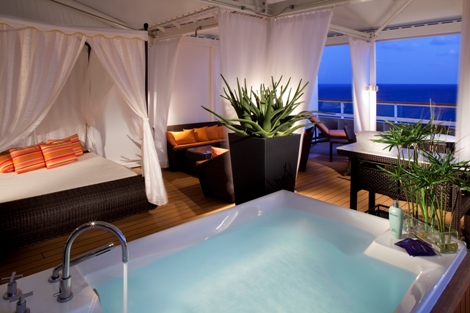 Michel Verdure/Seabourn Cruise Line
C
ombine the ease of ocean travel with the abundant amenities of a "floating resort" and you've got a great cruise vacation. But there's one perk in particular that can take your getaway to the next level: a spa, and all the lazy days of pampering that come with it.
Below, we've profiled seven of our favorite wellness centers on the waves. For more information on these and other cruise liners, call (800) 338-4962 or visit
www.VacationsToGo.com
.
The Spa, Seabourn Cruise Line
Dreaming of a yacht of your own? Sample the lifestyle with
Seabourn's small, six-star vessels
, which sail to unique ports and offer unparalleled guest services. The line's three largest ships host just 450 passengers, providing each with a unique level of personal attention. Still, there's room enough on the Odyssey, Sojourn and Quest for 11,400-square-foot spas, which host some extraordinary advantages of their own.
There's the Kneipp Walk, a pool with separate hot and cool sections that's said to boost blood circulation. The Spa Villa is a private, al fresco space for tailored treatments that draws luxuriating couples. And check out Seabourn's cellulite remedies, including the Ionithermie Cheek Lift, which gives your back end a boost.
Spas on Seabourn's smaller ships, the 208-guest Pride, Spirit and Legend, emphasize their own signature treatments. Try 10 Cultural Touches, a massage that combines techniques from across the globe.
AquaSpa, Celebrity Solstice-Class Ships
Immerse yourself in a full spa experience on
Celebrity Cruises' Solstice-class vessels
, which carry 2,850 travelers. Passengers can book an AquaClass stateroom, with aromatherapy amenities, a concierge to arrange appointments and unlimited access to the Persian Garden and Relaxation Room, two spaces meant for peaceful reflection. Fill your days with traditional spa treatments, from massages to body wraps; these are joined on the AquaSpa menu by acupuncture, detox therapies and "medi-spa" services, with Botox, Restylane and other hot brands smoothing wrinkles and plumping lips. Seafaring teens have plenty of options, too, with the YSpa's selection of skin-clearing miracles and mani-pedis.
And keep to the AquaSpa Cafe for tasty, healthy choices for breakfast and lunch, including protein-packed smoothies and a wide selection of fresh seafood, or head to Blu, a specialty restaurant known for its "clean cuisine" (complimentary for Aqua- Spa travelers).
Samsara Spa, Costa Cruises
A Sanskrit concept, "samsara" describes the daily pursuit of harmony and beauty. It's an ideal goal for any spa guest. Eight ships from the Costa fleet -- including the fully renovated
neoRomantica
, making its debut this February -- have embraced the samsara spirit and other Eastern influences. Golden Buddhas keep watch over state-of-the-art spa spaces, which include a Japanese tea room and the "temple of peace," a quiet area to recline and readjust after an appointment. And many treatments employ the ayurvedic technique, a form of holistic massage from India.
Other perks around the spa include a thalassotherapy pool; yoga, Pilates and spin classes; and the low-calorie, low-sodium cuisine of the Samsara Restaurant. Those seeking a beautifying pick-me-up have a full-service salon and a variety of facials (including one that refreshes skin with 24-carat gold leaf) at their disposal.
Canyon Ranch SpaClub, Queen Mary 2
White-glove service meets a renowned wellness brand aboard
this 2,620-passenger vessel
, the largest of the Cunard Line. It's a partnership that combines two classics -- the "golden age" of ocean cruising and Canyon Ranch's 30-plus years of experience in the health and fitness industries.
The SpaClub truly pampers guests from head to toe, with customizable hair restoratives and reflexology foot massages among options. Transformation is a recurring theme, from deep-cleaning and firming facials to an assortment of pain-relieving acupuncture treatments. Head for the Aqua Therapy Centre to steam your tension away, or for those left a little wilted by a long day of shore excursions, reinvigorate with a splash in an ice fountain. Daily workshops hosted by Canyon Ranch staff offer workout tips and nutritional advice, while further dietary encouragement is found on the weight-trimming, spa-approved menu at the Britannia Restaurant.
Bora Bora Health Spa, Norwegian Jewel
Its name calls to mind the sun-kissed sands of the South Pacific, and the saunas, steam rooms and thermal suites of this spa certainly offer an islandlike atmosphere. A fleet of hot-tile loungers flank floor-to-ceiling windows at the bow of the ship, providing comfortable views of approaching destinations -- including the picturesque chill of Alaska's Inside Passage, the Jewel's preferred route from May to September 2012. It's a space that warms the body as well as the spirit, and an ideal spot to spend your time between port calls.
Elsewhere on the
2,376-guest Jewel
, you'll find a well-stocked fitness center and an assortment of tightening and toning classes. Hot tubs dot the decks, and a jogging track combats calories accrued through Norwegian's "freestyle" dining concept. And then there's the ultimate onboard escape -- The Haven, a separate suite complex boasting a private pool and deck, high-end linens and 24-hour butler service.
Crystal Spa, Crystal Cruises
Relax and realign with the feng shui-styled spas of
Crystal Cruises' twin vessels, Symphony and Serenity
. In accordance with the Chinese technique of ideal energy flow, these six-star facilities are designed for optimal tension release and the balance of body and mind.
Crystal's massage rooms are larger than most, giving expert muscle-kneaders and their Elemis aromatherapy oils more room to work, and guests have an airy atmosphere in which to relax. Before and after appointments, spa goers take in the sea breezes -- as well as the view, which ranges from Asia's bustling waterfronts to Northern Europe's fjords on these globe-trotting ships -- on a private, canopied deck at the aft. Even the spa's showers have been outfitted with the latest and greatest in indulgences, from overhead and side water jets to a range of flow options, including those that mimic rainfall and gentle mountain mists.
Greenhouse Spa and Salon, Eurodam
First, feed your mind. After boarding this ship, launched in 2008 as the
debut of Holland America Line's Signature class
, take a thorough tour of its art collection. Antique maps join contemporary works, including a reimagining of Rembrandt's classic, "The Night Watch," in a tribute to the Dutch Golden Age of cultural triumphs that marked the 17th century.
Next, pamper the body and soothe the soul. Onboard spa facilities bring the heat with thermal areas, hydrotherapy pools and warm stone massages. And you'll find further serenity in a spa suite or stateroom, where you can unfurl a provided yoga mat, stream calming tunes through an iPod docking station and Bose speakers, then stretch those sea legs. Choose a cabin with a private veranda to add the soothing sight and sound of the ocean to your wellness retreat.
The information in this story was accurate at the time it was published in January/February 2012. Please visit
Vacations To Go
or call (800) 338-4962 for current rates and details.
Send This Article to a Friend
Bookmark this Content
Digg it!
Reddit
Furl
del.icio.us
Spurl
Yahoo!