October: Harvest Time
Travel globally, eat locally: Savor regional delights,
from Hawaii's Kona coffee to the sumptuous truffles of Italy's Umbria
By the Vacations Staff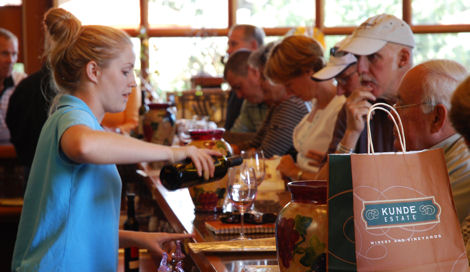 Blaise/California Travel & Tourism Commission
(Scroll down to see a slide show.)
Napa and Sonoma sojourn
A vacation steeped in vino is a recipe for good times. The vineyard-rich Napa Valley is a feast for the eyes and the palate, as dawn's warmth pierces through autumn's foggy veil and basks grape fields in golden light. On an escorted group tour through
California's premium wine regions
, you'll travel between destinations by motor coach, so you can sip contentedly knowing that someone else is responsible for the driving. Learn about the harvesting and pressing of grapes as you visit family-owned boutique wineries and well-known labels, and spend time strolling downtown Napa and historic Sonoma Plaza. Some trips include dinner in the restored Pullman cars of the Napa Valley Wine Train. Most escorted wine country itineraries start in San Francisco, one of the world's great culinary destinations, where one might swoon over a sourdough bread bowl of clam chowder as easily as a seven-course meal.
Island abundance
The beauty of the
Hawaiian isles
is bold and lush. Exotic flowers bloom in brilliant colors, and fragrant, juicy papayas, passion fruit and strawberry guavas dangle from trees. Taro grows in tidy emerald lines, and you can see the fields that yield this heart-shaped plant from the Hanalei Valley Lookout on northern
Kauai
. On
Oahu
, learn how taro is harvested and cooked into poi at the Polynesian Cultural Center's Hawaiian village, one of six themed enclaves (stop by the Tahitian village for the coconut bread). Prized Kona coffee beans are cultivated on the slopes of the
Big Island
, where some family estates are open for tours. The Kona District is famous for rich volcanic soil, sunny mornings and rainy afternoons, which helps create a satisfying cup of joe hinting of chocolate and hazelnut. Macadamia nuts are grown in orchards on the Big Island, and the creamy orbs make nice gifts, especially when glazed with local honey. Stock up on them here, where they're more affordable than on the mainland.
Tasting Umbria
Stone farmhouses dot the green slopes of Umbria, surrounded by trees heavy with olives that will be harvested and pressed to make highly prized, fruity extra-virgin olive oil. Earthy delicacies abound in this landlocked region of central Italy, where
Brendan Vacations
organizes the weeklong "
Culinary Delights of Umbria
." The gastronomic tour combines cultural explorations with indulgent feasting in ancient hill towns stocked with artistic treasures along with chestnuts, chocolates and truffles. Sample bonbons infused with chilies and saffron at an Orvieto pastry shop. Visit the Perugina chocolate factory, and peruse a shop of aromatic herbs. Soak in the expansive views while sipping sturdy Umbrian wines after a morning of sightseeing or a romantic evening spent wandering medieval alleyways and town squares. Walking tours of St. Francis' Assisi and tastings of the sagrantino varietal in the walled town of Montefalco are followed by a visit to an old, family-owned olive grove.
New England palette
September and October usher in a bejeweled spectacle of changing leaves in New England as green hues morph into reds, yellows and ochers, made more brilliant against crystalline blue skies. The visual kaleidoscope can be experienced on fall foliage tours hosted by several companies, traveling across historic waterfronts, old whaling villages, windswept beaches, beautiful parks and country roads lined with statuesque, rustling maples cloaked in amber and ruby. "
New England's Spectacular Fall Foliage
" an eight-day escorted trip with
Insight Vacations
, launches with sightseeing in Boston and continues to an aerial tram ride in New Hampshire's Franconia Notch State Park; a dairy farm, maple sugar works and cheese producer in Vermont; a drive along Maine's gorgeous coast; and relaxing strolls in charming Stockbridge, MA, home of the Norman Rockwell Museum. Explore, too, the quaint towns that inspired his iconic paintings.
On the Douro River
"
Enticing Douro
" a new itinerary from river cruise operator
AmaWaterways
, showcases one of the oldest wine regions in the world. The rugged, verdant valley, with rows of terraced vines twisting up hillsides, is located in Portugal's northern tier. The 12-day vacation starts with three hotel nights in Lisbon, the beautiful capital on the Tagus River. Travelers continue to exuberant Porto, where they board the newly constructed, 106-passenger AmaVida and glide along a wine trail known for its timeless charm and prize-winning red wines, most notably port. Historic sights unfold along the ribbon of water, which once transported barrels of port in flat-bottom boats. The cruise is highlighted by wine tastings and home-cooked meals, like a repast at the Alpendurada Monastery. Investigate Figueira de Castelo Rodrigo, laced by narrow and steep alleys, and Lamego, a key stop on an annual religious pilgrimage. Take time to sample bola de Lamego -- a broad, flat slab of bread stuffed with smoked ham -- along with a glass of Raposeira sparkling wine.
An eight-day trip
, without the Lisbon stay, also is available.
Sample the Northwest Islands
American Cruise Lines' "
Puget Sound and San Juan Islands
," a peaceful, eight-day tour of Washington state waterways, seems to have been built around fine dining cities. Guests sail round trip from Seattle, where Pike Place Market draws include freshly caught seafood (flying fish tossed among vendors offer a great photo op) and the first-ever Starbucks, opened in 1971. Restaurants in Friday Harbor, port of call for Day Four, emphasize seasonal ingredients grown or, in the case of lamb and pork dishes, raised in the upper isles. Port Townsend is an ideal spot for celebrating autumn, especially with the organic wares at cider-maker Alpenfire Orchards. And multicultural cuisine is a highlight of Poulsbo, known as Little Norway in honor of its Scandinavian settlers, where Sluys Poulsbo Bakery serves up lefse, a traditional flatbread, and Tizley's Europub pairs spaetzle and schnitzel with local craft beers. This vacation is hosted by the 100-passenger American Spirit, with tempting menus of its own provided in a cozy onboard dining room. Four departures are scheduled for October.
-- Jennifer Davoren and Van Sheridan
The information in this story was accurate at the time it was published in January/February 2013. Please visit
Vacations To Go
or call (800) 338-4962 for current rates and details.
Send This Article to a Friend
Bookmark this Content
Digg it!
Reddit
Furl
del.icio.us
Spurl
Yahoo!