Meet the Oasis of the Seas
Explore Royal Caribbean's next
big thing — the world's largest cruise ship
By Andy Dimond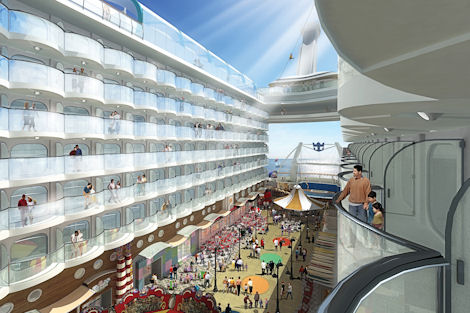 Royal Caribbean International
(Scroll down to see a slide show.)
I
n recent years,
Royal Caribbean International
has been at the cutting edge of cruise ship design, building bigger vessels than the world has ever seen and loading them with state-of-the-art features to dazzle and pamper their guests.
In 2009, the line's Freedom-class ships, each of which has a capacity of 4,375 passengers, gave up their three-year run as the world's largest cruise vessels when the company's much-anticipated, 5,400-guest
Oasis of the Seas
made its maiden voyage. With a length of 1,181 feet, 220,000 gross registered tons and 16 passenger decks, the Oasis of the Seas is a true wonder of the world, a marvel of engineering and a destination in its own right. A crew of 2,150 attends to all the needs of this floating city.
Apart from its sheer size, the ship is distinguished by a host of features unique to Royal Caribbean's new Oasis-class breed. (Sister ship
Allure of the Seas
was constructed in Finland and made its maiden voyage in December 2010.) It boasts, for example, the industry's first loft suites. These two-story accommodations have upper-level bedrooms that overlook a living area below, as well as private balconies, guest and master baths and floor-to-ceiling, double-height windows.
The most striking conceptual leap forward is the division of the ship into seven "neighborhoods," each one with a theme: Central Park, Boardwalk, the Royal Promenade, the Pool and Sports Zone, Vitality at Sea Spa and Fitness Center, Entertainment Place and Youth Zone. According to a statement from Royal Caribbean, these neighborhoods give guests "the opportunity to seek out relevant experiences based on their personal style, preference or mood."
Central Park, for example, is centered around a public square abundant with greenery. It provides a tranquil place to relax during the day, and an atmospheric setting for alfresco dining, entertainment and street performances in the evening. The park is longer than a football field and includes winding paths, tropical foliage, seasonal flowers, trees and quiet reading corners. More than 300 staterooms can be found in this neighborhood, overlooking Central Park's scenery from up to six decks overhead.
The Royal Promenade is the heart of the ship, lined with many dining and shopping destinations such as the Mondo Coffee Bar, a champagne bar, Sorrento's pizzeria, the Cafe Promenade and Boleros, a Latin-style bar. Guest services, a photo gallery and the shore excursion desk are here, too, as are shops selling jewelry, perfumes, accessories and Royal Caribbean-themed merchandise. A mezzanine level overlooks the promenade, which makes for great people-watching, and there's a wild feature called the Promenade Bridge, a chrome globe that unfurls into a platform and extends over the crowds during entertainment events.
But by far the star attraction of the Royal Promenade is Rising Tide, a "levitating bar" that travels up and down three decks. While you sip your cocktail, you'll ascend from the Promenade through Central Park and up into the sunshine, then slowly glide back down.
Boardwalk is themed as a beachside playland and features the first carousel at sea, a full-size beauty with 21 figures carved from poplar wood, including zebras, giraffes and a crowned frog prince. Storefronts here purvey classic boardwalk-style staples like ice cream, stuffed animals and doughnuts. Casual dining includes Johnny Rockets and a seafood bar. It all faces the AquaTheater at the rear of the ship, which turns from a pool by day into a 600-person outdoor amphitheatre featuring fountains and acrobatics shows by night. It promises to be an impressive setting, framed by two giant rock-climbing walls and surrounded by the ocean.
The Pool and Sports Zone has plenty of diversions, starting with four pools: the H2O Zone for kids, which features a giant octopus that sprays water from its tentacles; the sports pool, reserved for lap swimming and water sports; the beach pool with a sloped entry, new for Royal Caribbean; and the traditional pool, which boasts more sun loungers than any other onboard pool in the world. There also are 10 whirlpools.
Other recreational offerings include miniature golf, volleyball, basketball and pingpong. A glass-enclosed solarium is a scenic place to cool down afterward, or if you've still got energy to burn, catch a wave on one of two FlowRider surfing simulators. The one-of-a-kind zipline promises even greater thrills: Daredevil passengers can soar over the open-air atrium, with the Boardwalk nine decks under their feet.
The Vitality at Sea Spa and Fitness Center is devoted to your well-being. It's outfitted with the latest equipment -- 158 exercise machines -- plus free weights and classes in Pilates, yoga, spinning, kickboxing and Kinesis, a full-body, no-impact workout that engages several muscle groups at once through fluid, natural movements. You'll also find the largest jogging track at sea, partially covered in case of rain.
Spa therapists in solo and couples' massage suites can soothe sore muscles, and staffers in the full-service beauty salon will take care of your hair, nails and makeup. The Thermal Suite has heated tile loungers, saunas and steam rooms. There's even a "youth spa" for kids and teens. If you're hungry, the Vitality Cafe serves up smoothies and healthy snacks and entrees.
Entertainment Place is the nightlife district of the Oasis of the Seas. The main theater seats 1,380 for two original productions and one headliner show each week. The ship debuted with an exclusive production of the Broadway hit "Hairspray."
The Comedy Live venue mixes daytime family-oriented shows with nighttime adult comedy. The walnut-paneled interior of Jazz on 4, inspired by Prohibition-era Chicago, provides a velvet-and-Swarovski-draped space to listen to jazz and blues. Or, head to the Blaze nightclub for something with a more energetic beat. At the Studio B ice-skating venue, guests can attend scheduled spectaculars or strap a pair on and go for a spin themselves. Finally, Casino Royale is heralded as the largest casino at sea, with 450 slot machines, 27 table games (including blackjack, roulette and craps) and a poker room.
Royal Caribbean's award-winning Adventure Ocean program is headquartered in the
Youth Zone
. Amenities and activities are separated into six supervised age groups: Royal Babies (ages 6 to 18 months), Royal Tots (18 to 36 months), Aquanauts (3 to 5 years), Explorers (6 to 8 years), Voyagers (9 to 11 years) and the teen program (12 to 17 years). Features for younger cruisers include a gym and game area, arts and crafts at Imagination Studio and The Workshop, and interactive "edutainment" at the Adventure Science Lab.
Meanwhile, teenagers have a spot called Fuel, which is a disco with a "mocktail" bar, dance floor and chill-out room. There's also the outdoor Back Deck for teens only, and a lounge called the Living Room, where they can hang out, watch movies and play video games. One of the coolest activities Royal Caribbean offers is the Scratch DJ Academy, a turntablism master class where teens can have their own adventures on the wheels of steel.
With so much to see and do on board, passengers may not want to get off the ship. But the Oasis of the Seas will sail two enticing, seven-day Caribbean itineraries from
Fort Lauderdale, FL
. One calls at
St. Thomas
in the U.S. Virgin Islands,
St. Maarten
in the Netherlands Antilles, and the Bahamian capital of
Nassau
. The ship alternates this itinerary with another route that goes to Royal Caribbean's private
Labadee
resort in Haiti, the Mexican island of
Cozumel
and a scenic resort city to the south,
Costa Maya
.
Both itineraries incorporate three full days at sea, giving passengers some time to discover the many delights and surprises of this groundbreaking vessel.
Prices:
National cruise discounter Vacations To Go offers
weeklong Caribbean sailings
aboard the Oasis of the Seas ranging from $749 per person, depending on the departure date.
Information:
Visit
Vacations To Go
or call (800) 338-4962.
The information in this story was accurate at the time it was published in July/August 2009.
Send This Article to a Friend
Bookmark this Content
Digg it!
Reddit
Furl
del.icio.us
Spurl
Yahoo!