July: Sparkle and Spectacle
Toast kaleidoscopic displays in the night sky with a glass of bubbly,
or feel the rhythm of the Jamaican and Danish music scenes
By the Vacations Staff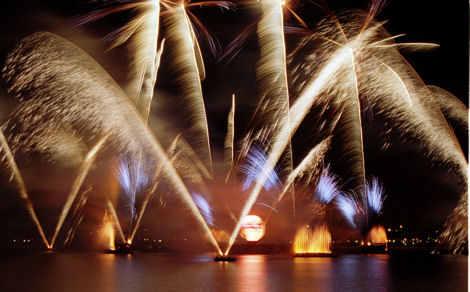 Walt Disney World Resort
(Scroll down to see a slide show.)
A Fourth of July in Florida
Expect Tinkerbell to go all out as she sprinkles her pixie dust across the evening sky during the annual Fourth of July extravaganza at
Walt Disney World Resort
in Florida. Fireworks displays are a regular occurrence year-round in the fun-filled land of Mickey and Minnie, but the celebrations in honor of America's 237th birthday promise to be especially grand. Last summer's program included patriotic pyrotechnics at the Magic Kingdom that honored the country's forefathers. Epcot's "IllumiNations: Reflections of Earth" -- a 14-minute spectacular of fireworks, fountains, lasers and videos displayed on a 350,000-pound globe -- was set to a score of pride-swelling overtures. Meanwhile, live rock 'n' roll music accompanied the show in the sky at Disney's Hollywood Studios, another of the four themed parks at this favorite family destination in central Florida. Select Disney hotels, like the Victorian-style
Grand Floridian Resort and Spa
, provide free transportation to the parks via bus, monorail and boat.
Champagne celebrations
Raise a glass of bubbly in a heartfelt toast: "Vive la France!" On July 14, France observes Bastille Day, similar to the United States' Independence Day. The July 12 departure of Insight Vacations' "
Country Roads of Champagne, Alsace and Burgundy
" tour arrives just in time for the grand fete, and the wine region of Champagne provides an effervescent setting to explore this country's holiday traditions. Visit Epernay, where prestigious Moet & Chandon produces Dom Perignon, to learn the secrets of making the sparkling libation and explore the tunnels where the bottles are aged. The nine-day itinerary will continue to Verdun, the site of a heroic World War I battle, and the Alsace region, noted for beautiful vineyards and quaint timbered homes. Other stops include the town of Beaune, famous for grand cru wines, and Burgundy's capital, Dijon, where guests will dine on fabulous haute cuisine -- with a dash of mustard on the side, of course. If you can't make it in July for Bastille Day revelry, Insight offers additional departures from April through October, and all promise to be festive.
Venice illuminated
Join in a Venetian tradition dating to 1577. On July 20, boats bedecked with balloons and strings of glowing lanterns fill St. Mark's bay as their passengers and crew await 11:30 p.m., when the skies over the Italian city of canals burst into a colorful fireworks display during the Festival of the Redeemer. Started as a citywide celebration commemorating the passing of a plague that had swept through the population, the event includes gondola races, wine and feasting -- in the streets and on the water -- and a pilgrimage across a pontoon bridge to Giudecca Island, where mass is held at Il Redentore church, an imposing structure of white marble and terra-cotta brick commissioned to stand as a symbol of thanks for the plague's end. Monograms' four-day "
Venice Getaway
" puts you in the city on July 19, in time for the action, and provides your hotel stay, guided sightseeing with admission to Marciana Library and the Correr and National Archaeological museums, and daily breakfasts.
The White Nights of Russia
St. Petersburg, Russia, benefits from the summer phenomenon that affects other northern cities like Oslo, Norway, and Anchorage, Alaska: extra hours of sunlight.
At the peak in June and July, the city is aglow with twilight nearly the entire night, and travelers and residents enjoy fireworks, longer hours at bars and cafes, and late walks to watch bridges across the Neva open for ships to pass (this happens between about 1 a.m. and 5 a.m.). Mariinsky Theatre's Stars of the White Nights Festival brings almost daily ballets, operas and concerts from the end of May through mid-July. Experience the midnight sun as part of a more expansive Russian journey on a
river cruise
. Operators such as Viking River Cruises, Scenic Tours and Uniworld Boutique River Cruise Collection offer
June and July sailings
on the Volga and other waterways between St. Petersburg and Moscow, with multiple nights in both cities as well as riverside stops like Golden Ring city Uglich and medieval village Goritsy.
Reggae rhythms in Jamaica
One of the largest gatherings of reggae artists and other international acts will be showcased at the Reggae Sumfest in
Montego Bay
on July 21-27, drawing fans from around the world. The concert extravaganza celebrated its 20th anniversary (and the 50th anniversary of Jamaican independence) last year. The best in the genre have graced Sumfest's stages in the past, like Grammy Award-winning Shabba Ranks, Lady Saw and Beenie Man, plus top-of-the-chart performers like Alicia Keys, Usher, LL Cool J, Mary J. Blige and Missy Elliott. This year's lineup will be released in May. Infused with infectious beats and passionate lyrics, reggae first gained attention in the 1960s and evolved into an integral part of modern-day Jamaican culture. Visitors to the isle can learn more about the life of the godfather of reggae through the Bob Marley Experience, offered as a shore excursion on
Royal Caribbean International cruises
during calls at Falmouth. Tour his birthplace and grave and then dine on spicy Jamaican pork and chicken during a lunch stop.
Copenhagen's cool jazz
Jazz syncopations seem to pervade every corner of
Denmark's capital
during the city's joyous tribute to one of the 20th century's standout musical styles. The Copenhagen Jazz Festival draws more than 250,000 enthusiasts a year to hundreds of concerts in an eclectic array of about 100 venues. There are free outdoor shows, jam sessions in clubs and impromptu acts in squares and on the streets. You might stumble on performances in some unexpected places, like an old trawler, a defunct printing plant and the formal gardens of the Carlsberg Breweries. Even kid-friendly concerts are scheduled to win over some young converts. Numerous
Northern Europe cruise itineraries
will stop in Copenhagen during the 10-day event; or, opt for a sailing that starts in the Danish city and fly out a day or two ahead to savor the sounds.
-- Elizabeth Armstrong, Alexis Loyd and Van Sheridan
The information in this story was accurate at the time it was published in January/February 2013. Please visit
Vacations To Go
or call (800) 338-4962 for current rates and details.
Send This Article to a Friend
Bookmark this Content
Digg it!
Reddit
Furl
del.icio.us
Spurl
Yahoo!