Family Adventures in Alaska
Cool off next summer on a cruise of the 'Last Frontier'
By Jennifer Davoren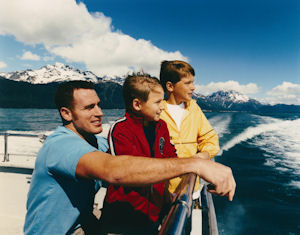 Royal Caribbean International
W
e're almost halfway through the school year, and summer will be here before we know it. Parents faced with the prospect of heat-filled days, bored kids and frayed nerves will soon be asking themselves: Where should we go on our family vacation this year?
Look north to
Alaska
, a 600,000-square-mile land that dazzles visitors of all ages. With its temperate climate, arresting scenery and countless adventures, Alaska offers a cool balm for the summer doldrums.
There's no better way to visit this rugged and remote terrain than aboard a cruise ship. You'll unpack your suitcases just once and settle in for an easygoing trip from one intriguing port to the next. Your meals, snacks and many onboard diversions are covered in your cruise fare, making this an easy-to-budget family getaway.
The start of the peak season for Alaska cruising, June to August, is still seven months away, but families should start researching itineraries and ships as soon as possible.
"If you want adjoining cabins in Alaska next summer, or the so-called 'family suites' that accommodate five or more passengers, I'd suggest you start looking now," says Cheryl Cunningham, director of special projects and group sales at
Vacations To Go
, a leading cruise discounter. "These accommodations are limited and usually fill up well in advance."
There are two types of Alaskan itineraries. Inside Passage cruises usually are round-trip sailings from
Seattle
or
Vancouver
that travel as far north as
Juneau
, the Alaskan capital. Gulf of Alaska cruises are one-way trips that go through the Inside Passage and then turn northwest to
Whittier
or
Seward
, ports for bustling Anchorage. These also can travel in the reverse direction, ending in Vancouver or a similar Pacific port. Both Inside Passage and Gulf of Alaska cruises spend a week or more at sea, giving passengers plenty of time to spot sea life, plan shore excursions or snap photos of the rugged coast as they sail past.
Then there are cruise tours that combine an ocean voyage with a few days of exploring Alaska's interior by train or motor coach. Passengers often choose to venture into
Denali National Park
, where the state's "big five" -- caribou, Dall sheep, grizzly bears, moose and wolves -- make their home at the foot of towering Mount McKinley. Other land tours take on the Yukon Territory, tracing the history of the Klondike gold rush through a series of tiny frontier towns. Or, you can head east into the Canadian Rockies, combining Alaskan points of interest with the scenic mountain lures of British Columbia and Alberta.
These land-and-sea packages provide a more personal and in-depth experience in a vast land. "You see less than 1 percent of the state from a cruise ship," says Jeannie Robertson, a longtime Alaskan resident and business development manager for Holland America Line. "It takes longer to fly from Miami to Anchorage than it does to fly from Miami to Paris. And people would never consider going to Paris, seeing the Eiffel Tower and going right home."
Alaskan cruises are offered by a number of cruise companies, including
Carnival Cruise Lines
,
Holland America Line
,
Norwegian Cruise Line
,
Princess Cruises
and
Royal Caribbean International
. Each line packs its northbound ships with plenty of family-friendly fun, with supervised children's activities, kids-only swimming pools and teen clubs among the offerings.
However, most itineraries focus on the destination itself through a series of enticing shore excursions that delve into Alaska's pioneer history, native culture, rugged terrain and a local love of adventure -- an enthusiasm that might prove infectious among young travelers, Robertson says.
"What an incredible gift, to see Alaska as a kid. To not feel so urbanized, to get away from Game Boys and computers for a while. There's no cell service in the Yukon territories," she laughs. Families get the chance to connect not only with each other, but with a new and fascinating destination.
Carnival passengers, for instance, can disembark in
Skagway
for a dogsled adventure. Children of all ages, even infants, can hop aboard a sled -- equipped with wheels for summer runs -- and race across the tundra. The excursion, called "Dogsled Discovery and Mushing Camp," also includes a stop at the huskies' home base, where kids can learn about sledding equipment and play with the puppies.
Mining, like mushing, plays a big role in Alaskan history. Norwegian offers "Underground Juneau Gold" when its ships stop in the state capital. Guides hand out hard hats and take passengers into a working mine. Equipment demonstrations and meet-and-greets with experienced miners tell the story of the Alaska-Gastineau Mill, once the world's largest supplier of gold nuggets.
Fishing is another passion in this corner of the world.
Icy Strait Point
, Alaska's newest cruise port, has a strong connection to the sea and is home to a historic cannery. Families disembarking from Royal Caribbean ships can sign up for a day of halibut fishing; the excursion is open to children as young as 6 years old. Older kids who crave heart-racing adventure can zoom along the longest zipline in the world here. It whisks riders over 5,330 feet of wooded mountainside and ends in a 1,300-foot vertical drop to Icy Strait's beachfront.
Seward
is the westernmost point of many Alaskan itineraries. Thanks to surrounding glaciers, this city by the sea is packed with wildlife-watching opportunities.
"There are two highlights here that are great for all ages. One is the Alaska SeaLife Center, an amazing aquarium. Two-story tanks let you see puffins diving for fish," Robertson says, listing an educational film center and a toy-filled gift shop as additional perks.
"The other highlight is
Kenai
Fjords National Park. This whole island area is rich with sea life. You're likely to see humpbacks, orcas, puffins, sea lions and seals -- the whole shebang. And if you don't see all of those, you're going to see a lot of them, no matter what the weather's doing," says Robertson.
No visit to Alaska would be complete without a stop at
Denali National Park
, says Robertson. Though every Alaska-bound cruise line offers sightseeing day trips here, 20 cruise tours offered by Holland America in 2009 will feature a "Double Denali" package, which includes two nights at a classic wilderness lodge just outside the 6 million-acre park and a guided tour of known wildlife haunts.
This double dose of Denali is a rare treat, Robertson notes: "The animals aren't on our payroll -- they don't appear whenever we want them to. Spending two days here gives you twice as many opportunities to see them." May and June are ideal months to visit, as many animals have emerged from hibernation, cubs and calves in tow, to stretch their legs.
Alaska
offers plenty of room to run for animals and children alike. For more information on cruises to this enchanting destination, including a list of destinations, departure dates and deeply discounted travel rates, visit
Vacations To Go
or call (800) 338-4962.
The information in this story was accurate at the time it was published in November/December 2008. Please visit
Vacations To Go
or call (800) 338-4962 for current rates and details.
Send This Article to a Friend
Bookmark this Content
Digg it!
Reddit
Furl
del.icio.us
Spurl
Yahoo!