Experience the Caribbean on a Cruise
Travelers on a budget will find very affordable sailings to these tropical waters
By Emily Coleman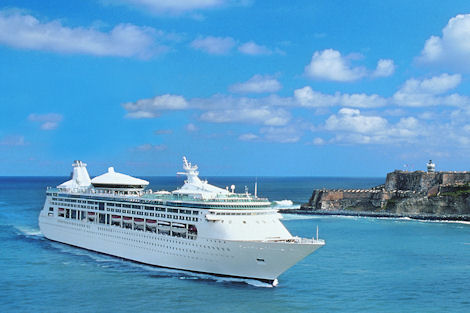 Royal Caribbean International
T
he goal for most people on a Caribbean vacation is clear: Escape from it all and have some fun in the sun. Influenced by scenes on postcards and the lyrics of Jimmy Buffett songs, everyone has their own idea of the perfect tropical paradise, one of white-sand beaches that disappear into pristine waters and sea breezes that ripple through palm trees. Those who choose to
explore the Caribbean on a cruise
will likely find that the real thing surpasses their fantasies.
For Zack Potter, a travel agent manager at national cruise discounter
Vacations To Go
, a trip to the Caribbean means peace and tranquility, far from the schedules and stress of everyday life. "You can do what you want on your own time," he says.
The Caribbean is one of the most affordable cruising regions, offering a great variety of ships and itineraries departing from numerous U.S. ports. The most popular departure points are in Florida --
Miami
is the world's busiest cruise port, with multiple ships setting sail each day. Cruises also depart from
Fort Lauderdale
,
Port Canaveral
and
Tampa
.
Gulf Coast departure cities include
Galveston, TX
;
Mobile, AL
; and
New Orleans
. A limited number of cruises are available from
Boston
and
Norfolk, VA
, and there also are sailings from
New York City
and
Bayonne, NJ
. Itineraries typically last between five and 10 days, though you can spend up to two weeks wandering through the Caribbean on a ship.
Vacations To Go
offers deep discounts on hundreds of Caribbean cruises, frequently slashing original brochure rates by at least half, and often more. We checked the offerings and found these enticing getaways during the next few months, all at prices that won't leave a gaping hole in your bank account.
An inside cabin aboard the April 18 sailing of the
Carnival Liberty
goes for $509 per person, a savings of 71 percent over the brochure price. The ship travels round trip from Miami to
Puerto Rico
,
St. Maarten
and
St. Thomas
for seven days.
Set sail for 10 days with
MSC Cruises' Lirica
and take in alluring ports such as
St. Lucia
,
Antigua
,
Tortola
and the
Dominican Republic
. The March 24 round-trip voyage leaves from Fort Lauderdale and starts at $699 per person, a savings of 57 percent.
A weeklong round-trip voyage from Galveston to
Jamaica
, the
Cayman Islands
and
Cozumel
is reduced from $1,669 to $699 per person for an inside stateroom, or from $1,919 to $849 for an outside cabin. The
Carnival Conquest
sails this itinerary on May 10.
The brand-new
Ruby Princess
offers cabins for as low as $599 -- a savings of 52 percent -- on its March 28 cruise of the Western Caribbean, sailing round trip from Fort Lauderdale. Upgrade to an ocean-view cabin for just $50 more.
The Caribbean generally can be divided into three parts: Western, Eastern and Southern. Closest to the Gulf of Mexico, the Western Caribbean is the most popular of these sailing regions, comprised of ports along Mexico's Yucatan Peninsula and Belize, as well in Jamaica and the Cayman Islands.
The island of
Cozumel
is a common stop, about 15 miles from the Mexican mainland. Beneath its sparkling waters lies the Great Mayan Reef, the world's second largest reef and home to several hundred species of fish that can be viewed while snorkeling, scuba diving or during a submarine tour. On his recent visit to Cozumel aboard the
Carnival Conquest
, Potter sought to get away from the crowds. "We rented a Jeep and drove around the island," he says. "We went to some secluded beaches -- you feel like you have the whole beach to yourself for miles."
South of Cozumel, ships stop at
Belize City
. Visitors can hop in a Jeep and venture into the jungle to view crocodiles, parrots and howler monkeys, or ramble down a river on a boat tour. Guided sightseeing excursions in town offer a sample of the local culture, highlighting the marketplace, cathedrals and restored colonial mansions.
To the east, ships frequently call at
Grand Cayman
in the Cayman Islands and
Ocho Rios
in Jamaica. Grand Cayman has warm waters with virtually no current, luring snorkelers and divers looking for close-up views of neon fish, fragile coral reefs and green turtles. Those who prefer viewing the wildlife without getting wet can ride in a glass-bottom boat or submarine. Ocho Rios is home to the famous Dunn's River Falls, a 600-foot-high staircase of cascading water.
Western Caribbean itineraries also can incorporate a stop at
Key West, FL
. The tiny island, just 2 miles by 4 miles in size, packs a lot of eclectic flair. You can tour Ernest Hemingway's home, learn about history's most infamous pirates at the Pirate Soul Museum, or browse the galleries along Duval Street.
Eastern Caribbean cruising grounds start east of Cuba, roughly stretching from the
Dominican Republic
,
Turks and Caicos
and
Puerto Rico
to the shores of the U.S. Virgin Islands, British Virgin Islands,
St. Maarten
and
St. Martin
.
Founded in 1521, the Puerto Rican capital of
San Juan
is the second oldest city in the Americas. Its rich history is evident in the district known as Old San Juan, graced by cobblestoned streets, narrow walkways and picturesque colonial architecture. Passengers can join a shore excursion to El Yunque National Forest, the only tropical rain forest in the U.S. territories. History buffs can investigate El Morro, the Spanish fortress that has sat high above the water for centuries.
St. Thomas
in the U.S. Virgin Islands is another favorite stop in the Eastern Caribbean. Heart-shaped Magens Bay is frequently labeled one of the world's most beautiful beaches, and it is best viewed for the first time from an overlook called Drake's Seat, perched high above the coast. "You look down and see the pure-white sands and all the shades of blue in the water, then wind your way down to the beach," says Sorrell Warren, director of customer service for Vacations To Go. He headed to Magens Bay when his ship, Royal Caribbean International's
Adventure of the Seas
, stopped in St. Thomas.
St. Thomas has several gorgeous beaches that are worth visiting. And when you've had enough of the sun, the island's Danish-named capital, Charlotte Amalie, is well-known for its duty-free shopping.
To the east, two nations share one island -- France occupying the northern half,
St. Martin
, and the Dutch claiming the southern half,
St. Maarten
. Cruise ships more commonly stop in St. Maarten, docking close to prime attractions. Warren especially appreciated the proximity to a variety of activities. "I did a sailboat race there, took a Segway ride and rode a Jet Ski -- all within walking distance of the ship," he notes.
The Southern Caribbean encompasses a string of tiny island paradises that reach down to the coast of Venezuela in South America. It's the farthest Caribbean region from the U.S. mainland, and travelers looking for a weeklong itinerary in these waters must typically fly to
San Juan
or
Barbados
to board a ship. You can find Southern Caribbean departures from
Fort Lauderdale
and
Miami
, but these cruises last nine days or more. Cruises of the Southern Caribbean often pack numerous ports into the schedule, making them great for travelers who want to see as many places as possible.
Among the possible stops is
Antigua
, a sailing enthusiast's dream. In 1784, Horatio Nelson landed here to develop a British naval stronghold in the Caribbean; visitors can tour Nelson's Dockyard National Park to learn about the island's maritime history. Or, join the yachting crowds that descend on Antigua in April for Sailing Week. It's a great location year-round for windsurfing, waterskiing, snorkeling or just strolling powdery beaches.
Some visitors to Antigua indulge their sense of adventure, like Warren, who tried a ziplining excursion. "You have to take this leap of faith and step off the platform," he says, "but then you just go flying through the trees." It's an example of the many active pursuits that can be found beyond the beaches throughout the Caribbean.
Barbados
is a British-influenced tropical paradise where you can explore natural caverns and forests of flowers and lush vegetation, or visit dignified estates and plantation homes in the countryside.
St. Lucia
is characterized by the Pitons, a pair of velvety green volcanic peaks. This island lays claim to what's billed as the world's only "drive-in" volcano -- a bubbling landscape of sulfurous waters at Sulphur Springs Park.
The so-called ABC islands of
Aruba
,
Bonaire
and
Curacao
boast a Dutch heritage that's reflected in colorful architecture. All three offer interesting snorkeling and diving experiences, from the miles of coral reef in Curacao to the wreck of a World War II German freighter in Aruba.
No matter what your itinerary, a trip to the Caribbean guarantees a soothing tropical escape, where sandy beaches and gentle waves await travelers who yearn to realize their postcard dreams.
Information:
You can learn more about Caribbean itineraries and ports and find deeply discounted sailings with
Vacations To Go
. Or, call (800) 338-4962 to speak to a cruise counselor.
The information in this story was accurate at the time it was published in January/February 2009. Please visit
Vacations To Go
or call (800) 338-4962 for current rates and details.
Send This Article to a Friend
Bookmark this Content
Digg it!
Reddit
Furl
del.icio.us
Spurl
Yahoo!