Eurodam in the Caribbean
Holland America's magnificent new ship delights a pair
of first-time cruisers
By Katelyn Davies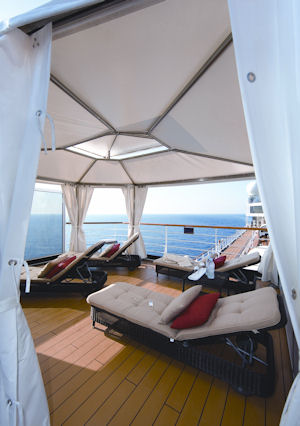 Michel Verdure/Holland America Line
(Scroll down to see a slide show.)
I
f you ever find yourself in
St. Thomas
, the tourist hub of the U.S. Virgin Islands, resist the urge to spend time and money in the many duty-free shops clustered near the port of Charlotte Amalie. Rather, hail one of the open-air taxis and ride to the other side of the island to Sapphire Beach.
Here, palm trees and luxuriant vegetation line a lovely beach, and the green mountains of neighboring islands can be seen in the distance across deep-blue waters. Island ducks chase the waxing and waning surf, and colorful stones gather where the currents deposit them. Thirsty? Stroll up to a hut that serves a drink known as the painkiller, a local favorite concocted of pineapple, coconut, nutmeg and rum.
My boyfriend, Zach, and I spent a peaceful day at Sapphire Beach when our cruise ship, the brand-new
MS Eurodam
, called at the U.S. Virgin Islands during a seven-day
Caribbean
sailing. Reggae music satisfied my soul as we swam and sunbathed on one of the most beautiful beaches I've ever seen. It was difficult to leave, but Mother Nature provided a reason as afternoon storms rolled in.
Back on the ship, we watched from our cabin's private balcony as the Eurodam pulled away from St. Thomas and the dark storm that hovered over the island. As the sun began to set and streaks of yellow and orange shone beyond the gray clouds, I realized I was happy to be back at home on the ship after all.
As first-time cruisers, Zach and I were eager to dive headlong into the experience. We boarded the Eurodam in
Fort Lauderdale
, where the newest ship of the
Holland America Line
-- the premier vessel of its Signature-class fleet -- was based for its inaugural season of Caribbean cruising. After checking into our stateroom and attending the obligatory lifeboat drill, we went exploring.
At 86,700 gross tons, the Eurodam is Holland America's largest ship to date. Measuring 936 feet long, it has 11 decks and 1,052 staterooms accommodating 2,104 guests. The Eurodam boasts nine bars, seven restaurants and cafes, the Greenhouse Spa, two outdoor pools (one with a retractable roof), two Jacuzzis, a show lounge, a casino, a screening room for films and ample duty-free shopping opportunities. Thanks to the provided ship maps and helpful staff, we managed to see a fair amount of the Eurodam and make it back to our stateroom in time to get ready for our first dinner in the Rembrandt Dining Room.
We quickly befriended our tablemates, Mariela and Julio from the Bronx; they ended up being vital to our revelry on board and in port. The wine and conversation flowed as we enjoyed a four-course meal and the commendable service of Neil, our waiter for the week. The two-level main restaurant is furnished with lush, deep-red chairs sporting black-and-white paisley backs, perfect for lounging a little longer after a meal. Later that evening we made our way to the piano bar, where a musician tickled the ivories and we sang along to Neil Diamond classics. We were well on our way to a fantastic stay aboard the
Eurodam
.
The next day, we were among a lucky group that took a behind-the-scenes tour of the kitchens and storerooms led by the ship's culinary manager, Mark Zeller. It offered some fascinating insight into one of my favorite aspects of cruising: the food.
The galleys employ 150 people, including chefs, sous chefs, bakers and butchers, plus an additional 223 service staff members. The sheer amount of food and people involved in the procurement, preparation, transport and service of meals is astonishing. The bakery prepares more than 20 different kinds of bread, including 5,000 dinner rolls and 140 loaves daily. A special "soup cook" crafts all soups from scratch in custom 80-gallon kettles. In the galley that serves the Pinnacle Grill -- the intimate, reservations-only restaurant -- a unique clamshell grill reaches a temperature of 1,600 degrees Fahrenheit and guarantees any steak to be cooked to perfection.
The ninth-floor Lido Deck features buffet-style dining and a variety of fresh, cooked-to-order specialties. The Canaletto Restaurant has table-side service for dinner, specializing in traditional, family-style Italian dishes. A poolside pizzeria offers hand-tossed pies whole or by the slice. Our meals at each of the restaurants were quite good, but two exceptional spots stood out: the Tamarind Restaurant and Pinnacle Grill.
The Silk Den Lounge, next to the reservations-only Tamarind Restaurant, set the mood for the meal to come. We sipped specialty Asian-themed cocktails, such as a "saketini" in a wasabi-rimmed glass garnished with fresh raspberries, while lounging on a plush, purple velvet couch under rustic, wood-paneled ceilings and glowing Chinese lanterns.
The meal at Tamarind began with a traditional Vietnamese pho soup of chicken, wild lime and rice noodles. It was followed by a choice of appetizer or a selection from the sushi and sashimi menu. While I enjoyed a trio of spring rolls -- crispy duck, vegetable and lobster -- Zach opted for the raw tuna and octopus, which he still raves is the most phenomenal sashimi to ever grace his palate.
Tamarind's entrees fall into four groups -- water, wood, fire and earth -- reflecting the Chinese elements. When combined with the fifth element, the metal of the cooking pan and utensils, they create unique and clean pan-Asian flavors that are well worth the $15 per-person surcharge.
We visited the Pinnacle Grill on our last night aboard the Eurodam. Throughout the week, Zach and Julio yearned for the 32-ounce porterhouse steak prepared on the special clamshell grill. The meat did not disappoint, and neither did the rich and creamy lobster macaroni and cheese, the perfectly tender filet mignon, or the triple dose of creme brulee, with vanilla, chocolate and coffee versions served on one plate. Bvlgari china, Riedel stemware and Frette linens graced the table, and an extensive and highly rated wine list complemented the menu.
We joined a private cooking class with the Pinnacle Grill's executive chef, Phillip Reise, a few days prior, and it only heightened our anticipation of what would be our most sophisticated and flavorful dining experience on board. For our lesson, Chef Reise prepared a chilled avocado soup, and he sauteed tiger prawns in coriander, allspice and chili powder, pairing them with mango puree and yam medallions caramelized in brown sugar and butter.
Eurodam guests can participate in cooking demonstrations and seminars in the new Culinary Arts Center, which is associated with Food & Wine magazine. Resembling the elaborate show kitchens used by celebrity chefs on televised cooking shows, the Culinary Arts Center is an innovative theater-style venue. The state-of-the-art show kitchen at sea has large plasma video screens for close-up views of the food preparation and an expansive display counter. Food & Wine also provides recipe cards and wine-tasting notes that guests can take home.
Although my nearly gluttonous meals on the Eurodam didn't exactly psych me up to slip into my bikini, the lure of the beaches at each of our Caribbean ports was enough to remind me that I was on vacation, where overindulgence, sun, sand and surf go hand in hand.
Our first stop was
Grand Turk
, part of the Turks and Caicos cluster of more than 40 islands and cays south of the Bahamas. In recent years, Grand Turk has popped up on more cruise itineraries thanks to the development of the $42 million, 14-acre Grand Turk Cruise Center. With recreation areas, shops, an 800-foot white-sand beach, a swimming pool and private cabanas available for rent, it's easy to see why more and more ships are calling at Grand Turk.
We signed up for a miniboat and snorkel adventure. The small, motorized craft were much like rubber dinghies, with saddle-style seating for two (similar to a WaveRunner) and a steering wheel in front. Zach took the helm, and we were off with the rest of the group and our guides to our first stop, Amphitheater Reef, for snorkeling. The sun shone through the pristine waters, making it easy to spot the many colorful varieties of fish that flitted in and out of the coral below.
After ample time to swim and snorkel, we hopped back on our miniboats and raced to Pillory Beach, a beautiful, secluded stretch of sand where a hut served rumrunners. We sipped our drinks and relaxed on lounge chairs in the Caribbean sun. The long ride back rewarded us with views of historic Cockburn Town and our beautiful ship.
One of the proprietors of Jack's Shack, which provided the miniboats, is Janet Batchelor, a Canadian expat who has lived on the island for three and a half years. Zach and I spoke with Janet about her experience during Hurricane Ike, which slammed into Grand Turk in early September 2008. As a Houston resident, I was curious how such a small island coped with the same storm that damaged much of Galveston, flooded major freeways and buildings, and kept millions of Houstonians without power for weeks.
Grand Turk sustained 125 mph winds for roughly eight hours. Janet's neighbors lost their roof and all their windows, and the family was found huddled in a corner once the worst of the storm had passed. Debris littered the beaches and blocked roads. However, there was not a single casualty on the island.
When we visited, nearly two months after Ike, the beaches were clean and piles of debris were tucked away, but still visible. Janet said the people of Grand Turk really pulled together to clean up the island, although she noted that "the debris was not a major priority," but rather, "let's make sure we get a roof over everyone's head and keep them high and dry." Her home had no power for almost eight weeks, but they were lucky to escape with their lives.
Our next stop was
San Juan
, Puerto Rico, a place rich in history and culture. The Spanish empire took great care in shielding the city with thick walls, constructing fortresses to protect it from land and sea assaults. Zach and I chartered a cab to Castillo San Felipe del Morro. The six-level citadel rises 140 feet above the sea with massive 18-foot walls; construction took more than 200 years to complete. We strolled through the fort, marveling at the vast defense system and enjoying the stunning views of the harbor and San Juan's coastline.
Our walk back through the charming streets of Old San Juan led to La Plaza de las Palomas, a town square known for its overwhelming pigeon population -- they were truly everywhere. After sampling some bacalaitos, a local treat of cod fritters, from a street vendor, we ventured into the Casa Don Q Rum Distillery for some free samples.
At one time, there were more than 100 family-owned rum distilleries in
Puerto Rico
, but the decline of sugar plantations and the consolidation of the liquor industry have reduced the number of local producers. The Don Q plant is the only Puerto Rican family-owned distillery left, and they produce more than 50 percent of the rum consumed on the island. In my opinion, the citizens made an excellent choice in keeping Don Q rum around: It was very smooth, with an amazing balance of sweet and dry flavors.
Our spontaneity got the best of us when we came upon a moped rental store, and in no time we were carefully weaving through the narrow streets of San Juan on a quest to find La Playa de Condado, which my research showed to be one of the area's best beaches. After quite a few wrong turns, we managed to find the cove-shaped beach, which is backed by a strip of hotels. There were surprisingly few people around, and we relaxed in the shade of a palm tree, enjoying the tranquil afternoon and the sound of the surf.
The
Eurodam
stayed in the San Juan port until 11 p.m., which gave passengers ample time to survey the nightlife. Our new friends Julio and Mariela were Puerto Rican and had visited San Juan many times, so they served as our tour guides that evening. They led us to a few off-the-beaten-path local bars before a fabulous dinner at Ostra Cosa. This quaint, courtyard restaurant rates each menu item by aphrodisiac level, and the canopy of a huge quenepe tree and the singsong chirp of the coqui, a type of local frog, helped set the mood. After dinner, we made our way back to our Eurodam stateroom with full bellies and content smiles.
Our onboard accommodations were comfortable, with more than enough storage space in the closet and drawers beneath the bed. The luxurious down comforter, Euro-top mattress and crisp, white sheets always welcomed us, and our gracious steward left chocolates on the pillows or towels fashioned into swans. The floor-to-ceiling, wall-to-wall windows that led to our balcony provided views of the passing islands and bright stars at night.
For downtime, the library on the observation deck provides ample selections of books and magazines, jigsaw puzzles and DVDs to rent for $3 a day. Purchase a gourmet coffee drink from the Explorations Cafe and check your e-mail on the computers, or just lounge in deep-seated leather chairs and enjoy the vistas framed by panoramic windows.
My account of this cruise would be incomplete without mentioning Aquafest, a gay and lesbian charter group sailing aboard the Eurodam. Aquafest threw private parties every night, each with a different theme -- a pajama party, pool party, pirate night and an all-out Halloween bash, for example. Their revelry was infectious, and some of us managed to sneak into their "Neewollah" party ("Halloween" spelled backward), where the costumes alone were enough to create a small paparazzi storm outside the entrance to the bash.
The last stop of our weeklong getaway was
Half Moon Cay
, Holland America's private island in the Bahamas, where we registered for a horseback-riding excursion. The sensation of swimming in warm Caribbean waters atop a horse with a pad and no saddle was unique, but I'm not sure I would recommend the outing. The climb to the highest point of a relatively flat island was anticlimactic, and a few members of the shore staff seemed impatient with anyone who couldn't command their horses. We didn't ride very long, and I feel my time may have been better spent on a lounge chair.
Soon after a complimentary island barbecue lunch, storms chased us back to the ship. Even with seven days to explore, Zach and I still didn't experience everything the Eurodam has to offer. The iPod art tour showcasing the Dutch golden age of painting and the digital photography workshop, for example, will have to wait for our next sailing.
But our first cruise was more enjoyable than we could have hoped, and our morning departure from the Eurodam left me dreaming about my next cruise adventure.
Itineraries:
Eurodam
will sail seven-night cruises in the
Caribbean
from Fort Lauderdale through April 18. From May 13 through August 1, it cruises in
Northern Europe
, round trip from Copenhagen (two July sailings depart from Dover, England). There is a series of
Canada and New England
cruises in August and September. Finally, the ship returns to sailing weekly trips in the
Caribbean
on Oct. 10, where it will remain through March 27, 2010. Between seasons, Eurodam sails
repositioning
cruises.
Information:
For more information on cruises aboard Holland America's
Eurodam
, including rates discounted by 50 percent or more, visit
Vacations To Go
or call (800) 338-4962.
The information in this story was accurate at the time it was published in March/April 2009. Please visit
Vacations To Go
or call (800) 338-4962 for current rates and details.
Send This Article to a Friend
Bookmark this Content
Digg it!
Reddit
Furl
del.icio.us
Spurl
Yahoo!