4 New Ships, 4 Styles of Cruising
Find your favorite
amid these recently debuted vessels
By Elizabeth Armstrong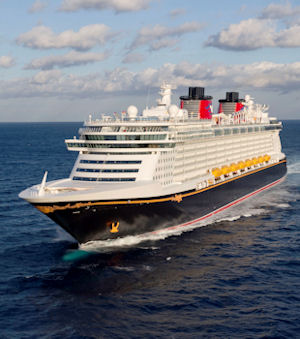 Disney Cruise Line
(Scroll down to see a slide show.)
F
rom thrilling water coasters and Hollywood-themed entertainment to onboard cooking classes and chef's tables, today's cruise ships are designed to appeal to a broad array of audiences. Below are profiles of four new specimens that have launched in the last few months. They include a megaship with an abundance of onboard entertainment and activities, an elegant ocean liner, a family-friendly ship and a vessel that's sure to indulge your culinary cravings.
To browse itineraries and see pricing for any of them, visit the websites linked below. Or call the cruise experts at
Vacations To Go
, a company that specializes in marked-down itineraries, at (800) 338-4962.
An Homage to the Classics

Queen Elizabeth
Last October, Queen Elizabeth II christened the newest ship from
Cunard
, the
Queen Elizabeth
, cementing a longstanding relationship between Britain's royal family and one of the world's most venerable cruise lines.
The queen had performed this same duty for another Cunarder, the Queen Elizabeth 2, in 1967. And prior to that, her mother and grandmother had similar honors for two other ships in the fleet.
When the company's brand-new, $634 million-dollar ship set sail after inaugural ceremonies in
Southampton, England
, it was the latest to continue more than 170 years of seagoing civility. The Queen Elizabeth keeps its heritage close to the heart, sporting the company's distinctive black and red livery, rich wood paneling, sparkling chandeliers and marble floors. The Art Deco styling was specifically chosen to pay tribute to the original Queen Elizabeth, which sailed for Cunard from 1940 to 1968 and for which the new 2,092-guest ship is named.
Elements throughout the vessel remind passengers of its famed predecessors, from the cabinets in the Midships Bar that display memorabilia from the first Queen Elizabeth to the collection of photographs in the ballroom depicting royal ship-naming ceremonies of years past.
A vaulted glass ceiling conveys a conservatory look at the Garden Lounge, which hosts occasional supper clubs with dinner and dancing. The Royal Court Theatre replicates a West End playhouse, resplendent in blue and gold decor and private boxes. The Yacht Club, named for the aft lounge of another beloved Cunarder, the Queen Elizabeth 2 (in service for the line from 1969 to 2008), offers 270-degree views and a welcoming ambience for evening cocktails.
Cunard's popular Golden Lion Pub is on board too, serving traditional English bar food. For an afternoon pick-me-up, try Cafe Carinthia -- which overlooks the Grand Lobby and offers pastries and gourmet coffee drinks -- or nibble on cucumber sandwiches and scones with clotted cream at afternoon tea in the Queens Room.
The ship marries its vintage good looks with the 21st-century amenities that passengers expect today. ConneXions is a conference and Internet center that hosts classes and enrichment programs, and there's WiFi access in the staterooms. A library houses some 6,000 books, and scheduled meetings of an onboard book club are listed in the daily program of ship activities. Kids in the Play Zone are looked after by a staff of trained British nannies.
One constant that has endured through Cunard's long history is the company's signature White Star Service. Always elegant, never obtrusive, it embodies the true ocean liner experience.
Information:
The Queen Elizabeth is currently sailing a 103-day
world cruise
that's scheduled to end in Southampton on April 19. After that, the ship sails a variety of itineraries in the
Canary Islands
, the
Mediterranean
and
Northern Europe
. On Jan. 10, 2012, it starts
another world cruise
from Southampton.
Allure of the Seas
Blockbuster entertainment is the cornerstone of the
Allure of the Seas
, the latest megaship from
Royal Caribbean International
. It shares many of the features first debuted by its sister ship, Oasis of the Seas, in 2009, like a full-size carousel, whirlpools cantilevered over the edge of the vessel and two FlowRider surf simulators.
But Allure has a few new tricks up its stacks, including a Tony-winning Broadway musical, high-flying acrobatics shows and shipwide experiences born of a partnership with a Hollywood powerhouse.
The Allure is the first Royal Caribbean ship to welcome the DreamWorks Experience, the result of an alliance with the DreamWorks Animation film studio. Characters from the hit movies "Kung Fu Panda," "Shrek" and "Madagascar" appear in parades, at themed meals and for photo ops with the kids. Shows at the AquaTheater and the onboard ice-skating rink have also received the DreamWorks touch, as have activities designed for the supervised Adventure Ocean youth program. The ship's theater screens 3-D versions of the hit flicks. In fact, Shrek's beloved Princess Fiona, in 3-D glory, christened the Allure as godmother at inaugural ceremonies last November.
"Chicago: The Musical" -- which has garnered six Tony Awards -- headlines the 1,340-seat main theater. "Blue Planet" synthesizes aerial acrobatics, music, vocals and dance into one electrifying performance, while "OceanAria" displays daredevil diving at the pool of the outdoor AquaTheater.
Other noteworthy niches include the first Starbucks at sea and three restaurants new to the line. The Samba Grill is a Brazilian-style churrascaria, where meats are sliced off skewers tableside. Margaritas, fish tacos, fajitas and other Mexican favorites hit the tables at Rita's Cantina, while bratwurst, sausages and hot dogs with all the trimmings are available at the Boardwalk Dog House. There are 26 dining and snack options in all, from an ice cream parlor, doughnut shop and cupcake bakery to an Italian trattoria, a sushi bar and a wine bar serving cheese and tapas.
The Allure of the Seas offers the signature neighborhood motif introduced by the
Oasis
, with seven distinctly themed areas like lushly landscaped Central Park, the Youth Zone and the Pool and Sports Zone. Passengers can choose from 37 categories of accommodations, including two-story loft suites and inside cabins with balconies overlooking Central Park.
And, like its sister vessel, the Allure is 16 decks high, weighs 225,282 tons and carries 5,400 guests at double occupancy. However, the Allure one-ups its twin in one detail: It's 5 centimeters longer.
Information:
The Allure of the Seas alternates weeklong
Eastern Caribbean
and
Western Caribbean
cruises from
Fort Lauderdale, FL
. Ports of call include
Labadee
-- Royal Caribbean's private stretch of beach in Haiti --
Costa Maya
and
Cozumel
in Mexico,
St. Thomas
in the U.S. Virgin Islands and Dutch-influenced
St. Maarten
.
Disney Dream
Before she was a Grammy- and Oscar-winning singer and actress, Jennifer Hudson performed as a cast member in shows aboard the
Disney Magic
, part of the
Disney Cruise Line
fleet. Hudson came full circle this January, when she presided as godmother to the company's first new ship in 12 years,
Disney Dream
, during christening ceremonies in Port Canaveral, FL.
It took more than a sprinkling of pixie dust to pull off the lavish production, which featured the entire cast of Disney characters. For the climactic moment, a helicopter lifted a 16-foot Champagne bottle from its offshore perch and swung it against the bow as fireworks shot from the ship and the entire crew cheered from portside balconies.
Every passenger is made to feel special the moment they step aboard the 4,000-passenger vessel, whose horn can bellow the first seven notes of "When You Wish Upon a Star" and other familiar Disney melodies. Each family is heartily announced as they enter the opulent lobby for the first time: "Please welcome aboard the Smith family!" For the rest of their voyage, they're immersed in a Disney experience that delights the kids and likely delivers a sea of nostalgia to many of the parents.
The ship combines the timeless appearance of an ocean liner with touches of whimsy developed by the company's Imagineers, its creative force. "Enchanted art" comes to life when you approach it, changing from a still image to one that's animated with sound. Inside staterooms have sea views, thanks to a "porthole" that provides guests with a live video feed of what's outside the ship. Keep an eye open for a surprise or two: You might see a familiar Disney character drift into the scene.
The Animator's Palate restaurant is lined in plasma screens that act as windows to the underwater world of "Finding Nemo." Nemo, his pal Dory, Bruce the shark and other ocean creatures frolic from panel to panel during dinnertime. And in an astonishing bit of proprietary Disney magic, Crush -- the surfer-dude turtle character from the 2003 movie -- interacts with guests in real time, swimming around the room, engaging in impromptu conversations and posing for pictures. Guests and their waiters rotate nightly among the Animator's Palate and two other restaurants.
There are two alternative dining venues for adults: French-inspired Remy -- where the menu is designed by two award-winning chefs, including one that's garnered two stars from Michelin -- and Venetian-themed Palo, which serves northern Italian cuisine.
Adults looking for kids-free evening zones can follow the red carpet to the District, a complex of five lounges at the aft of Deck 4. Swirls of tiny white lights emblazon the dark walls of the District Lounge like constellations; guests gravitate here to listen to live music. Pink is a cozy cocoon that showcases Champagne and sparkling wines. Sophisticated Skyline serves cocktails against a seven-screen LCD backdrop that depicts the cityscape of a different metropolis every night, like Paris, New York and Hong Kong.
At the casual 687 -- named for the number assigned to the Disney Dream by its German shipyard, Meyer Werft -- guests can watch live sports on flat-screen TVs. Hit the Evolution nightclub for dancing, cabaret shows and comedy acts.
But it's really all about the kids here, and many onboard spaces are dedicated to young passengers. They include the Oceaneer Club, where children ages 3 to 10 can play with the characters from "Toy Story" in Andy's Room or visit Tinker Bell's fairy forest. Oceaneer Lab aims to unlock their imaginations, whether they're steering a ship through digital seas or creating their own piece of animation. The high-energy counselors of the onboard youth program go the extra mile to ensure their young charges have fun, whether they're rocking out poolside with faux guitars or dressing up in buccaneer garb during the "Pirates of the Caribbean" night, which also includes a fireworks show at sea.
A place called Edge entertains the 11-to-13 set with video karaoke, while Vibe lets those 14 to 17 create their own videos, play computer games and mix dance tracks. Teens also have a private deck space for catching a few rays and their own Chill Spa, where they can indulge in a "Fabulously Fruity Facial" or a "Surfer's Scrub" with lemon, lime and ginger.
One of the most eye-catching features of Disney Dream is the AquaDuck water coaster. A cruise industry first, this 765-foot-long flume ride propels riders through twists, turns and drops high above the deck, at one point flinging them 12 feet over the side of the ship in a translucent loop.
The vessel lives up to the standards of founder Walt Disney. When asked about his inspiration for the Disneyland resort, which opened in 1955, he said wanted to create a place "where parents and children could have fun -- together." The Dream is just the latest example of Disney's enduring knack for delighting and entertaining one generation after the next.
Information:
The Disney Dream sails three-, four- and five-night
Bahamian itineraries
from
Port Canaveral, FL
, calling at
Nassau
and
Castaway Cay
, Disney's private island.
Marina
Like its predecessors in the
Oceania Cruises
fleet, the new 1,250-guest
Marina
promises to deliver a deluxe experience that emphasizes service and fine cuisine. Christened this February by godmother Mary Hart of "Entertainment Tonight" fame, the Marina boasts a number of cruising firsts, like a grand atrium stairway designed by glass manufacturer Lalique and owner's suites furnished by Ralph Lauren Home.
But the height of the Marina experience is its enticing epicurean scene. Of the 10 dining venues, six are open-seating gourmet restaurants. They include Toscana, which features family recipes passed down to the company's staff and crew, and Polo Grill, where steaks, chops and seafood are served in a classic, white-linen steak house setting.
Red Ginger weaves the flavors of Thailand, Japan and Vietnam into its menus. The space evokes the Far East with ebony woods, bronze accents and large glass Buddha heads lighted from within.
Jacques is the first seagoing restaurant to be named for master chef Jacques Pepin, and it honors the brasseries of Paris and Pepin's hometown, Lyon. A turning rotisserie fills the room with the enticing scents of roasting duck, pork and chicken; coq au vin and steak frites are among the must-try items here.
There are two casual eateries, as well as two private dining experiences that incur an additional charge: La Reserve, a seven-course wine-pairing event, and Privee, a posh chef's table featuring Kobe beef, Brittany lobsters, foie gras, caviar and truffles that can be reserved for up to eight guests for $1,000.
Onboard enrichment programs have long been a focus of Oceania Cruises. A rotating array of courses is taught in the Artist Loft, staffed by artists in residence who offer instruction in various areas of expertise. The Oceania@Sea Internet center provides classes in topics like image retouching and digital photography.
Want to pick up a few culinary tricks from the Marina's chefs? At the Bon Appetit Culinary Center -- another seagoing first -- passengers get hands-on lessons in a professional kitchen atmosphere. Learn to make fig souvlaki and orange-and-honey sorbet during a seminar in Greek cooking, or roast beef with Dijon mustard and caper sauce during a session on American classics.
Information:
The Marina sails 10- to 16-night itineraries in various regions. The ship spends summer and fall in
Europe
. Itineraries in the
Med
leave from several departure points, like
Rome
,
Athens
,
Venice
and
Istanbul
. Cruises along the
northern coast of Europe
depart from
Copenhagen
,
Stockholm
and the English city of
Dover
. Next winter there are
Caribbean jaunts
from
Miami
to islands like
St. Barts
,
Antigua
,
Dominica
and the
British Virgin Islands
.
The information in this story was accurate at the time it was published in March/April 2011. Please visit
Vacations To Go
or call (800) 338-4962 for current rates and details.
Send This Article to a Friend
Bookmark this Content
Digg it!
Reddit
Furl
del.icio.us
Spurl
Yahoo!